Kale is probably one of the top single most healthful foods on earth, maybe in the universe. That's how healthy it is. And right now, it's more hip than a hipster on a fixie. But just because it is super popular right now doesn't mean you shouldn't jump on that bandwagon. And this recipe, Sautéed Garlic Kale, is just the recipe that will make you love taking that leap, if you aren't a kale disciple already.
You're going to start with what looks like a month's worth of kale but trust me – this stuff cooks down considerably. Add a little heat to kale and it shrinks up, further condensing its goodness.
Why is kale so good for you? First of all, it's one of those dark green cruciferous veggies you hear so much about, like cabbage, cauliflower, and broccoli. Kale, like most other cruciferous veggies, has tons of vitamin C and vitamin A – actually well over 100% of your recommended daily intake in only one cup! And, kale is relatively high in protein, for a vegetable, offering almost 3 grams of protein in a serving. How could you not love this stuff?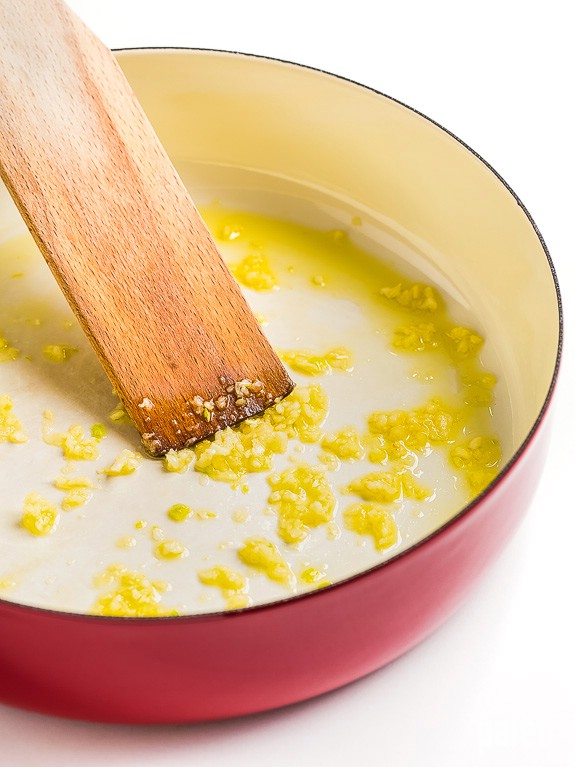 To some people, kale tastes bitter. Other people think it has a pretty neutral taste. That's because of the chemical makeup of kale, as well as other cruciferous veggies. It's not the kale – it's you! Depending on your genetic make up, you will either taste the bitterness or not.
But even if kale is bitter-tasting to you, I guarantee you'll still love this recipe. That's because it has some great flavors: garlic, lemon, and hot pepper. This is probably my all-time favorite flavor combo because you can do so much with it: fish, chicken, veggies – they all love this blend of savory, tart, and spicy.
Remember when using hot pepper to follow your own tastes. If you can't handle much heat, cut back on the hot pepper as much as you think you need. If you like spicy stuff, kick it up a little. But remember: it's easier to add spiciness than it is to take it away, so be judicious with your hot pepper, no matter how much you like it!
Of course, like all my favorite recipes, this is a great Paleo dish. It's basically just a super healthy fresh vegetable, a dash of healthy fat, and a variety of spices. And it goes great with any protein: chicken, pork, fish, even a steak can stand up to these flavors.
So if you haven't tried kale yet, now is the time to get on board. And if you're already a kale fan, you can add this recipe to your books for yet another flavor of tasty fun!
(Make this next: Kale Caesar Salad with Almond-Crusted Chicken)
---
2 pounds kale
2 garlic cloves, minced
¼ tsp chili flakes
3 tbsp olive oil
½ cup water
1 tbsp lemon juice
Salt to taste
Thoroughly wash kale leaves and remove the stems.
Chop the leaves coarsely.
In a large pan heat the olive oil over medium heat.
Add the garlic and cook for one minute.
Add the chili flakes and cook for 30 seconds more.
Add the chopped kale, water and toss to coat.
Raise heat to high, cover and cook for 5 minutes.
Remove the lid and continue to cook, stirring frequently until liquid has evaporated.
Remove from the heat, add the lemon juice, season to taste and mix.
Serve immediately.