---
Casseroles do not need to drown in creaminess to be enjoyable. In this recipe the cauliflower stands out and is delicious presented as itself, instead of being pureed into a gooey sauce. Accompanying the cauliflower is simple Italian sausage, along with a tangy tomato sauce.
The cauliflower is first quickly blanched in this recipe to start the cooking process. Bring a large pot of water to boil and add in the florets. Boil for 3 minutes before draining into a colander. Rinse off the florets with cold water to stop the cooking. Make sure to shake off any excess water.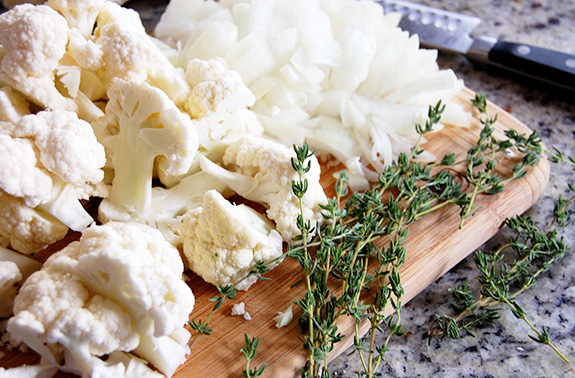 The sausage should also be browned in a skillet before it is mixed with the remaining ingredients and added to the large baking dish. Sprinkle the top of the assembled casserole with almond meal and then throw it in the oven. The casserole is baked for about 25 minutes, and then put under the broiler for another 5 minutes to crisp up the top layer. The cauliflower will soak up all of the delicious flavors of the tomato sauce while the casserole bakes in the oven.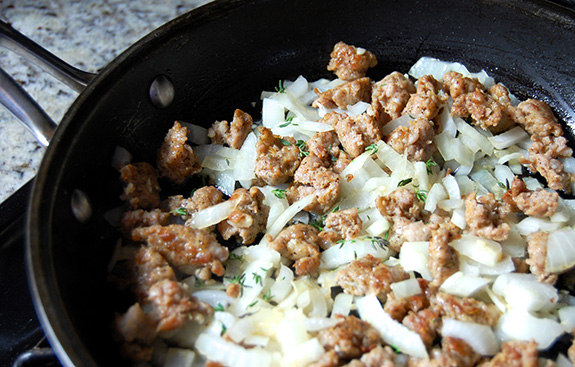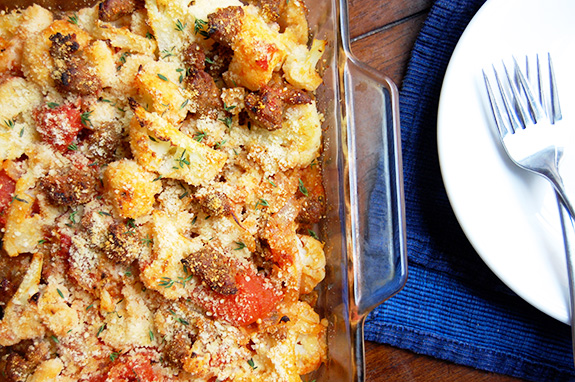 My main Paleo hack with this recipe is using almond flour in place of traditional breadcrumbs. And it worked really well! It's a great gluten-free option for breadcrumbs. The almond flour added just the right amount of texture needed to top off the wholesome casserole. You'll get a healthy, filling meal loaded with veggies and protein.
---
1 head of cauliflower, cut into florets
1 tbsp extra virgin olive oil
8 oz. Italian sausage, casings removed
1 medium yellow onion, diced
5 cloves garlic, minced
4 sprigs thyme
1 28-oz. can whole peeled tomatoes
1/2 cup almond flour
2 tbsp fresh parsley, chopped
Salt and pepper, to taste
Bring a pot of water to boil. Add the cauliflower florets to the pot and boil for 3 minutes. Drain and rinse the florets with cold water. Set aside.
Preheat the oven to 350 degrees F. Heat the olive oil in a large skillet over medium-high heat. Add the sausage and cook for 8-10 minutes until browned, using a spoon to break into small pieces. Stir in the onion, garlic, and thyme. Sauté for 5-7 minutes, stirring regularly. Add the tomatoes and juices to the pan and cook for 5 minutes more. Add salt and pepper to taste.
Remove the skillet from heat and carefully stir in the cauliflower. Transfer the mixture to a 9x13-inch baking dish. Sprinkle with almond flour. Bake for 20 minutes, and then turn the oven to broil and cook an additional 3-5 minutes. Garnish with parsley to serve.