If you're looking for another paleo-friendly bread recipe, you may also want to try this cauliflower bread.
The first time that I tried to make a Paleo version of sandwich bread, I used sunflower seed butter. I used to really like the combination of honey and sunflower seeds in a loaf of bread, and since I had the sunflower seed butter on hand I used it instead of almond butter. I was very excited, the loaf turned out looking great…but then I set it out to cool. The loaf of bread slowly turned a vivid shade of green.
I had no idea what had happened, but knew I would probably not be taking photos of that particular loaf to share with you all. I didn't even know if I could eat it. Luckily after a bit of research I found out the true cause. It turns out, when sunflower seeds are cooked together with baking soda, they react by turning bright green.
It's also completely safe to eat, though it looks quite strange. The entire baking incident turned out to be a happy accident because I made it the weekend before St. Patrick's Day. So I found myself with a loaf of green bread in spirit of the holiday. I had stumbled upon a natural form of food coloring, completely by accident.
The corrected version of the recipe, with almond butter, develops a slight crust on the outside while still staying moist. Even though there is a bit of coconut flour in the recipe, this does not taste like a loaf of coconut bread. It can be enjoyed with jam or even toasted.
It is recipes such as this that might help you to prevent slipping back to wheat. Best of all, especially when compared to other Paleo breads that can be found for sale online, it is not too expensive to make. The bread can be stored in the refrigerator for about a week or put in the freezer.
---
3/4 cup almond butter
5 eggs
1/4 cup coconut oil, melted
1 tbsp honey
1 tsp apple cider vinegar
1/4 cup ground flaxseed meal
3 tbsp coconut flour
1 tsp baking soda
1/2 tsp salt
Preheat the oven to 350 degrees F. Line a loaf pan with parchment paper. In a large bowl, blend the almond butter, eggs, coconut oil, honey, and apple cider vinegar together with a hand blender.
In a separate bowl, mix together the flaxseed meal, coconut flour, baking soda, and salt. Mix the dry ingredients into the wet ingredients.
Pour the dough into the prepared baking pan. Bake for 30-35 minutes until browned and completely set. Remove from the oven and allow the loaf to cool in the pan for 10 minutes, then remove from the pan and cool completely on a wire rack. Store in an airtight container in the refrigerator for one week.
More Good Paleo Bread Recipes
Paleo Yeast Bread Rolls
Baking bread is one of my favorite activities – watching bread dough rise as the yeast works it magic is just incredible. Best of all, baking bread at home is really much easier than most people think. All your really need is patience to let the dough fully rise. Make these easy paleo yeast bread rolls that have a moist fluffy crumb and look so beautiful and rustic!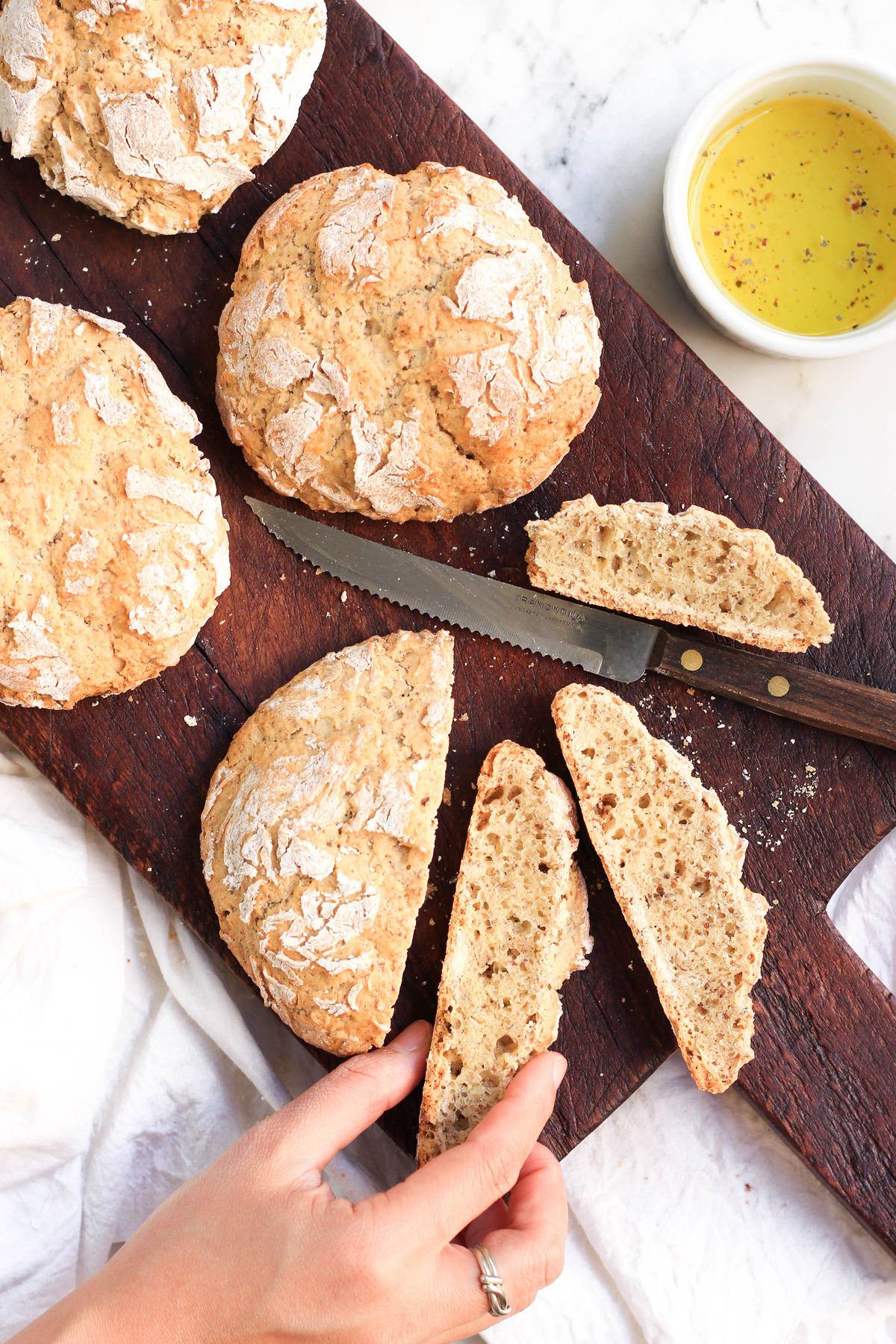 Ingredients
3 ½ cups tapioca starch + more as needed
¾ cup almond flour
½ cup golden flaxseed meal
2 teaspoons salt
1 tablespoon active dry yeast
2 tablespoons coconut sugar
2 tablespoons warm water
4 eggs
¼ cup coconut oil, melted
Instructions
1. In a large bowl, combine tapioca starch, almond flour, flaxseed meal and salt. Mix to combine.
2. Place yeast, coconut sugar and warm water in a small bowl, mix well and let sit in a warm place for 8 minutes until the mixture becomes frothy.
3. Add eggs and coconut oil to the bowl with the dry ingredients and combine until the dough is smooth and thick.
4. Add in yeast mixture to the bowl and then fold in until the dough is well combined. If dough is too liquid and sticky, add a tablespoon of tapioca starch at a time until it becomes thick enough handle and is no longer too sticky.
5. Line a baking sheet with parchment paper or a silpat.
6. Set up a working area with parchment paper and spread out 2 tablespoons of tapioca starch for dusting onto the baking sheet. Flour your hands with tapioca starch.
7. Divide the dough evenly into four portions and then form each portion into a round ball of dough with your hands.
8. Place the balls of dough onto the prepared baking sheet and dust with tapioca starch. Slice a small "X" on top of each ball and let the bread rolls rise for 50 minutes in a warm area until they are slightly larger in size.
9. Once dough is almost done is rising, pre-heat oven to 400 degrees Fahrenheit (200 degrees Celsius).
10. Bake bread rolls for 15 to 20 minutes until the tops are golden brown. Allow bread rolls to cool for at least 10 minutes before slicing.