Condiments
19 Homemade Paleo Salsas
This page will keep you loaded with Paleo-friendly salsa recipes that you can mix up whenever you need a tasty snack, whether between meals or as a starter to larger meal. Most salsa come pre-loaded with a host of good things like lycopene from the tomatoes, and antioxidants from fruits and vegetables. This makes them a great choice when you get the munchies but want to stay true to your Paleo goals and healthy lifestyle.
---
1. Tomato Salsa Bowl Appetizer
This is a salsa that gets served up in a carved out half of tomato. Rebecca has come up with an awesome salsa recipe that could also double as an appetizer, and is going to provide a lot of taste and also a look of sophistication. It can be hard hosting a party when you're the only one doing Paleo, so you have to come up with ideas like this one that you can serve to a large group of non-Paleo eaters and also that you can eat yourself. They won't even know this is technically "diet food".
---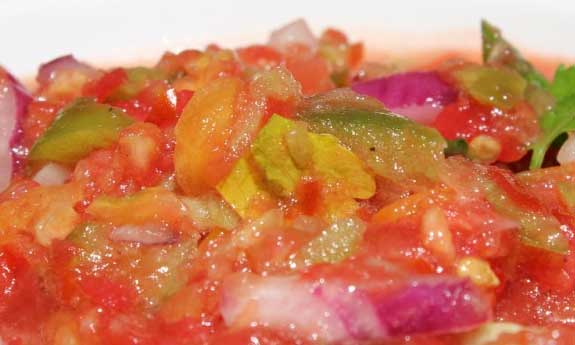 Photo: Hollywood Homestead
2. Simple Salsa
Here's a simple salsa recipe that is handy to have whenever you want a basic salsa and more of a traditional taste without a lot of tinkering. Tomatoes, garlic, bell pepper, and red onions make up the bulk of this blend, and they used a blender to make quick work of it all. That's the beauty of salsa, there's a wide margin of error so you can pretty much experiment and make mistakes and no one will notice because it will look the same when you're finished, and still taste alright.
---
3. Grilled Peach and Avocado Salsa
Peaches work well in a salsa, and here they've grilled the peach so that it packs extra flavor. Mixing them with avocados is a great idea, and really adds to the healthy factor in this salsa. You're getting the vitamins from the peaches, but also the fiber, potassium, and healthy fats from the avocado. This is a great choice if you're looking for a nutrition boost at the same time that you're snacking. They're using it as a topper for a fillet of fish, also a great idea, and you could use this to top a chicken breast and it would taste just as good.
4. Citrus Cilantro Tomatillo Salsa
This would be an example of a salsa verde thanks to its bright green color. The way they've made it is quite unique, with tomatillos instead of tomatoes, and with citrus flavor from an orange and a lime. If you're serving this up to friends you'll definitely have a winner on your hands because it's different, not just in the way it looks but in the way it tastes. Most of the time at parties and other salsa-worthy events there's the same old same old salsa, so you can make something that goes against the grain and tastes great by making this.
5. Fresh Pineapple Salsa
Pineapple adds a sweetness to this salsa and is for those that want a bit of sweet added to their spice. And make no mistake, this salsa will still have the heat thanks to a pair of jalapenos. This is a special salsa because it's very dry, there isn't a lot of runny liquid like you get from a typical salsa, so it's great not only for dipping, but also for using as a topping to enhance the flavor of a meal. You can make a bigger batch of this than you need as it will keep for a few days and you can use it whenever you get the notion on your upcoming meals. It provides a fresh and fruity taste that can upgrade just about any dish.
6. Mango Avocado Salsa
Mango and avocado have similar textures, so it's natural to want to pair them together. They work well in this salsa because you'll be loading it up with antioxidants, healthy unsaturated fats, and fiber, among other things. They've wisely kept the mango in pretty substantial chunks so it won't get lost in the salsa and you'll know when you're eating it. The avocado is the same way, and if you're lucky you'll get a piece of each one in your mouth at the same time. The other players in this salsa are an onion, a jalapeno pepper, and cilantro as well as lime. Lime shows up in almost every salsa recipe because it just fits so well with everything else.
---

Photo: Rubies and Radishes
7. Fiery Fruit Salsa
This salsa promises a lot of heat and a lot of fruit, and delivers on each one. The fruits they're using are pineapple and avocado, and the veggies that accompany them are onions and peppers. There's also tomatoes, so you're getting tons of superfoods in one salsa. This will be spicy thanks to jalapenos, and there's also adobo sauce for added flavor. An orange and a lime help to provide a cooling effect and a citrusy feel to this, so there's a lot going on for your taste buds to discover.
---
8. Sweet Onion Salsa
If onions are your thing this salsa is one you just have to try. If you're the type that normally eats a salsa and remarks that it needs more onion, this is the recipe for you. Onion is the starring attraction, and they're using a sweet onion, so this will have a nice natural sweetness to it, rather than being completely overpowering. Of course there's tomatoes, garlic, and cilantro in this as well, so it will come out looking like a pretty regular salsa, but there is definitely more onions than anything else and that's what you'll notice when you eat it.
9. Fresh Poblano Salsa
Depending on what type of poblano pepper you use this is either going to be a mild and sweet salsa or a fiery and hot one. Be sure you know the outcome you're going for and check the peppers for their heat level before making an entire salsa out of them and having it go to waste because it's too hot. This is an interesting offering because it uses squash or zucchini, your choice, an item that doesn't often make it into a salsa. They mention that you can add some hot sauce to it at the end if you need it hotter, so the best way to make this would be with mild poblano peppers and then just add the heat until it's just right.
Simple Strawberry Salsa
Strawberry salsa can be a great summertime treat, and help to cool you off during the long days of summer. Even though it has a jalapeno in it, the sweetness of the strawberries provides a nice counterbalance and the overall effect is that of a cool and sweet salsa. Making sure its well refrigerated before eating it adds to that cooling effect. This is one salsa that you may have trouble stopping with once you get started. It's that good, and might become the salsa you make when you want any sort of salsa at all.
10. Tropical Chipotle Salsa
This is the recipe to go for if you're in the mood for something tropical, but still want the spiciness common in most salsas. They're using a combination of pineapple and mango to produce the tropical flavor, a time-tested pairing that always works well to conjure up images of an island and palm trees. The really awesome part of this is that it's using a chipotle pepper, so it's going to also provide you with a nice heat, more than the other recipes that only use a jalapeno pepper. The combination of fruity, sweet, and tropical, mixed with the heat of the chipotle pepper makes this a Paleo salsa that should not be ignored.
---

Photo: Paleo Porn
11. Cucumber Salsa
This cucumber salsa is great to have while on Paleo because cucumbers are a hydrating vegetable which helps your digestive system run at optimal levels. There isn't much spice to this salsa, as it doesn't include any peppers to speak of, so its flavor is coming from cilantro and mint, adding to the cooling nature. This is a great salsa for a summertime picnic, or when eating spicy foods to help cool your mouth down. Cucumber is a natural pick for salsa, but is not often seen in mainstream salsa recipes. Paleo is fun because you get to try new things like this.
---
12. Fresh Herb Salsa Verde
Here's an interesting salsa verde that is mostly made up of herbs, and can be used in a variety of ways. Use it to top fish, beef, or chicken, or to dip a Paleo friendly bread into. It's oily, so the bread should soak it up nicely and the herbs give it a great flavor. Parsley, capers, and cloves make up the herb mixture. They say that this will keep for 5 days which is nice because it can be used on so many other foods to instantly give them a flavor upgrade.
13. Chipotle Peach Salsa
Chipotle is a great pepper to use if you've grown tired of jalapenos. It's about the same Scoville scale, but it has a different taste to it, so you can get the heat that you want but with something new for your palate. Putting it together with peaches is a good idea, since peaches work well in a salsa thanks to their texture. You'll be getting antioxidants from the peaches, tons of flavor from the chipotle peppers, and of course there's some tomatoes so you'll get their nutrients as well, the ones that always make the news for how good they are for you.
14. Cranberry Salsa
This salsa goes in a different direction than most, using cranberries as the main attraction, and providing a tartness that will definitely wake your mouth up. The rest of the ingredients read like a normal hot salsa recipe, including a jalapeno, onions, cilantro, bell peppers, a lime, and even tomatoes. The only real difference is the addition of cranberries, but they are such a standout flavor that you won't miss them, and it totally changes the dynamic of this salsa.
15. Blueberry Basil Salsa
Here's another salsa that tries some new things to see how they work. This is meant as a food topper, so you probably wouldn't want to go to town on it as a snack. But it can definitely provide a meal with a different kind of flavor than it would otherwise have. There are plenty of blueberries used in this, so you're getting lots of antioxidants along with plenty of flavor. It gets mixed together with greens and other ingredients that are sure to pop when you eat this, and it's nice to keep around to top whatever you can think of.
---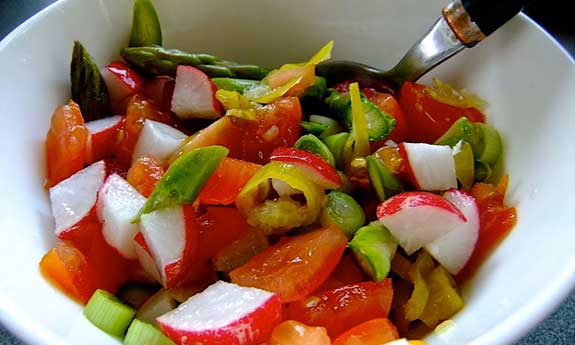 Photo: Living in the Ice Age
16. Paleo Salsa Fresca
Salsa fresca is the way to say fresh salsa, so you have to make sure that you're using all fresh ingredients, something that you should be used to doing if you've been following the Paleo way of eating. This doesn't look like your usual salsa, as it doesn't have a lot of liquid in it, it's more of a mix of vegetables, namely onions, tomatoes, cucumber, and radish. You don't mince them or dice them the way that you would for a typical salsa, you leave them in larger chunks so that you'll taste each one when you eat it.
---
17. Budget Pico de Gallo
Eating Paleo doesn't have to make you go broke, and this recipe shows you how to put together a simple salsa without breaking the bank. You'll be using all of the usual ingredients that make it into a salsa, so it's going to taste like the kind you get out of the jar, but you get to have quality control over it so that you know everything that's gone in it is up to your standards. It's best to use organic ingredients on Paleo, but if you're on a tight budget, it's still preferred that you make things on your own rather than buying them in the store to avoid preservatives and other additives.
18. Tangy Tomapeño Salsa
This salsa is sure to turn heads because of its color, and sure to get a response because of its flavor. She's coined a new word here, tomapeño, and it's because she's combining tomatillos and jalapenos to make this salsa. There's also Roma tomatoes to round things out, and it gets a tanginess from the classic salsa combination of cilantro and lime. This is a good salsa if you want to try something new while still holding on to the traditional form of salsa.
19. Homemade Paleo Tortilla Chips
With all of these salsas you're going to need something to dip them in, and store bought chips just aren't on the menu. So make up these homemade tortilla chips using only Paleo-authorized foods and you'll have a crunchy snack to go along with your salsa without losing sight of your overall goals.