Fish
43 Paleo Salmon Meals Everyone Will Love
Salmon is a highly versatile ingredient, because no matter how you cut or slice it, how you cook it, or what ingredients you decide to pair it with, there's always a good chance it's going to be delicious. Check out these recipes with flavors ranging from salty, to fruity, to spicy, to savory—but always fantastic.
---
1. Roasted Beets With Salmon, Broccoli, and Avocado
This easy dish is packed full of healthy fats and oils from salmon, olive oil, and avocado, plus richly nutritious and colorful beets and broccoli. All you really need to do is roast your beets, steam your broccoli, and pan-fry your salmon in coconut oil. Easy!
---
2. Blackened Salmon with Summer Tomato Salsa
The blackened part of this blackened salmon gives it a flavor unlike anything else done to salmon, and is definitely worth trying out. Top it with a summer tomato salsa including avocado and you reach new heights in flavor.
---
3. Lemon-Garlic Pan-Seared Salmon and Asparagus
This recipe involves cooking a salmon fillet in butter and garlic with sea salt. If that doesn't sound amazing to you, we can't be friends. Seriously. This recipe is simple and understated, but the flavor really is out of this world spectacular.
---
4. Hoisin Salmon Burgers With Ginger Mayo
Here's another salmon burger recipe, this one with hoisin sauce and bright, spicy ginger right inside the burger. You can top this with the sweet and spicy ginger mayo recipe that's included (spoiler: you'll need some Paleo mayo pre-made).
---
5. Potato Cakes With Bacon and Smoked Salmon
These potato cakes are made with hakurei turnips or kohlrabi, bacon, yellow onion, garlic, and coconut milk, and they're topped with a bit of smoked salmon and a creamy dollop of crème fraiche or coconut yogurt, which balances the spices well.
---

Photo: A Healthy Life For Me
This super savory salmon dish is rich with umami flavors from coconut aminos, rice vinegar, and garlic. Red pepper flakes give it a kick, and there's some bright sweetness in this dish from the fresh orange juice and honey. This salmon gets topped with carrots, cucumbers, and other vegetables.
---
7. Pan-Seared Salmon With Capers and Baby Artichokes
I'll eat (almost) anything if you serve it with artichokes, but this is supposed to be about the salmon, isn't it? Well, this buttery, peppery salmon is delicious, and when you pair it with the artichokes, you get a full meal right in our blog post.
---
8. Baked Salmon Over Grain-Free Apricot Pilaf
This isn't your ordinary pilaf, or your ordinary salmon. The apricot pilaf is made from rice cauliflower with flavors of red onion, garlic, carrots, sweet apricots, parsley, safflower, and lemon. What a bed for a lemony, safflower-seasoned salmon fillet!
---
This complete dinner includes skin-on salmon cooked with garlic and lemon, buttery little roasted potatoes with a golden brown edge, and roasted Brussels sprouts, which I've long been convinced is the absolute tastiest way to eat Brussels sprouts.
---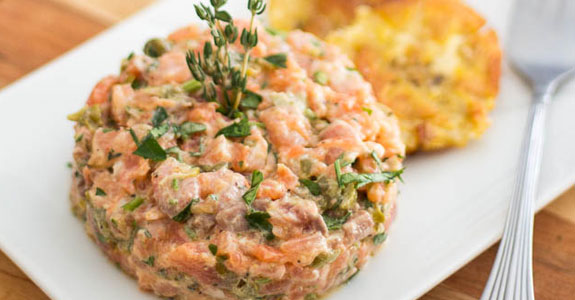 Photo: The Healthy Foodie
Two salmon? Yes. This tartare uses smoked salmon as well as a fresh, skinless salmon fillet with the flavors of Dijon mustard, chopped green olives, capers and brine, and plenty of pepper. Paleo mayo adds creaminess, and there's a recipe for that, too.
---
11. Salmon and Caramelized Onion Frittata
Frittata can make an amazing weeknight meal, as it comes together quickly, has fairly simple ingredients, is very versatile and can take whatever you've got to throw in it, and is high in protein and nutrients. This salmon frittata makes a hearty and delicious dinner.
---
12. Pan-Seared Steelhead With Mushrooms, New Potatoes, and Truffled Spring Pea Sauce
This dish looks pretty fancy, but don't be intimidated—it's not hard to make! And if you're not exactly a table artist, you don't have to worry about fancy plating, either. This perfect salmon sits over a savory truffly pea sauce with baby potatoes, but it's delicious however you choose to arrange it.
---
13. Smoked Salmon Salad With Lemon-Dill Vinaigrette
Something I love about salmon is how versatile it is as a general ingredient. This salad makes that point well after so many pan-fried and frittata salmon recipes. Make it light and easy with this simple arugula and smoked salmon salad.
---

Photo: Every Last Bite
The beautiful looks of this dish are dependent on using two different colors of sesame seeds, but if you're not particular and don't feel like hunting them down, just use whatever you can find. It'll be delicious anyway with lime, ginger, and honey.
---
15. Tangy Asian BBQ Salmon Salad
There's absolutely nothing wrong with a simple salad. But some days that's not what you want, you know? Some days you want something spicier, tangier, more flavorful. And on those days, you make this tangy Asian BBQ salmon salad and call it a day.
---
16. Grain Free Bagels With Smoked Salmon
That's right, we're talking bagels! These bagels are amazing, crusted with sesame and poppy seeds, and best eaten with a Paleo cream cheese (cashew spread, anyone?) and a bit of smoked salmon for a complete breakfast that's a bit of a treat, as well.
---
Would you please look at this fish? Just look at it! You know anything with "slow-baked" in front of it is going to be perfect and delicious, especially this salmon with Asian-inspired flavors like soy sauce (use tamari or if you're more strict, coconut aminos), ginger, and red chili.
---

Photo: Audrey's Apron
When you take a look at these salmon patties, you know you won't even miss the bun. The lemon and herb flavors of this dish are the ideal complement to the savory flavors of salmon, and the homemade ranch-style sauce is the perfect touch. And it's Paleo, too!
---
This looks like a snack, but it actually can make a complete meal! This perfect lunch is full of protein and healthy fats, it's quick to put together, and it's delicious with crème fraiche or homemade, Paleo-friendly mayonnaise.
---
20. Sesame Crusted Salmon With Baby Bok Choy
One of my favorite ways to eat salmon or any other meat or fish is to crust it somehow, almost creating the illusion of breading but definitely creating the reality of intense, delicious flavor and texture combinations. I recommend coconut aminos in this recipe.
---
21. Honey Glazed Salmon Sheet Pan Dinner
To make this dinner Paleo, use coconut sugar in place of the brown sugar. This is a great meal because you can stick everything on the same sheet pan, bake it up together, and you have the perfect full meal. Easy! And delicious, with a sweet and peppery honey glaze.
---
22. Pan-Seared Salmon with Cranberry Walnut Relish
The pan-seared salmon is delicious all by itself, but when you add on the cranberry walnut relish it pushes things to the next level. All of it is made using wholesome, real food that propels you towards your goals.
---
23. 3 Peppers Salmon and Roasted Leeks
This easy salmon recipe has just four ingredients: leeks, salmon, rainbow peppercorns (that's the three pepper part) and pink Himalayan salt. It's that simple! And yes, that delicious, too. Who says you need 30 ingredients to achieve gourmet status?
---
Tart cherry juice can be an excellent health tonic, being particularly helpful for sleep patterns and troubles. This recipe uses tart cherry juice to glaze wild salmon with Dijon mustard, chipotle pepper, and paprika, which is a delicious enough reason to try it.
---
This salad makes an excellent picnic dish, and could be enjoyed by several people depending on how you make it and dish it out. It's full of tasty salmon, savory tomatoes and olives, potatoes, and a dose of protein from soft-cooked eggs (leave out the beans for Paleo).
---

Photo: Maya Kitchenette
26. Honey Garlic Salmon With Warm Chopped Asparagus Salad
This dish makes a full meal, with a protein, greens, vegetables, and a saucy, delicious marinade you can drizzle back over the salmon when it's finished. The flavors of garlic, ginger, and honey balance the salty, umami flavor of the soy sauce, and the salad is the perfect side dish.
---
27. Salmon With Cucumber, Cherry, and Avocado
This beautiful and colorful dish is full of sweet and savory flavors, and plenty of healthy fats from avocado and salmon. It's the perfect easy dish to fill you up and keep you going for the rest of the day, and it tastes totally amazing!
---
Remember what I said earlier about how I love crusting salmon with just about anything? Yeah, this dish is awesome. I can't tell what looks better: the thick walnut crust on the top of these fillets, or the Dijon mustard smeared over the side. So. Yummy.
---
29. Baked Salmon With Asian Cilantro Pesto
This recipe is all about that pesto sauce. The salmon is amazing on its own, but you spread that greenness across the top? Mmm! Heaven. This pesto is made with sriracha, almonds, cilantro, garlic, ginger, lime, and coconut aminos, and it's so good.
---

Photo: Hummusapien
30. Kale and Broccoli Salmon Burgers
Just because juicy, beefy burgers are Paleo doesn't mean you have to eat them all the time. Why not try this kale and broccoli salmon burger and see if it doesn't become your new favorite? Let's get some greenery into our burgers, and some superfood veggies while we're at it.
---
Baking this salmon up in parchment paper means cleanup is easy, and the taste is out of this world. Dill and lemon is a tried and true flavor combination that works great with salmon, giving it just the right flavor.
---
32. Pan-Roasted Salmon With Garlicky Kale and Citrus Vinaigrette
The best salmon, if you ask me (and probably a lot of you, too!) is the crispiest salmon you can get. This is that salmon. I also can't get over the colors of this recipe: the pinks, oranges, purples, and deep forest greens of the kale, salmon, and grapefruit are gorgeous.
---
33. Zucchini Noodles and Salmon With Almond-Herb Pesto
This fantastic and complete dinner calls for ingredients like garlic cloves, herbed goat cheese or Parmesan, black pepper, basil leaves, mint leaves, and wild, flavorful salmon (steaks or fillets—your choice). Spiralizing the zucchini is a fun way to eat your vegetables.
---

Photo: Deglazing Delicious
34. 5 Ingredient Spring Fittata With Smoked Salmon
Here's another frittata with a shorter ingredient list and a super umami flavor. This one has roasted tomatoes and bacon on one side of the flavor spectrum, and light, shredded zucchini for a green addition that adds nutrition and a change in texture.
---
This is a super simple recipe that calls for a can of salmon, a bit of mayonnaise (make sure your mayo is Paleo, or use homemade), seasonings, and sweet mini peppers. Everything gets mixed up and stuffed into the peppers for a bite-size punch of flavor and nutrition.
---
Here's another complete salmon meal you can feel good about stuffing into your face—I mean…eating politely. This salad has all the fixings of the best BLT sandwich you've ever had, except without the bread. But the bacon, you ask, is the bacon still there? Yes, it is.
---
This rustic salmon dish is oven roasted on a cedar plank for a fantastic flavor. To make it Paleo, replace the brown sugar with coconut sugar and rub, rub, rub that salmon until it's coated, and then cook it until it's perfectly flaky and irresistible.
---

Photo: Fearless Dining
38. Salmon With Tomatillo and Papaya Salsa
Papaya isn't a fruit that many of us have in our kitchen on a regular basis, but in addition to being delicious, it can also support your digestive system with important enzymes for easier meals. This salsa is the perfect topper for tasty grilled salmon.
---
39. Salmon Taco Bowls With Cauliflower Rice
Please tell me I'm not the only one who craves taco bowls on a pretty regular (read: daily) basis. You too? Oh, good. Let's indulge together in this healthy taco bowl with cauliflower rice with flavors of Meyer lemon, green onions, broccoli, and the best fish tacos.
---
40. Creamy Dill and Garlic Salmon
This delicious salmon dinner can be made with a Paleo-friendly mayonnaise of your choice (I recommend one made with avocado oil). The fresh dill and brown mustard infuse it with a lovely flavor, and minced garlic puts on the finishing touch.
---

Photo: A Clean Bake
41. Sweet Potato and Carrot Mini Latkes With Goat Cheese and Smoked Salmon
Who says latkes are just for Hanukkah? Not anymore, at least. These Paleo mini latkes are made with sweet potato and carrot, eggs, and coconut flour, and assembled with thinly sliced smoked salmon, whipped goat cheese, and seasonings.
---
42. Smoked Salmon Crepes With Dill Aioli
To keep this recipe Paleo, use almond flour in the crepes. These babies are layered with smoked salmon and topped with a delicious dill aioli made from avocado oil, egg yolks, Dijon mustard, lemon, vinegar (use ACV for Paleo), and seasonings.
---
I absolutely love sushi. But as we know, rice isn't acceptable in the Paleo style of eating. So Paleo eaters have to get creative! These rice-free nori rolls are made with cauliflower, carrots, ginger, crushed red pepper, salmon, cucumber, avocado, and other great ingredients.