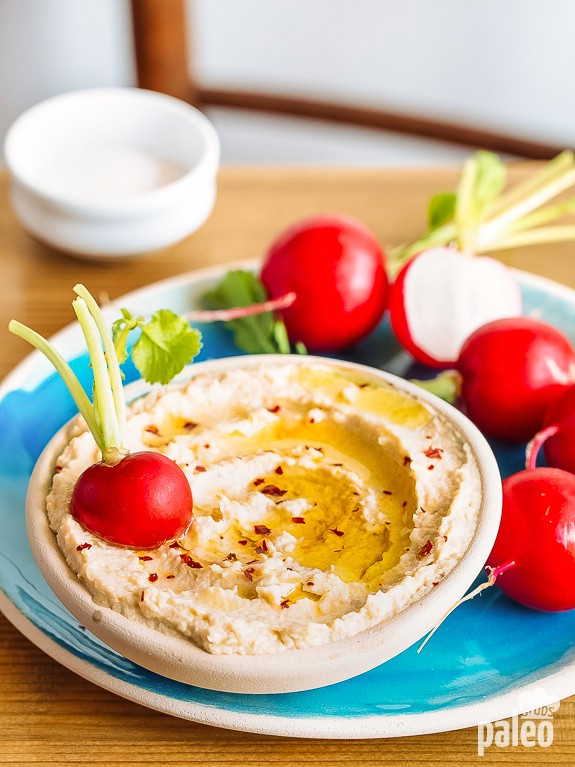 Whether you've never tasted hummus before or you're a hummus lover like me, this is a recipe you have to try. This roasted cauliflower cashew hummus puts a spin on traditional hummus and develops a great roasted tahini flavor with all the creaminess and versatility we all love about traditional hummus.
Along with math, oranges, and bagpipes, hummus is probably one of the most revered contributions of the Middle East to Western culture (yup, that's right – the Scottish did not invent the bagpipes!). While hummus may not be as historically important as, say, the concept of "zero", in my life, hummus holds a high station. I love the stuff. It's great on sandwiches in place of mayonnaise, and I love veggies with a side of flavorful hummus dip. And sometimes I like hummus with simply a spoon by its side.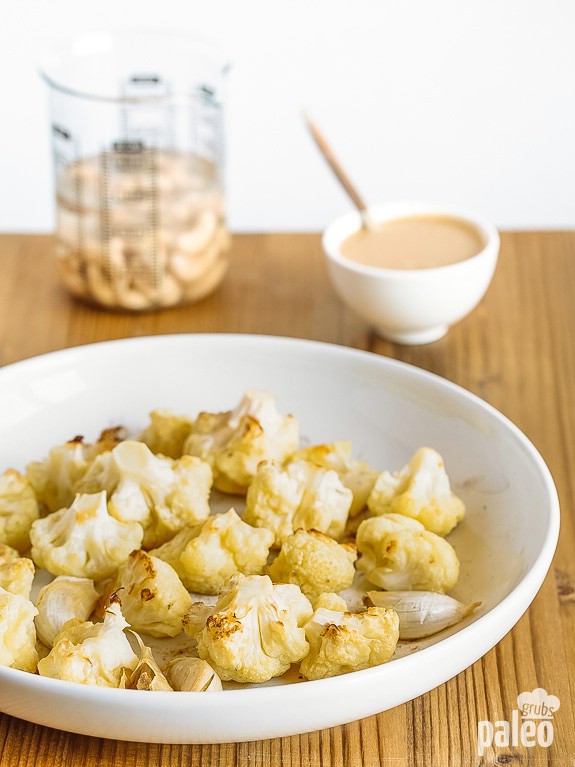 And I've been making my own hummus for years – even before I started eating Paleo. It's super easy to make and frankly the flavor you get from making your own far surpasses the flavor of the store bought varieties. And, you can make hummus out of nearly anything.
This roasted cauliflower cashew hummus is a new one for me – and one I was excited to add to my hummus recipe collection. The roasted cauliflower adds a hint of the roasted flavor, but you'd really never know the final result was made up largely of cauliflower and cashews! Both the roasted cauliflower and the cashew nuts break down into a creamy texture, just like chickpeas (also known as garbanzo beans).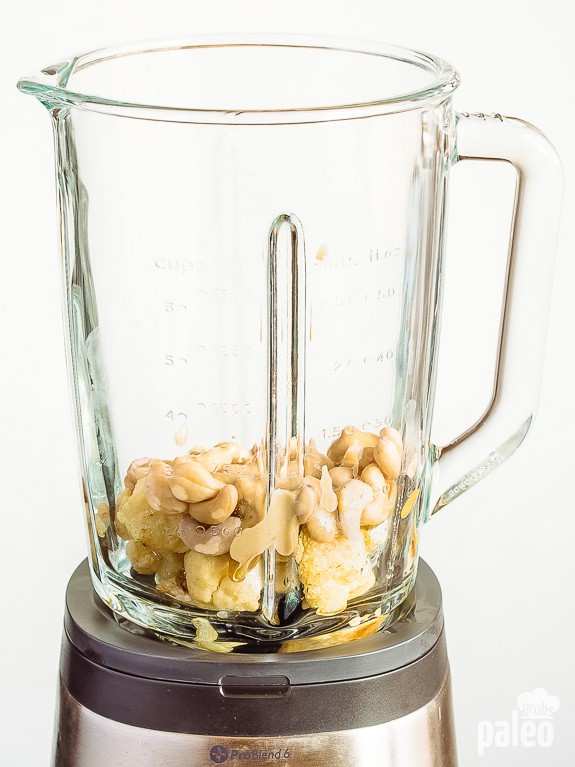 The flavor of this hummus, like many others, is really dominated by the other ingredients, like the tahini, garlic, and lemon juice. I add enough cayenne to mine to make it a bit spicy, because I love spicy foods, but you can add as much or as little as you like. I also sometimes add salt to my hummus, but that's up to you and your palate.
Some people are a bit bewildered by tahini. What is it and where can you get it? Well, first of all, tahini is really just sesame seed paste. It's basically peanut butter – but made from sesame seeds. It has a slightly bitter taste – I'm not sure I would want to eat a spoonful of it on its own (like I am frequently known to do with peanut butter), but it adds a little bite to your hummus that nothing else can really produce – and your hummus will be lacking without it.
As for where you can find tahini, look in the international aisle at your local grocery store or, if you have a Middle Eastern market in your area, they will be sure to have the best stuff. It's also usually easily found at health food and organic food stores.
Now, I'm not going to lie. The best hummus I've ever had was a few years back on a trip to Israel at the home of some friends of my travel partners. I know it was homemade and I wanted to ask how it was made, but I speak neither Arabic nor Hebrew, so I was out of luck in that department.
So I'll continue my quest of attaining hummus enlightenment by whipping up tahini and garlic and lemon juice with just about anything I can get my hands on. And this roasted cauliflower cashew hummus is definitely going to the top of my list!
(Read this next: 26 Creative Paleo Hummus Dips)
---
2 cups cauliflower florets
¼ cup tahini
¼ cup raw cashew nuts, soaked 2-3 hours and rinsed
3 unpeeled whole garlic cloves
4 tbsp olive oil plus extra for drizzling
¼ tsp cayenne pepper
1 ½ tbsp lemon juice
pepper flakes for decoration (optional)
Preheat oven to 425 F.
Place the cauliflower florets with garlic cloves in a shallow baking dish, drizzle with 2 tablespoons of olive oil and roast, turning halfway, for 20-25 minutes.
Remove from the oven and peel garlic cloves.
Place the roasted cauliflower, garlic, cashew nuts, tahini, lemon juice, cayenne pepper, remaining olive oil and 2 tablespoons of water in a blender and blend on high until smooth.
Season to taste with salt, drizzle with olive oil, sprinkle with pepper flakes (if using) and serve.