Carrots and Avocado – The Perfect Salad Match
Roasted carrots and avocado complement each other perfectly in this salad. These aren't just any roasted carrots though — they're tossed in a deliciously spicy and potent mix of cumin, red pepper flakes, garlic, salt, and olive oil. This leaves them absolutely bursting with flavor already before even adding them in with the rest of the salad. Between the carrots and the ingredients they are tossed in, you cover so many different nutritional bases. You get plenty of vitamins and minerals plus healthy antioxidants that help protect your body from cellular damage and diseases.
The rest of the salad features avocados, arugula or your choice of salad greens, lime juice, and more olive oil. The avocados and olive oil are both loaded with heart healthy monounsaturated fats that help lower cholesterol and reduce your risk of cardiovascular disease. (1)(2) Salads are widely considered to be the perfect meal option for anyone focused on a healthy diet and this one is n exception. Between the mildly hot flavor of the tossed roasted carrots, the creamy avocado slices, and the tangy addition of lime juice, you end up with a paleo salad that will satisfy all of your taste buds while providing you with an amazing amount of health benefits.
Part of switching to a paleo diet is making a conscious effort to eat healthier foods and take better care of your body. There is perhaps no better way to do that than by eating a healthy salad full of veggies, herbs and spices known to help prevent diseases, and healthy fats. The only thing left to add is some protein. We highly suggest our chimichurri chicken breast, or our staple paleo lamb ragu. Both delicious options that take this dish in two different directions. So many possibilities!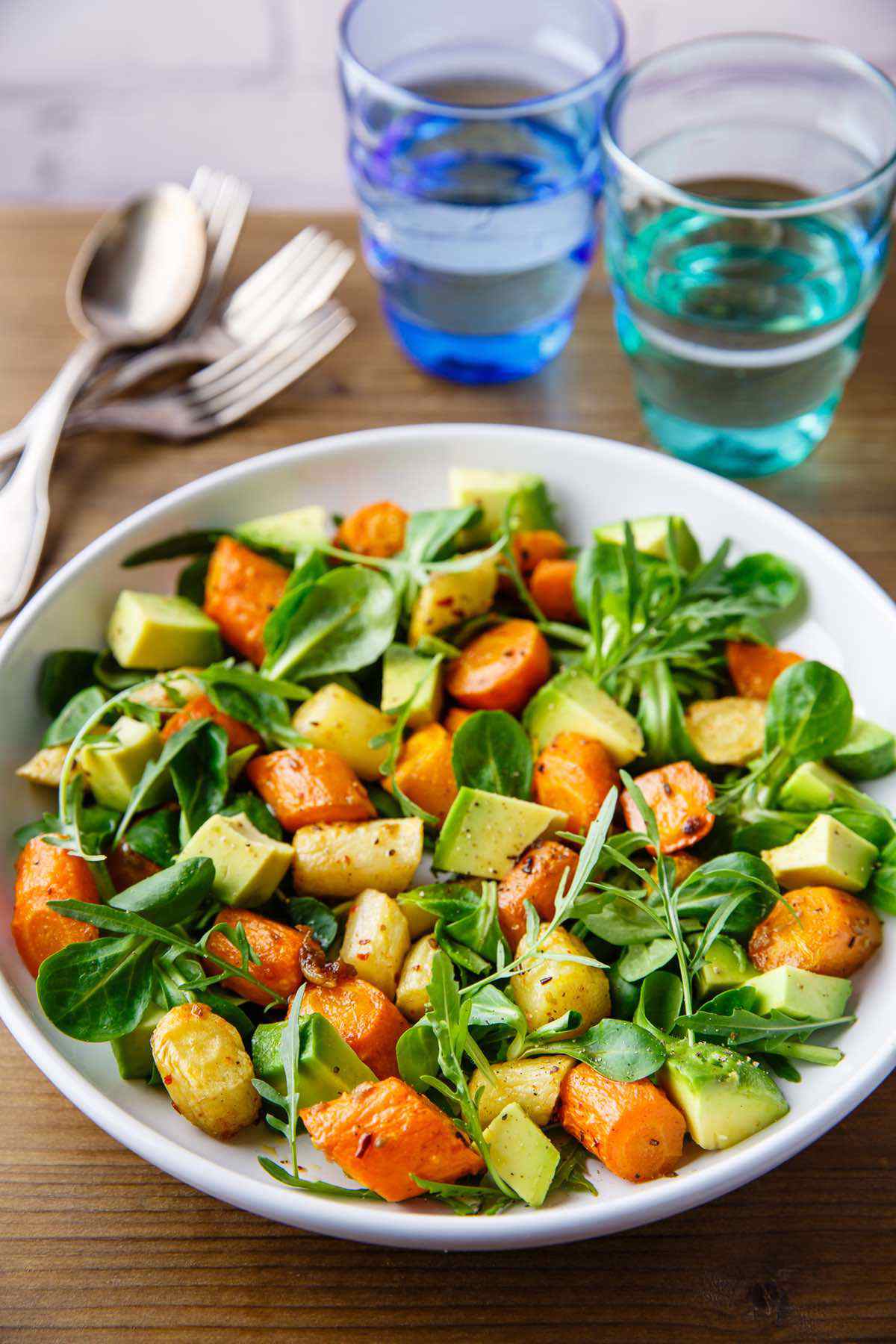 PS. – There are actually quite a few other paleo-approved salad recipes that are high in protein that you can browse through. If you enjoy tuna, then you should absolutely check out this great paleo tuna salad recipe. It's quick and easy while providing you plenty of protein from the tuna. We also have another great seafood salad option with this yummy summer salad with poached egg and salmon. It's incredibly high in protein that will leave you full of energy and ready to tackle your day. And of course, we also have a chicken salad recipe for you to try. This spicy avocado chicken salad is the perfect blend of protein and healthy fats along with a deliciously spicy flavor thanks to the peppers and chili flakes included in the recipe.
---
For roasted carrots

1 pound carrots (assorted colors or just orange ones) peeled and cut into ½ inch pieces
½ tsp ground cumin
½ tsp red pepper flakes
2 garlic, minced
½ tsp salt
1 ½ tbsp olive oil

Rest of ingredients

2 small avocados, pitted and sliced or cut into chunks
3 cups arugula or salad greens mix
2 tbsp olive oil
½ lime, juiced
salt, black pepper to taste
Preheat oven to 400ºF.
Peel the carrots and cut them into ½ inch pieces.
In a bowl mix the ground cumin, red pepper flakes, garlic, ½ teaspoon of salt and 1 ½ tablespoon of olive oil. Add the carrots and toss to combine.
Spread the carrots into a single layer on a baking sheet lined with parchment paper and roast for 25 minutes or until fork tender. Remove from the oven and let cool slightly.
In a large bowl, place the avocado, arugula or salad greens and warm carrots.
Drizzle with 2 tablespoons of olive oil and lime juice and toss to coat. Season to taste with salt and black pepper.
Divide the salad between serving plates and serve.