---
I knew as soon as this recipe came out of the oven that I would have to post about it and share. The oranges and purples are a food photographer's dream. I was inspired by a recipe from Jerusalem: A Cookbook by Yotam Ottolenghi and Sami Tamimi, which I recently acquired. There are a few changes made to the recipe here but I cannot recommend the cookbook enough.
One ingredient listed in the recipe that you may not have heard of is za'atar. Za'atar is a blend of thyme, sesame seeds, and dried sumac. I was lucky enough to find some in a Mediterranean grocery store about a year ago. Of course the store is in a strip mall in the suburbs that I have no idea how to get back to. That's where all the best ethnic-food groceries seem to be. At the time, I was just curious about what za'atar was and how it tasted.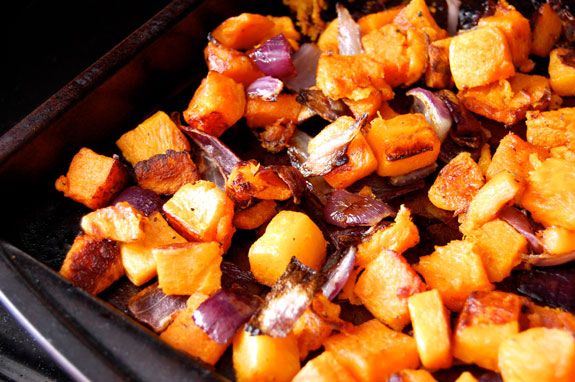 I was glad to put the za'atar to good use in this recipe. I also added sesame seeds, which should be eaten sparingly on the Paleo diet. Pine nuts would also work instead of sesame seeds – just toast them lightly on the stove before adding to the recipe at the end.
This recipe is a great way to add some variety to roasted winter squash. Butternut squash is tossed with red onions to make this beautiful and hearty dish. Drizzle with a lemon garlic sauce and round out the flavors with a sprinkle of za'atar and sesame seeds.
---
1 large butternut squash, peeled, seeded, and cut into 1/2-inch cubes
2 red onions, cut into large wedges
3 tbsp extra virgin olive oil, divided
Salt and pepper, to taste
3 tbsp cashew butter
1 tbsp lemon juice
1-3 tbsp water
1 clove garlic, crushed
2 tbsp sesame seeds, lightly toasted
1 tbsp za'atar
1 tbsp fresh parsley, chopped
Preheat the oven to 400 degrees F. In a large bowl, combine the butternut squash with 2 tablespoons of olive oil and mix well to coat. Spread the squash out onto a rimmed baking sheet and sprinkle with salt and pepper. Toss the red onion with one tablespoon of olive oil in the same bowl and set aside. Bake the squash for 10 minutes, and then add the red onion to the pan and bake together for an additional 20-25 minutes, until the squash is soft.
Place the cashew butter, lemon juice, garlic, and one tablespoon of water in a bowl and stir. Add more water if necessary to reach the consistency of honey.
To assemble, scatter the sesame seeds and za'atar over the squash mixture. Drizzle cashew mixture over the top and garnish with parsley.