Paleo Pumpkin Pie Smoothie
7
Now that fall is officially here, I spend a lot of time trying to figure out how to eat as many seasonally flavored foods as possible. I'm such a sucker for the taste of pumpkin, and cloves, and cinnamon, yummmm. Unfortunately, most things that come to mind are sugar-packed desserts, and I'm trying to cut those out of my diet. Don't you miss those days when you were younger and you could eat all the desserts you wanted to your heart's content? I never even thought about what I was putting into my body and I was as happy as a clam. I've been racking my brain for how I could possibly bring that joy back into my life without worrying about my refined sugar or fat intake.
While I was getting out ingredients for my daily smoothie (while dreaming about the tastes of autumn), I realized that I could combine two of my favorite things! Pumpkin pie and smoothies. And oh, was it a great idea. I used a lot of the same base ingredients that I use for every smoothie of mine – frozen bananas, hemp hearts, almond milk – but I altered the flavor by adding in most of the same ingredients you would use for baking a pumpkin pie. You get all of the flavor, but none of the guilt. What could be better? This smoothie is high in fiber, manganese, magnesium, vitamins A, B6, and E, and even packs in some protein from the hemp hearts.
A sprinkle of nutmeg (or your spice of choice) pulls the whole drink together. This smoothie is so filling that it was all I needed in the middle of my day to tide me over until dinner. I enjoyed mine curled up in a blanket on my back porch, enjoying the fall air while listening to folk music and reading a good book. I'm not telling you what to do but… you certainly won't be disappointed if you follow in my footsteps.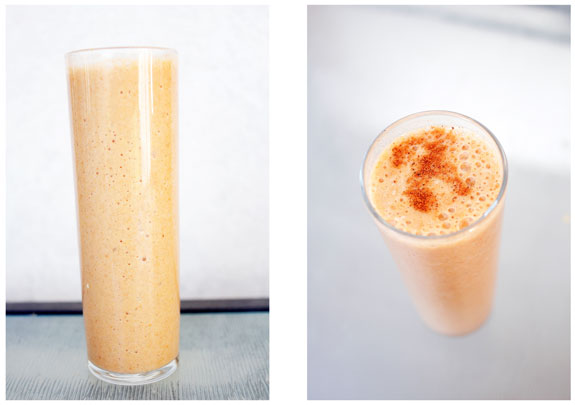 Pumpkin Pie Smoothie
2013-10-08 10:28:58
Ingredients
1 frozen banana
2 tbsp pumpkin puree
½ cup unsweetened almond milk
½ tsp vanilla extract
1 tsp honey
1 tbsp hemp hearts
¼ tsp cinnamon
¼ tsp cloves
¼ tsp nutmeg
Instructions
Combine all ingredients in a blender and process until smooth. I find it's easier on the blender if I break the frozen banana into smaller chunks before processing.
Pour into a tall glass and enjoy with your favorite book, your favorite music, or both!
Notes
Calories: 220
Total Fat: 6.4g
Saturated Fat: 0.8g
Carbs: 38.0g
Fiber: 6.1g
Protein: 5.6g
Paleo Grubs https://paleogrubs.com/
Want more Paleo recipes? Take a look at the Paleo Grubs Book. With 470+ easy-to-prepare Paleo recipes in 17 comprehensive categories it is the only Paleo book you will ever need.
+ Make sure to sign up for our free newsletter to get our latest healthy recipes delivered weekly (it's free).