---
I have a habit of craving something sugary at the end of my meals. These small sweet bites are the perfect solution for such occurrences. Eating one or two for dessert satisfies my sweet cravings without any guilt, since they are also healthy for me. The right mixture of dates, pecans, pumpkin puree, and coconut flakes gives the balls an almost cookie dough-like texture as you bite into them. This mixture also loads each bite with fiber, antioxidants, and nutrients.
These easy pumpkin pie energy bites are vegan, gluten-free, and required absolutely no baking. Once the ingredients are blended together in the food processor, I recommend putting the dough in the refrigerator. That way it will be easier to work with and shape into balls. Once the balls are formed, you could also roll them in additional chopped nuts or coconut flakes if desired. Then store them in an airtight container in the refrigerator.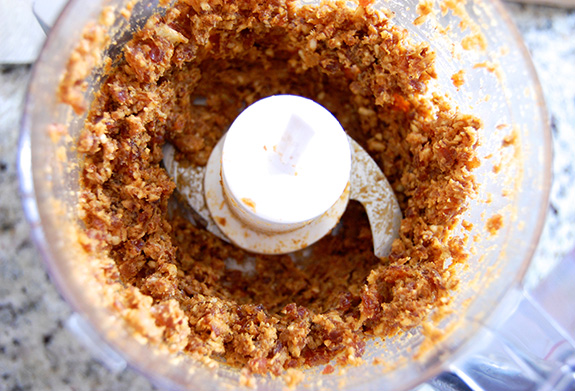 Like the other kinds of energy bites I have posted on PaleoGrubs, this recipe can also make energy bars if you press the dough into a square baking pan and chill in the refrigerator. It really depends how you would like to consume the raw pumpkin pie snack – as a couple bites of dessert after dinner, or as bars for packing along on a trip. Whichever shape they take, they will be bursting with the deliciously sweet spicy flavors of pumpkin pie.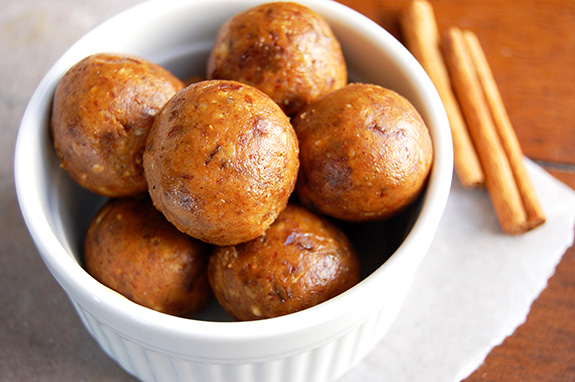 ---
1 cup pitted Medjool dates
1/2 cup pecans
1/3 cup pumpkin puree
1/4 cup unsweetened coconut flakes
2 tsp vanilla
1 tsp cinnamon
1/4 tsp nutmeg
1/4 tsp ground cloves
Pinch of salt
Place the dates into a small bowl and cover with water. Let soak for 10 minutes, then drain.
Place the pecans into a food processor and pulse until finely ground. Add in the rest of the ingredients, including the soaked dates. Pulse until combined. Adjust the spices to taste. Place into the refrigerator for 30 minutes to chill.
Use your hands to form the dough into small balls. Store in the refrigerator in an airtight container.