Snacks
30 Superpowered Protein Bars to Fuel Your Body
Many of us, in the Paleo world, are hungry people. We're active and aways looking for quick, easy, and definitely healthy sources of energy. That's where the Paleo protein bar comes into the picture. Try any of these healthy recipes for nourishing protein bars after your next workout.
---
I know, I know. Vegan and Paleo don't always go together. But when it comes to protein bars, they can be best friends. These are chock full of seeds and nuts of all kinds, and you can replace the agave with more maple syrup (or with honey) to keep it low-processed.
---

Photo: Naked Cuisine
2. Creamy Chocolate Crunch Bars
If you're drooling just by the title of this recipe, you'd better click on through. These are no-bake bars, and they're made from almonds, coconut flakes, cashews, raw cacao, and coconut sugar or raw honey (and a few other ingredients). So easy, so good.
---
3. Pumpkin Spiced Nut and Seed Bars
You'll need to make a few adjustments to keep these completely Paleo, but it's an easy switch. Use almond butter (or another nut or seed butter) instead of peanut butter, replace the oats with more seeds, and lose the amaranth—it's optional, anyway.
---
4. No-Bake Nut Butter Cookie Bars
Just replace the tablespoon of peanut butter in this recipe with another kind of nut or seed butter, and you have yourself a super simple, delicious, and protein-rich energy bar that doesn't require baking, cooking, or any fancy-pants techniques.
---
5. Almond Flaxseed Yogurt Granola Bars
I know what you're thinking: yogurt is not Paleo. And sometimes it's not. But there are different levels of Paleo, yo. So if you're flexible on dairy, which many of us are, these bars are too good for me to skip sharing them with you. And they use gelatin, an awesome-for-you superfood.
---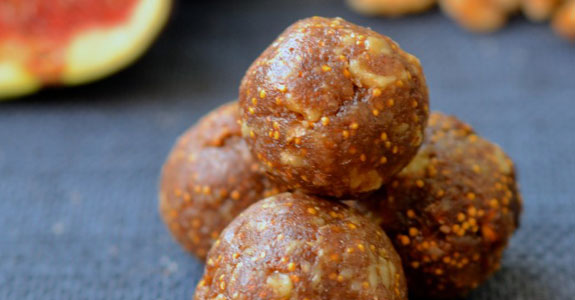 Photo: Every Last Bite
These little balls of protein and joy will remind you of the Fig Newton bars you might have eaten pre-Paleo. My dad grows figs, and I bet he'd really love this recipe. I think I'll make a batch of these for Father's Day.
---
7. Chocolate Chip Cookie Dough Granola Bars
Yes, a recipe with that name can be healthy. And it IS healthy! These granola bars are made with cashews, almonds, dates (Medjool), coconut flakes, vanilla, flaxseed meal, chocolate chips, and salt. That's it! No grains, all goodness, and it tastes like cookie dough.
---
8. Coconut Butter Protein Bars
Leave it to this recipe to make me feel like I'm looking at a picture of a Mounds bar, except this one's good for me! You'll need to track down a Paleo-friendly protein powder, but these are becoming more readily available. All that coconut is making me hungry.
---
These are called cookies, but if you shape them into bars, they become energy bars. That's how healthy they are! Packed with nuts, seeds, coconut flour, and dates, these protein-rich cookies/bars will leave you feeling like you're ready to take on the world.
---

Photo: My Whole Food Life
Maca has been my best friend lately while I'm trying to balance my hormones. It's got dozens of other benefits too, including the power to boost your energy. Add protein to that, and you've got a recipe for success with these maca energy bars.
---
11. Mint Chocolate Protein Bars
I'm going to munch on these and pretend they're Girl Scout cookies. No, they're not quite the same as Thin Mints, but a girl can pretend, can't she? Make sure you use a Paleo-friendly protein powder. These bars are so simple and quick, and they're no-bake, too!
---
12. Blueberry Pumpkin Breakfast Bars
I'm a sucker for anything that looks like a rainbow. And these bars are it. The layers of green, white, orange, yellow, and blue-purple make me want to sail right into the kitchen and make these NOW. So many flavors and textures—a protein bar that's perfect for breakfast!
---
13. Sweet Pecan Chia Seed Protein Bars
These bars feature a ton of optional add-ins, and I recommend using them all. The maca powder is great for general energy and vitality, the hemp seeds add texture, flavor, and protein, the vanilla is a lovely flavor, and the cacao nibs—do I really need to give you a reason to add chocolate?
---

Photo: Tastes Of Lizzy T's
These bars are on the sweet side, but any occasional treat is a-okay, and they've got a lot of health benefits packed in, too. These bars are nut-based and held together with a sweet and spicy egg white, vanilla, and cinnamon mixture. Store them in the freezer and try them cold for a treat!
---
15. Cashew Coconut and Orange Protein Bars
I love the flavor combinations of these, and the fact that they're drizzled in chocolate. I also am really into cashew butter lately, because if you're been off processed sugar like I have, cashew butter basically tastes like cake. Really good cake.
---
Many of us are fond of Larabars, those raw food, dates-and-nuts-based bars you can buy at health food stores (and many grocery stores) for way more than I want to pay for a single snack. Or you could get adventurous and make your own with your favorite nuts!
---
17. Apple and Almond Butter Protein Fudge
This fudge is healthy—really! It's made with coconut oil, unsweetened applesauce, almond butter, pecans, and a little bit of pure maple syrup. And that's it! You can enjoy a protein-packed and lightly sweetened treat before or after a workout, or any old time.
---

Photo: Cavewoman Cafe
These delicious-looking energy bars are filled with nuts like pecans, almonds, and a nut flour of your choice (I recommend hazelnut, and so does this blogger). The almond butter makes these rich and creamy, and you can add your favorite dried fruit.
---
19. Coconut Cashew Apricot Energy Bars
These energy bars have just six ingredients, and as usual, there's room for adjustments so you can make them out of your favorites. Because cashews are my favorite nuts lately, these bars are going onto my must-make recipe list—today.
---
20. Chocolate Chip Brownie Energy Bars
These bars are also inspired by Larabars, but this time it's the chocolate brownie flavor. Made from walnuts, cocoa powder, dates, and a few other tasties, these won't taste like protein bars, but they're healthy, protein-rich, and raw, too!
---
21. Chocolate Hazelnut Energy Bars
These bars taste like Nutella without the sugar and unhealthy additives. That's the power of hazelnut butter! The cashews make this bar extra creamy, and maple syrup ensures a light sweetness that isn't overwhelming but is just right.
---

Photo: A Tasty Love Story
These bars are for everyone because they meet the requirements (or have options) for many of the healthy eating styles different people might be following. They're also just crazy good, with an almond-coconut layer and two different options for chocolate layers.
---
23. Metabolism Boosting Truffles
These also aren't exactly bars, but you could easily shape them into bars—in any case, they have the same effect: a protein-rich treat you can eat before or after a workout, that's portable and easy to throw together. Win, win, win!
---
These bars are so easy, I can hardly call them a recipe. You're going to take your food processor and toss in cashews, dried apples, and pitted dates (1 cup of each). After processing, press the mixture into squares and refrigerate. Yes, it really is that easy!
---
Apricots are a favorite fruit for energy bars, and I'm not sure why—but they are totally delicious that way, so let's not mess with it. These crunchy, sweet, seedy bars pack a ton of protein and other nutrients, and are sweetened with raisins and coconut nectar (or honey, if you'd rather).
---

Photo: Nutritious Eats
These Larabar-inspired protein/energy bars taste just like gingerbread, but they don't use any molasses—just warm and delicious spices like cinnamon, ground ginger, and allspice. You'll also need some almonds, cashews, dates, raisins, and vanilla extract.
---
These bars have just six ingredients (plus salt) and you can adjust the proportions of different ingredients to use what you like and have available. You can use all cacao or all carob if you like. Use more pepitas, use less pepitas. It's up to you! These are free of nuts and other allergens.
---
We've seen a lot of nut and seed combinations, and that's all well and good. But for a change of pace (and flavor, and texture) let's give these baked protein bars a try. They're made of shredded yams, eggs, coconut flour, cinnamon, vanilla, and salt. Easy and tasty!
---
I'm in love with these bars because of their delicious, crunchy, crackly top. They're baked and the coconut oil rises to the top to make them that way, and then sinks back down into the bar for added moisture. These use protein powder and many different nuts and seeds.
---

Photo: One Lovely Life
30. Chocolate Cherry Hazelnut Bars
How could one possibly improve on the magic of chocolate and hazelnut? There is a way, my friends, and that way is to add cherries. Cherries and hazelnut make awesome flavors together, and we all know chocolate makes everything better, so these simple bars are the ticket.