---
Do you ever come across a recipe, or perhaps a method for cooking, that you put off trying because it seems slightly intimidating? For me, that was roasting pork tenderloin. I did not want to buy that much meat just to waste it by messing up the recipe, so for the longest time I avoided it altogether. This week I finally decided it was time to take a leap of faith. When I passed the meat counter at the grocery store, I ordered the tenderloin and then there was no turning back.
I did a little research online since I didn't know where to start, and was amazed by how easy it actually sounded. I had some idea in my head that pork tenderloin would be complicated or take a lot of time and effort, but it was actually the opposite. Simply brown the pork on the stove, and then finish cooking it in the oven. Well, that didn't sound like a recipe that I should be intimidated by. And indeed, once I tried it out, I was surprised at how easy the whole process was. On top of that, the pork loin turned out delicious and tender.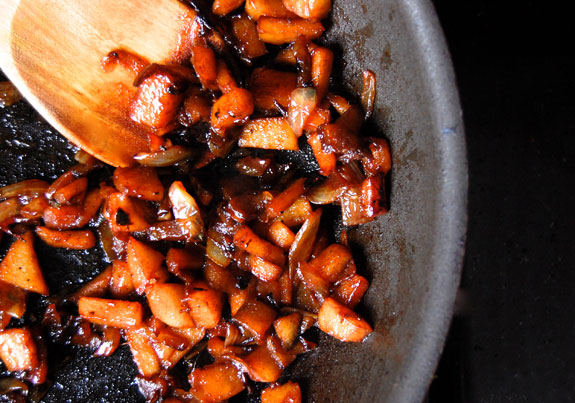 Slowly cooked apples pair very well with the slightly sweet pork. To round out the meal, I suggest wilting some spinach to serve with the pork and apples. From start to finish, the recipe is ready to enjoy in about thirty minutes. Not complicated or intimidating at all. A little lesson was learned that day in my kitchen to not be afraid of trying new things. I've already had a request to make this tasty meal again, and I definitely will be.
---
-
1 tbsp extra virgin olive oil
1 pork tenderloin (about 1 1/2 lbs.)
Salt and pepper
1 tsp smoked paprika
1/2 tsp garlic powder
Horseradish sauce, to serve

For the apples

1 tbsp coconut oil
1 small white onion, peeled and diced
1 green apple, peeled and diced
2/3 cup orange juice
1/2 tsp cinnamon
Pinch of ground cloves
Pinch of salt
1 tbsp lemon juice
6 cups fresh spinach
Preheat the oven to 425 degrees F. To cook the apples, melt the coconut oil in a saucepan over medium heat. Sauté the onion for 4-5 minutes until soft. Add the apple, cinnamon, cloves, salt, and 1/3-cup of orange juice. Cook for 5 minutes, stirring occasionally, and then add the remaining orange juice. Cook for 10 more minutes, and then add the lemon juice and a splash of water if necessary to prevent the apples from sticking to the pan. Cook about 5 minutes further until the apples are completely golden and caramelized.
Meanwhile, heat one tablespoon of olive oil in a large ovenproof skillet over medium heat. Season the pork generously with paprika, garlic, salt, and pepper. Sear for 6-8 minutes, turning to brown on all sides.
Transfer the skillet to the oven and cook for 15-20 minutes, until a meat thermometer registers 150 degrees in the thickest section of the meat. Transfer the pork to a cutting board and let rest for 5 minutes before slicing.
Place the washed, slightly damp spinach in a pot over medium-high heat and cover. Cook for 3-4 minutes until wilted.
To serve place a handful of spinach and caramelized apples onto a serving plate and top with slices of pork loin and a dollop of horseradish sauce.