Recipe Lists
25 Fall-Off-The-Bone Paleo Pork Ribs (Yummy!)
Ah, ribs. Sticky, messy, and perfectly delicious. Great on the grill or in the oven. The possibilities for ribs and their sauces are endless, so try out some of these paleo-friendly recipes for your next barbecue.
---
1. BBQ Ribs With Spiced Rum Pineapple Sauce
These ribs have a tropical flair to them with delicious homemade BBQ sauce including maple syrup, molasses, Dijon mustard, and spiced rum—and don't forget the pineapple! Check to make sure your Worcestershire sauce is paleo-friendly.
---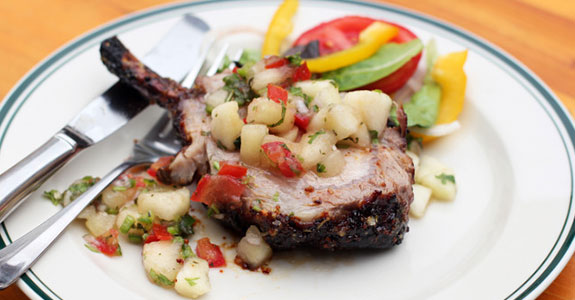 Photo: Cooking In Sens
2. Pork Rib Roast With Pear and Tomato Salsa
This rib roast is absolutely amazing with the flavors of honey, grainy mustard, rosemary, butter, and cloves, and a yummy pear salsa with shallots, tomatoes, mint, chili, and lime juice. You'll want to replace the sugar in the salsa with coconut sugar, or try leaving it out.
---
3. Slow Cooker BBQ Ribs With Homemade Sauce
Who says you need a grill to make great ribs? These are done in the slow cooker and finished under a broiler, and slathered in a homemade sauce with seasonings from coconut aminos, apple cider vinegar, date paste, and paleo ketchup (recipe included and Whole30 compliant).
---
4. Oven Baked Ribs With 5 Spice and Honey Glaze
This is a fairly simple recipe in terms of the ingredients list. The ribs are done with just Chinese 5 Spice and a bit of salt and pepper, and they're finished off with a delicious sauce made from honey, chicken broth, coconut aminos, ginger, garlic, and sesame oil.
---
5. Crock Pot Pork Ribs With Killer BBQ Sauce
This awesome sauce as a smoky kick from natural hichory liquid smoke and soked paprika. It has a traditional flavor from tomato sauce, molasses, coconut sugar, onion powder, apple cider vinegar, and a bit of butter for a delicious buttery flavor and healthy fat.
---

Photo: So Let's Hangout
6. Ginger and Coconut Aminos Crock Pot Pork Ribs
This ribs are seasoned with coconut aminos (listed as the paleo option in place of the soy), coconut sugar, fish sauce, minced garlic and ginger, along with lemon juice and red pepper flakes. They're a bit spicy, a bit sweet, and definitely sticky, messy, and delicious.
---
These pork ribs are cooked into a delicious chili verde (green chili) sauce with tomatillos, garlic, jalapenos, and cilantro. You'll seasoned them with onions and cumin and serve with lime wedges. No need for the tortillas! I'd use olive as the oil in this recipe.
---
8. Smoked Pork Ribs With Asian Spice Rub
This recipe needs one adjustment (coconut aminos in place of the soy sauce) but everything else is perfect for these lovely Asian-inspired and flavorful ribs. You'll get the flavors just right with a dry rub, spritz, and sauce that, combined, add spice and stickiness.
---
9. Pineapple Five Spiced Pork Ribs
You'll want to replace the sugars in this recipe with coconut sugar and the soy sauce with coconut aminos. I love this recipe, though, for its deliciously sweet and tangy pineapple flavor with a kick of red pepper flakes, Chinese five spice powder, sesame, and ground ginger.
---

Photo: The Primitive Palate
10. Ancho Chile Braised Pork Ribs
These ribs have a bright and spicy kick from dried ancho chilies, guajillo chilies, roasted red pepper, garlic, and a southwestern spiceblend (use store bought or make your own). Braising is a simple and delicious cooking method, and these are finished in a crock pot.
---

Photo: Meatified
Sauces and grilling techniques are great, but ribs are such a great cut that you don't really need a lot of fancy cooking to make them taste great. You can cook ribs in the oven using this method with a bit of apple juice or stock, your favorite dry rub, and a store bought (paleo-friendly) sauce.
---
12. Crockpot Grilled Fiery Habanero Apricot BBQ Ribs
This recipe needs an adjustment for paleo, but it's too good not to share. Instead of 12 ounces of beer, try it with apple juice (or apple juice diluted with water). The unique flavors of cinnamon and chipotle and the hot apricot BBQ sauce (use coconut sugar and paleo ketchup) can't be beat.
---
These ribs are super simple and are already paleo without any adjustments (provided that the BBQ sauce you choose is paleo-friendly). You'll need honey (raw and local is best), paprika, chipotle chili powder, paprika, garlic powder, salt, and pepper.
---

Photo: Tastes Of Lizzy T's
14. Three Ingredient Pork Rib Marinade
As long as you use coconut aminos and a paleo-friendly ketchup (homemade is even better), you can be on your way to delicious grilled ribs in just a few minutes with this quick and easy marinade. The ribs only need to marinate for 10 minutes!
---
15. Fig and Sriracha Flazed Baked Spare Ribs
This is a simple recipe with unique flavors from the fig jam—if you don't have fig jam that's paleo-friendly, just substitute mashed or pureed figs. Yummy! The garlic powder, sweet paprika, red wine vinegar, and sriracha sauce really offset the sweetness of the figs.
---
16. Ribs With Espresso BBQ Sauce
For this recipe, use coconut sugar where sugar is called for, and make sure you have paleo-friendly ketchup. I recommend avocado oil in the BBQ sauce. Let's get these delicious espresso flavors going, with Hungarian paprika, chili powder, and plenty of garlic.
---
Use paleo ketchup and coconut aminos in this recipe (instead of soy sauce) with delicious flavors of orange, honey, and apple cider vinegar. The spicy gochujang can be found at Asian markets. There's no need to garnish with peanuts, so just leave 'em off (or use almonds).
---

Photo: Jehan Can Cook
You'll need to get your hands on some paleo-friendly ketchup for this one, but trust me—it's worth it. These ribs have a kid-friendly heat level (if you have a hose to clean the kids off afterwards) and are made with tamarind pulp, honey, and jerk seasoning.
---
With coconut sugar and coconut aminos in place of the brown sugar and soy sauce, you'll be loving these deliciously blackened ribs with tamarind, chilies, star anise, garlic, ginger, and coriander. The Asian-fusion flavors are delicious and the recipe is super easy.
---
This ribs recipe is simple and traditional—also, delicious! The smell of these cooking through your house will make you crazy. Just make sure to use paleo-friendly ketchup and coconut sugar in place of the brown sugar. What are you waiting for? Get cooking!
---
21. Fall Apart Baked Ribs With Chipotle BBQ Sauce
These ribs are baked up easily in the oven and feature a deliciously spicy, not too sweet, JUST right BBQ sauce made completely from scratch. You'll just want to replace the small amount of brown sugar with coconut sugar and the beer with diluted apple juice.
---

Photo: The Hungry Hounds
22. Spicy Maple Glazed Baby Back Ribs
If you've read my lists before, you know how crazy I am about maple. Is there any better flavor? I think not. So I'm pretty darn excited about these maple-glazed spicy ribs with butter, paprika, chili powder, chipotle, tomato, and chicken stock. Just make sure your Worcestershire sauce is paleo-friendly.
---
This roast is perfect for the holidays and gently seasoned with cloves, coriander, fennel, mustard seeds, chopped thyme, kosher salt, freshly cracked black pepper, and extra virgin olive oil. Super easy, and serves a family.
---
24. Pineapple Pork Ribs With Potatoes
This recipe makes a full meal with baby back ribs, pineapple, and potatoes. You'll need to use coconut aminos in place of the soy sauce to create the perfect flavors with ginger, pineapple juice, onion, and garlic. Use olive oil, and if you want, sweet potatoes in place of the white potato.
---
25. Oven Ribs With Peach BBQ Sauce
These yummy, peachy ribs are coated in a delicious dry rub with cinnamon and ginger and a homemade peach BBQ sauce. You can replace the brown sugar in both parts with coconut sugar—no problem. Just make sure you Worcestershire sauce is paleo-friendly.