Dinner
52 Paleo Pork Chops with Amazing Flavor
Pork chops are one thing that doesn't have to go when you start following the Paleo way of eating. But since traditional baked pork chops have you coating the chops with flour and breadcrumbs there are some modifications that need to take place to make sure that they stay Paleo friendly. Even conventional applesauce needs to be replaced as a side if that's how you like to eat them. We've found several delicious styles of pork chops, all Paleo, and served up with different sides that complement the flavor.
---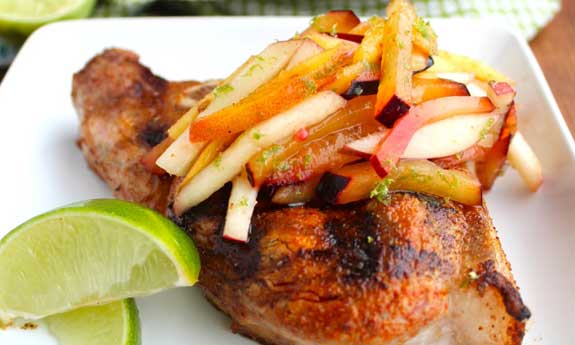 Photo: zenbelly
1. Grilled Pork Chops with Stone Fruit Slaw
They're keeping this recipe very simple, and that's very in line with the Paleo method of eating. The more you complicate a recipe the more you step away from what they were doing 10,000 years ago. While it's impossible to replicate exactly what they were eating, by reducing your foods to meats and vegetables with a bit of fruit mixed in and nuts and seeds added, you are getting as close as possible. Here they've assembled a nice mix of fruits like apricots and plums and made a sort of fruit slaw. It comes out looking so fancy you could serve this to dinner guests.
---
2. Pork Chops and Applesauce
Nothing is more classic than having applesauce with your pork chops, and this recipe does a great job of putting them together without causing you to break any Paleo rules. For starters that pork chops are made without using any breading, but still retaining plenty of flavor with the use of spices like turmeric. Did you know that turmeric is a special spice, revving up your metabolism and helping your immune system? Going Paleo isn't about gorging on meat, it's about using these types of all-natural ingredients that are a boon to the body.
3. Cumin Spiced Pork Chops
This is what a Paleo plate is supposed to look like: loaded with veggies and meat this will fill you up without making you feel sluggish. Root vegetables are definitely Paleo and represent very closely what our hunting and gathering ancestors would have been able to find in the wild, pick, and eat. Parsnips, beets, and carrots are all used in this, and the pork chop is seasoned with cumin, providing a flavor that you don't typically associate with pork chop night. The vegetables cook by themselves for awhile, and then the meat is added so they trade flavors back and forth.
4. Sweet and Spicy Indian Pork Chops
Sweet and spicy always go good together, and contrary to popular belief you can actually have sweet foods on Paleo, they just have to be naturally sweetened, without the use of refined sugar. In this case the sweet is coming from honey, so you're going to get a rich sweet flavor without adding anything artificial to your body. The spiciness is coming from red chilli, and you might also pick up some strong flavoring from the ginger being used. The end result is a pork chop that gets absolutely smothered in a spicy but sweet Indian-inspired sauce that you'll definitely make more than once.
5. Sautéed Pork Chops with Peaches
Here's a way to get the same flavor profile as pork chops and applesauce, but with a different twist because it's peaches standing in for apples, and they're served up in wedges, not a sauce. They also include a recipe for couscous doppelganger that doesn't use any grains, but sweet potatoes instead. So you won't be adding any wheat to your system the way you would with traditional couscous, but rather extra vitamins and minerals from the sweet potatoes, as well as fiber. It's a great accompaniment to the pork chops and peaches, and is recommended.
---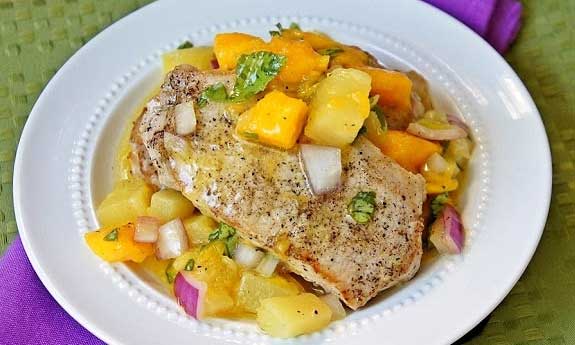 Photo: Navy Wife Cook
6. Pork Chops with Pineapple Mango Salsa
Let's face it, there's only so many ways you can cook a pork chop, so a lot of it comes down to how well you can dress it up. By putting a salsa on top of these pork chops you are adding an impressive amount of flavor, and also getting your fruit for the day. As a Paleo eater the focus isn't really on fruit, but it does have its place. A serving a day of fruit is usually enough to get the good things they contain, like antioxidants, vitamins, and fiber. Your focus is on a split between meat and vegetables, with attention being paid to a daily intake of healthy oils and fats.
---
7. Plum Drunk Pork Chops
Here's a one-skillet method of making tasty pork chops that you won't have to wrestle with because they're too tough. The alcohol from the hard cider will help tenderize the meat, as well as help soften the plums. What remains is a saucy and fruity pork chop dish that will give you some flavors that you typically don't get from a typical pork chop meal. By only using one skillet you are cooking the way cavemen might have cooked, huddled around a fire and using only the utensils they could carry with them.
8. Bacon and Asiago Stuffed Pork Chops
This stuffed pork chop recipe does everything right and plays to the palate. By stuffing a pork chop with bacon you are making use of multiple parts of the pig, which is something our ancestors would have done, wasting no part of an animal and focusing on sustenance for survival. These days we can make things a lot more delicious, and bacon is a nice standby for Paleo eaters. The ingredients are very basic, with nothing extra being used. The use of asiago cheese might be frowned upon by some Paleo eaters, but if it's grass-fed, this is one hard cheese you may want to experiment with to see how you handle it.
9. Chipotle Glazed Pork Chops
Adding chipotle to the mix means you will be bumping up the heat meter a notch or two. This is a nice pepper because it provides spiciness, but not too much, and not enough to make you cry or have to rinse your mouth out. She's done a good job of mixing in additional flavors so that there is more to this than just a hot pepper. At the same time the recipe is kept simple, the chops go unbreaded and you take a pass on all of the things that make traditional pork chops a no-go.
10. Apricot Spice Glazed Pork Chops
If you like apricots these are the pork chops you'll want to go with. They are completely covered in a spicy apricot sauce which totally brings out the flavor in the meat. The spice comes both from dijon mustard as well as red pepper flakes, so these are going to have a bit of a kick. The nice part about them is that by the way they're cooked the apricot glaze will cover all parts of the chop, so you won't be left with any unglazed bites.
---

Photo: tgipaleo
11. Vanilla Maple Glazed Pork Chops
The Paleo diet is anything but bland and boring, and it's all about trying new flavors on old favorites. That's the theme here with the vanilla maple glaze that adorns these tasty chops. The maple flavor of course comes from pure maple syrup, and the vanilla comes from real vanilla. By frying these in coconut oil you're going to get plenty of awesome flavor infused right into the meat, and it provides a better taste than conventional cooking oils. In less than half an hour they're done from start to finish, so they're also simple to make.
---
12. Spinach, Feta, and Raisin Stuffed Pork Chops
This recipe is really pushing the boundaries of what's possible with a piece of pork. We've seen stuffed pork chop recipes before, but adding raisins to the equation is something that is new to the scene. There's so much going on here that you may wonder what exactly it is they're going for here, but for some reason it works. You can't beat the mix of spinach and feta, those go together great, and adding the raisins gives it a sweetness that balances it all out.
13. Grilled Pork Chops with Balsamic Blackberry Sauce
The balsamic blackberry sauce on these grilled pork chops is reason enough to try this recipe. It's loaded with flavor thanks to the balsamic vinegar, and the blackberries add antioxidants to the meal. She recommends using organic blackberries, which is a good idea since berries soak up so many pesticides and chemicals when conventionally grown. Anytime you top a pork chop with a fruity sauce like this one you are getting a good mix of savory and sweet which works well.
14. Flax-Mustard Seed Crusted Pork Chop
If you like your pork chops to have that nice breadcrumb coating, then you might want to try this Paleo pork chop because they're attempting to reproduce that same crunchy coating. The kicker is that they're doing it a super healthy way by using flax seeds, as well a super tasty by adding mustard seeds. The flax seeds will provide you with omega-3s, as well as fiber, which you'll need on this diet with all of the meat you'll be consuming. The finished product looks like a pork chop you remember from the days before Paleo.
15. Smokey Cacao Nibs Encrusted Pork Chops
Just when you thought they've done everything imaginable to a pork chop, they went and added chocolate to them. Wondering how pork and chocolate go together? Fantastically. The trick is that they're using organic cacao that is both dairy free and gluten free, and basically as close as you'd want to get to using straight chocolate. It's going to be free of the added sugar and milk that milk chocolate contains. By giving it a smokey flavor with the smoked paprika, they are making these chops very dynamic.
---

Photo: The Rogue Cookie
16. Spinach Stuffed Pork Chops with Lemon Dijon Caper Sauce
It seems today's Paleo chefs are trying to outdo one another, and it's a virtual arms race to see who can come up with the tastiest and most creative dishes. Take for example these stuffed chops that contain a hearty amount of spinach, and finish off with a delectable sauce that puts them over the top. The spinach is going to provide you with phytonutrients, fiber, and iron. They're using frozen spinach, so make sure you get organic frozen spinach because its leaves are very absorbent so you don't want any chemicals along with all of the nutrients it provides.
---
17. Stuffed Double Cut Pork Chops
This pork chop gets extra points for presentation because when you cut into it you get that nice pocket of ingredients in the middle, like a chicken cordon bleu. The stuffing is Italian sausage and other yummy inserts like extra seasonings and spices. So not only are you getting the savory meat from the pork chop, but you're getting the spiciness from the sausage in the middle. Just be sure to serve this up with a nice serving of vegetables.
18. French Onion Pork Chops
This is a pork chop that thinks it's a bowl of French onion soup. So if you're a fan of French onion soup, definitely try this out because it's going to give you the same experience, with a nice hunk of meat as back up. Perhaps you've lamented that French onion soup is lacking that certain something, and needs a meaty kick to it. This is your answer. Paleo purists will want to forego the Swiss cheese, or use a cheese substitute. You can find these in the vegetarian and vegan section of a decent supermarket or health food store.
19. BLT Pork Chops
These BLT pork chops represent two classics combining to form a new meat treat. It's a pork chop that's been given the BLT treatment, so you have fresh tomatoes stuffed inside the pork chop, which has been wrapped in bacon, and sits atop a bed of lettuce. It's a great way to get a serving of veggies along with your chop, and adds the irresistible flavor of bacon to an already porky dish. It's a fresh and fun way to have Paleo pork chops and is sure to satisfy.
20. Orange Molasses Pork Chops
She often uses plenty of ingredients in her recipes, but none of them are unnecessary and they all seem to contribute to the final product. That's the case here, and she's using orange juice for the orange flavor, and pure molasses so you're going to get a rich, thick flavor from these, and a well-coated chop. The addition of sweet potatoes as a side works really well, as these are a Paleo approved vegetable that will give you antioxidants and fiber to keep your body healthy and your digestive system humming.
---

Photo: VA hunter Gatherers
21. Cedar Planked Pork Chops and Vegetables
This is a great recipe to try out if you have cedar planks handy, or if you've been wanting to try them out in a recipe. They're great to use with pork chops because they help to make the meat nice and moist so no more dried out pork chops. They've played it smart and added a host of vegetables to this, including mushrooms, onions, and broccoli, so it's a well-balanced Paleo meal. They do a good job of providing visuals throughout the process so it's easy to follow along and get these just right.
---
22. French Cut Pork Chops w/ Roasted Brussels Sprouts & Apple Slaw
One way to shake up pork chop monotony is to try a different cut. In this case they're using French Cut pork chops which get cut from the center of the loin, so they're typically more tender with a more intense flavor. They have you totally covered with this recipe, making sure to include Brussels sprouts, a cruciferous vegetable that's very healthy for you, in an apple slaw that produces the applesauce feel but without the added sugar. No matter how you cut it, this is a perfect example of what a Paleo meal can look like, if you balance it correctly.
23. Pork Chops with Pesto and Strawberry Onion Reduction
Adding pesto to pork chops makes them taste great, and adds instant flavor. The good news is that it's easy to make a Paleo friendly pesto, and it's good for you as well. With the addition of a strawberry-onion sauce they are really upping the ante and pushing your taste buds to the limit. They provide the pesto recipe so you don't have to worry about buying a pre-made pesto, or wonder how to keep things Paleo. This is a nut-free version, but nuts are allowed on Paleo so you can use a version that has nuts in it if you want.
24. Pork Chops Scarpariello
Chicken is what usually gets the scarpariello treatment, but in this case they've translated it into a pork chop. A traditional chicken scarpariello recipe is pretty Paleo all by itself, so you don't have to make too many modifications. Usually cherry peppers are used, but in this version they're using jalapenos so it may be a bit spicier than other versions. You get plenty of bell peppers and a nice range of seasonings. You'll want to sub out the mashed potatoes with faux-tatoes made with cauliflower or mashed sweet potatoes to keep it Paleo.
25. Pork Chops with Cider-Bacon Gravy
So it's been established that the flavor of apples goes well with the flavor of pork chops, and this is one instance where they've toyed with that idea a bit. Instead of applesauce they are infusing this gravy with apple flavor via apple cider. They are also making it additionally yummy by adding bacon to the mix. The beauty is that they do it all without using any dairy, or adding anything that will detract from your Paleo path. Be sure to have a salad with this as they don't include much in the way of veggies.
---

Photo: The Paleo Periodical
26. Mustard Grilled Pork Chops w/ Basil-Apricot Relish
These pork chops are sure to please, since they are giving equal attention to the pork chop as well as what goes on top of it. First, they are giving the chop a healthy dose of mustard, and here's where they give you a little leeway and let you use whichever mustard you like best. Most mustards are Paleo friendly, so it's nice to be able to sub in your favorite. Even more flavor is piled on with the relish. This is an eclectic mix of strongly-flavored basil with sweet and tart apricots. Toss some veggies on the grill to round this out.
---
27. Smothered Apple and Onion Pork Chops
These pork chops are absolutely smothered in a pile of apples and onions, which only serves to enhance their flavor. The apples come out soft and sweet and attempt to steal the show from the pork chops. The onions help to balance things out and bring out the savoriness of the chops, and the sprigs of rosemary really put this over the top in terms of flavor. It's the sort of meal that you'll want to make again after you try it once.
28. Spicy Pineapple Pork Chops
The key to these pork chops is that you're required to marinate them for three hours. If time is of the essence you might want to go with one of the other recipes featured on this page. But if you have the time and want some serious flavor soaked into your chops, this is the way to go. It's great that they've added spice to the sweetness of pineapples, relying on chilli paste to get the job done. Of course you'll want to opt out of the baked potato on this one, as it's not Paleo, but the pork chops totally adhere to the guidelines.
29. Smothered Pork Chops
Smothered foods always seem to taste good, the only problem is that they're usually smothered in things that will make you fat. When you go Paleo you don't have to worry about that, because the fats you get are healthy fats, and it's balanced by the vegetables and fruits you eat. Coconut cream and coconut milk get substituted for regular cream, so you still get that creamy sauce, but without the dairy. Follow her lead and copy the spices she recommends because it's a blend of good-for-you seasonings that work really well here.
30. Smoked Avocado Lime Pork Chops
These pork chops sound complicated, but really the hardest part will be finding the oil that they're using. It's not as hard as it seems though, thanks to the Internet, and it's something you'll find plenty of uses for once you have it in your kitchen. Aside from that the smoked flavor is coming from the smoking process, so if you don't have a smoker this one is going to be a no-go. If you're committing to the Paleo diet you may want to grab a smoker though, as it comes in handy and gives you another way to cook your meats and have them come out looking and tasting great.
---

Photo: Cooking Weekends
31. Pork Chops with Rosemary and Orange
There's much to savor with these pork chops featuring rosemary and orange flavor as well as tartness from vinegar. The rosemary is fresh sprigs, so it has a noticeable flavor and holds its own against the orange zest. They're using freshly squeezed orange juice to really up the orange flavor, and it's important not to use store bought juice because they add in so much sugar it won't be Paleo friendly. Stick with wholesome foods that are close to nature and you'll be all set.
---
32. Balsamic Glazed Baked Pork Chops
These pork chops look fantastic even without the balsamic glaze on them, so you know that they're going to be even better once they get covered in it. Because pork doesn't provide a ton of flavor all by itself, it's important to give it a helping hand by adding toppings and sides to make your mouth happy. Balsamic vinegar is also going to help make the meat tender and juicy, and it's nice that they serve this up with a side of mushrooms and other vegetables to make sure that you get everything you need.
33. Pork Chops with Sage Applesauce
Here's an interesting take on the classic pork chops and applesauce. They've added sage to the mix, which will help bring out the flavor of the pork, and add a nice herbal taste to the otherwise sweet applesauce. And remember, since this is Paleo the applesauce is not going to include any additional sweeteners, getting it's flavor from just apples. They've wisely paired this up with a side of greens, which is one of the key factors in going Paleo, getting a nice split between meat and vegetables.
34. Lemon Tarragon Pan-Seared Pastured Pork Chops
This is a lovely recipe for pork chops that uses only a handful of ingredients, but packs a lot of flavor. How do they do it? The lemon works well to provide a tart and tangy flavor, and the citric acid works to make the pork more tender. The use of tarragon means that you'll get plenty of flavor, without it being overpowering. See how she's using pastured pork? That's important because you'll know that the pigs were eating natural sources of food, and not being subjected to conventional feed. The quality of the meat you eat on Paleo is really important, so always get the best.
35. Chai Spiced Fruit Pork Chops
If you like a nice hot cup of chai tea, or a chai latte, you probably never thought that it would be able to cross over to the world of pork chops. But that's actually what they're using here, chai tea bags. But don't worry if you think it will taste too much like chai. They are mixing it up well with dates, figs, and cinnamon added for additional depth to these chops. The honey is what gives it that nice glaze, and it's nice to see an all-natural source of sweet being used. Be sure to cook up a vegetable with this, as it doesn't contain any in the main dish.
---

Photo: Civilized Caveman
36. Bacon Wrapped Grilled Pork Chops with Citrus Drizzle
Many times you'll see a Paleo chef wrap up a food we're familiar with in bacon. It's a way to enhance both the flavor, and the experience because it gives it a bit of novelty. Since bacon is OK on the Paleo diet, they seem to take license in this fact and add it to whatever they can. In this case they're giving the pork chop a nice border of bacon, and are seasoning it up with red pepper and garlic, and the zesty juice of a lime so these will be pork chops you'll enjoy entirely.
---
37. Smoked Cheesy Onion Stuffed Pork Chops
These pork chops come stuffed with cheese, and they're using sharp cheddar as their choice. Cheese in general is not Paleo, because it's dairy and dairy isn't allowed when strictly following the Paleo plan. There is a grey area when it comes to hard cheese that don't contain as much lactose as their soft counterparts. It really boils down to how your body responds to it, so if you know that you can handle cheddar then this recipe gets this green light. It's a great way to get some use out of your smoker if you have one.
38. Heaven Sent Grilled Pork Chops
Heaven must have sent these grilled pork chops because they taste out of this world. This recipe proves that you don't have to have a lot of bells and whistles to make a great meal that everyone in your family will love. And the more simple you keep a recipe the more likely it is to conform to the Paleo way of eating. These pork chops have just four simple ingredients, and they rely on cumin and garlic powder for all the flavor that's needed.
39. Peach Ginger Glazed Pork Chops
When you glaze a pork chop you are insuring that the flavor hits every bite you take, and that means these chops come with a noticeable peach and ginger taste. Peach and ginger is an interesting flavor mix, with peaches hitting the sweet taste buds and ginger working to wake up the rest of your palate. Ginger also has a cleansing effect on the body and soothes the digestive system, while peaches contain antioxidants that they generally don't get enough credit for.
40. Stuffed Autumn Pork Chops with Broccoli
The creator of this recipe wanted to stuff their pork chops with something other than bread stuffing. They did a nice job, opting for apples and peanut butter. Be sure to use almond butter instead of peanut butter because peanuts aren't Paleo. Notice how these pork chops are resting on a bed of broccoli. This is how a Paleo meal should look, a nice portion of meat accompanied by an equally impressive portion of vegetables. Here they're using one of the best vegetables you can eat if you want to be as nutritionally responsible as possible.
---

Photo: The Crankin' Kitchen
41. Pork Chops with Rhubarb Cherry Chutney
If you want your whole meal thought out for you, go with this recipe. They not only show you how to season the perfect pork chop, but they give you a recipe for a cherry chutney that goes really nice with the pork. They even explain how to roast up the perfect sweet potatoes so that you're getting everything you need in one meal. They've taken a traditional Martha Stewart pork chop recipe and made it so that Paleo eaters can enjoy it. There's a ton of recipes out there, waiting to be modified, they just need a bit of tweaking to take out the bad and insert the good. Don't be afraid to experiment.
---
42. Paleo Pork Chops
Here's a simple recipe to quickly cook up Paleo-style pork chops, and she shows you how to plate them up so you've got all of your nutritional bases covered. She's using organic grass-fed pork chops, which is key, and she's seasoning them up with rosemary, mustard, lemons, and garlic for an interesting flavor profile. The nice thing about eating a Paleo meal is that you can typically taste each of the ingredients used, rather than have a one-dimensional flavor to it. Serve these up with Paleo friendly applesauce and a side of greens and you're good to go.
43. Lemongrass Pork Chops
If you've been wanting to start cooking with more lemongrass, this is one way to do it. Lemongrass makes pork taste really good, which is surely why they're using it here. There's also garlic and lime being used, but the main thing you're going to taste here is the lemongrass, as it has a pretty strong flavor to it. They cook these up with nice crust to the outside and have a sauce drizzled on top, and say that it's Vietnamese inspired. They advise that this recipe does take a little bit of time, so not one to attempt when you're in a rush.
44. Pork Chops with Chunky Sweet Curried Sauce
It's nice that she's separated this recipe into two instructions, one for the pork chops and one for the sauce, as it makes it easier to follow along and keep things organized. The pork chops themselves are basic enough, incorporating a blend of herbs and seasonings to enhance the flavor. The sauce is what we were most interested in, since sweet things on Paleo can be tricky to pull off. She's getting the job done with coconut milk and apples for the sweet flavor, and curry powder for the curry flavor of course.
45. Apple Allspice Smoked Pork Chops
There are two key elements at work with these pork chops. First, you'll need to marinate them as directed, and it's recommended to let them soak for a long time if you want to replicate the results. And second, you'll need to have a smoker to cook them up just like they do here. The combination of these means that you'll end up with flavor that goes all the way throughout the meat, and smokiness that is cooked right into the chops. Be sure that your apple juice concentrate is organic.
---

Photo: Delightful Taste Buds
46. Citrus Thyme Pork Chops
Anytime you marinate your pork chops overnight, you'll be glad you did, and you may never go back to eating them without marinating them again. The reason this works so well is that the marinating process both tenderizes the meat, and allows it to soak up the flavor. Cooking up your pork chops without marinating them results in a tougher meat, and this is one way to get around that. The use of citrus from the orange juice further helps soften up the meat and goes wonderfully with the thyme.
---
47. Pan-Seared Pork Chops in a Chimichurri Sauce
It's not everyday you see chimichurri sauce being added to pork chops, but there's really no reason why they shouldn't go together. Luckily for us Paleo eaters chimichurri sauce is totally OK, it's a mix of herbs and red wine vinegar, and it helps these pork chops taste even better. They're searing them up in the pan first, so they'll have a nice crunch and crisp to the outside, while remaining tender on the inside. You're in control of how much chimichurri sauce you use per chop, or per bite, which is great.
48. Herbed, Pan Fried Pork Chops
Pork is a pretty good palate to work with, since it doesn't have a very strong flavor all by itself. Here they are using rosemary and thyme as the herbs, and the way they cook them up insures that the herbs will stick to the meat, so you'll get them with every bite. Be sure to use grass-fed butter to keep it all Paleo. The mushroom sauce is a nice bonus to these pan-fried wonders. These are sure to become your go-to pork chops when you want a buttery, delicious treat.
49. Pork Chops with Braised Bacon and Apple Cabbage
These pork chops come out looking absolutely amazing, and it's because of the use of braised bacon. The braising makes the bacon taste awesome, and they provide instructions on making an apple cabbage. This is nice because eating cabbage by itself can be a bit boring, and the taste leaves something to be desired. But the way they've prepared it here gives it an apple taste which of course goes great with the pork chops, while giving you the nutrition of cabbage, including fiber to help it all make its way through you.
50. Apple-Bacon Pork Chop Stew
Here's a pork chop "stew" that will supply you with plenty of cabbage to offset the pork you'll be eating. There are also carrots and apples used, so there will be a sweetness to this as well. The main reason people "fail" on Paleo is by putting too much of an emphasis on meat. This is not a meat only diet by any means, and they are missing the point of the hunter-gatherer equation. Early man wasn't just eating the animals they killed, but the vegetables, fruits, and nuts that were all around them. In that way it was a very balanced diet, one that the body still responds well to.
---

Photo: Wellness Mama
51. Pork Chops and Apples
Forget making a sauce out of your apples, just eat the apples whole with these pork chops. They're recommending the use of organic pork chops, and they should also have mentioned that you should be using organic apples, as there's a big difference between conventional apples and organic. They serve them both up with a side salad, since Paleo is slanted more towards getting meat and vegetables into your body, with fruit taking more of a peripheral role. The ingredients list and cooking instructions are both short, so this is an easy recipe to whip up. It's also a great twist to the old "pork chops and applesauce" standby made famous by the Brady Bunch.
---
52. Apple Cider Vinegar Pork Chops
If you don't know of the benefits of apple cider vinegar, just rest assured that it's a great food item to have on hand. It helps your digestive system, and for Paleo eaters it's all about getting your body to function at optimal level, especially your digestion. You do end up eating a lot of meat on this diet, which is balanced out with all of the vegetation you consume, but anything that helps you break down foods is welcome. These pork chops come from a Whole30 recipe, and anytime you see a Whole30 recipe you'll know it's also Paleo-approved.
53. Orange Apricot Pork Chops
Oranges and apricots combine with these pork chops to give you a sweet and tangy flavor to go with the savory pork. They've removed any grains from this recipe, usually found in the coating used in conventional pork chop recipes. There's also no dairy, and it becomes evident that Paleo is effective not just because of the nutritious foods you're eating, but because it avoids the types of foods that cause the most problems for humans. You're left with clean food that is put to good use by the body.
54. Herb Marinated Grilled Pork Chops
Marinating your pork chops gives you great results, the same way that marinated chicken and steak taste better than non-marinated. She's not holding anything back with this recipe, and bombards your senses with an eclectic mix of herbs and spices. There's rosemary, thyme, sage, red pepper, peppercorns, and more all vying for attention from your taste buds. These pork chops will definitely make an impression, and a good one at that. Perfect for entertaining or just when you want a delicious meal that is easy to make and turns out great.
55. Pork Chops with Herbs and Grapes
The robust flavor of herbs meets the sweet flavor of the grapes in these pork chops. It's always a good idea to include something sweet with your pork chops, which is why pork chops and applesauce works so well together. The grapes provide just the right amount of sweetness, and are an interesting ingredient that you don't see paired with pork too often. But when it tastes this good it's sure to catch on. Rosemary and sage is a time tested herb pairing, and is just right when added in with the grapes.
56. Roasted Garlic Spinach and Mushroom Stuffed Pork Chops
These pork chops are absolutely stuffed with the flavor of roasted garlic, spinach, and mushrooms. That's a lot going on, and it all works to make the pork taste even better. Not to mention you're getting nutrients from the garlic, spinach, and mushrooms, so you end up with a healthier meal in addition to the flavor upgrade. Spinach has plenty of phytonutrients and fiber which will help you digest the fiberless pork. Garlic also helps the digestive system and mushrooms are another source of fiber.
57. Pork Loin Chops with Apples and Cranberries
Using pork loin to make your chops means you're getting a lean cut of pork but still getting all of that savory flavor. Add in some apples and you're well on your way to a delicious meal. Then add in some cranberries and you shake things up so it's not boring and typical. The tartness of the cranberries adds in a new flavor dimension, countering both the sweetness of the apples and the savory flavor of the pork loin. What results is an interesting flavor combination that takes pork chops to a new dimension.
58. Cream of Mushroom Chops
No cream is used in these cream of mushroom chops, and instead they've gone with coconut milk to give it that creamy consistency. No cans of condensed soups are used in this recipe either, which is a recurring theme with Paleo, which eschews using packaged and processed foods in favor of using fresh and pure ingredients. The end result provides the same type of flavor as you'd expect from a chef-caliber cream of mushroom soup to go along with a wonderful pork chop.
59. Pork Chops with Apple Compote
The apple compote that comes alongside these pork chops takes the place of applesauce and does a great job of filling in. She puts a nice sear on these pork chops using coconut oil as the oil, then drops them in the oven to finish cooking. While that's happening you make up the apple compote so it's all ready at the same time. She's using pastured pork chops so they're fed a natural diet and allowed to roam around instead of being subjected to the sort of feed and living conditions of conventionally raised pigs.