Featured
35 Easy Paleo Picnic Food Ideas
Who doesn't love a good picnic? No one, that's who. But picnics are a place where you're bound to find foods that are unhealthy and certainly not Paleo, so when you decide what to bring, choose one of these amazing recipes.
---
Everybody loves a good slaw! Especially when it's made with tasty ingredients instead of limp, packaged cabbage and mayonnaise. This one has kale, radishes, carrot, apple, avocado, pumpkin seeds, and a lovely dressing of olive oil, maple syrup, garlic, and lemon juice.
---
You just can't go wrong when you serve up our jicama potato salad that uses absolutely no potatoes at all. It's surprisingly close to the original, but without anything to slow you down or make you feel bloated after the picnic is over.
---
3. Antipasto Stuffed Raw Peppers
If you don't eat dairy, you can leave out the provolone cheese in this recipe. Even without the cheese, everyone at your next picnic is sure to enjoy these little peppers stuffed with ham, salami, red onion, and artichoke heart. Super simple and easy to make!
---
4. Asian Salmon Zucchini Noodle Bowl
Since this bowl can be served cold, it's a great portable picnic food. Enjoy the spiralized veggies with the flavors of green onion, cilantro, fresh ginger, sesame oil, hot chili oil, coconut aminos, honey, and white wine vinegar with pretty sesame seed sprinkles.
---
5. Cucumber Melon and Avocado Salad
This salad is great for picnics, especially in the summertime, because it's extra refreshing when served chilled. Cucumber, melon, and avocado are perfectly refreshing foods without much help! Still, you can spice them up with mint leaves and lemon.
---

Photo: The Iron You
6. Cranberry Pistachio Light Chicken Salad
This easy and colorful chicken salad is made with vegetable bouillon, onion, celery, dried cranberries, pistachios, and other yummy ingredients. Use Paleo-friendly mayonnaise and, if you don't eat dairy, thick coconut yogurt to replace the Greek yogurt.
---
7. Grilled Mustard Chicken With Creamy Walnut Sauce
Planning to fire up the grill at your next summer picnic? Try making this awesome grilled chicken everybody will enjoy. The mustard chicken is perfectly seasoned with herbs and the creamy walnut sauce with balsamic vinegar. Serve with white wine mustard green beans and enjoy!
---
8. Nut Butter Chocolate Chip Cookies
No picnic is complete without cookies! This recipe officially calls for peanut butter, but you can make it with any nut butter you like. The obvious choice would be almond butter, but I could imagine a really decadent and fantastic version made with cashew butter.
---
9. Healthy Creamy Curried Egg Salad
Try serving this egg salad over greens or with roasted veggies. There are two versions on the blog, so choose the Paleo version. I really love the addition of curry to this egg salad, because I think it adds the perfect level of umami flavor with the creamy Paleo mayonnaise.
---

Photo: Almost Supermom
This potato salad is made with sweet potatoes and is extra kid-friendly with its nice colors and mild flavors. Make sure you're using mayo that's homemade or Paleo-friendly, and if you're dairy-free, replace the Greek yogurt with plain coconut yogurt.
---
11. Chopped Salad With Lemon Chipotle Dressing
Put an end to boring picnic salads and bring this delicious one with chicken, Dijon mustard, avocado, shallot, fresh lemon juice, tomato, cucumber, bell pepper, and deliciously spicy chipotle chilies for a kick that no one will expect and everyone will enjoy.
---
12. AIP Lavender Shortbread Cookies
These easy cookies are AIP-approved and totally delicious. They have a mild lavender flavor that's lightly sweetened with honey, and a beautiful glaze made from coconut oil, coconut butter, and maple syrup. Top them with edible flowers, dried strawberries, or other toppings.
---
This baba ganoush is made with four simple ingredients with a wonderful picnic dip that makes a great substitute for hummus. Make it with eggplants, tahini, garlic, and lemon juice. You can also try adding your favorite herbs and seasonings to make the flavor even more complex and varied.
---

Photo: Elderflower Kitchen
These treats are the king of healthy cupcakes. You'll need to replace the oats with shredded coconut, but I know you'll love the other healthy ingredients in these beauties: coconut cream, avocado, honey, coconut milk, lime, raspberry jam (make sure it's Paleo), and bee pollen.
---
This potato salad is made from white sweet potatoes, which are more nutritious than regular white potatoes but don't have the same strong yammy flavor of sweet potatoes. Use Paleo mayo, Dijon mustard, red onion, dill, and apple cider vinegar to turn them into a silky, tasty potato salad.
---
16. Easy Egg Salad Lettuce Cups
Served on sweet and crunchy romaine leaves, this egg salad is delicious with onions, parsley, and a homemade mayo—the recipe for the mayo is included and uses fresh lemon juice, Himalayan salt, black pepper, and deliciously spicy Dijon mustard. No boring mayo here!
---
This yummy carrot slaw is especially popular with kids because of its mild, tasty flavor, pretty orange color, and sweet bursts of pomegranate seeds. Serve it up with red onion, sea salt, rice wine vinegar, and sesame seeds, which you can call "sprinkles" and win over the pickiest of children.
---

Photo: Taste's Of Lizzy T's
Doing the Whole30 and need a good picnic recipe to be sure there will be something for you to enjoy? Easy. This potato salad is made with eggs, vinegar, mustard, pepper, cucumbers, and chopped veggies. There's a homemade mayonnaise recipe included!
---
Here's an easy and refreshing cucumber salad using cucumbers, tomatoes, onion, black olives, olive oil mayonnaise (or other homemade Paleo mayonnaise), dried dill, garlic powder, apple cider vinegar, and salt. This makes a great easy side dish when you don't know what else to make.
---
These dolmathes, otherwise known as stuffed grape leaves, make great picnic food because they're so portable and wrapped in their own neat little packages. Mess-free! These are stuffed with cauliflower rice, ground beef, red onion, fresh mint, lemon juice, pine nuts, and ghee.
---
21. Collard Vegetable Wraps With Creamy Basil Hemp Seed Sauce
These easy collard wraps are made with basil, garlic, cucumber, zucchini, orange or yellow bell pepper, and creamy avocado and are served with a lovely basil hemp creamy sauce. Want your kids to try a collard wrap? Serve it up with something you can use as dip, like this!
---

Photo: A Clean Bake
22. Potato Salad With Green Beans, Whole Grain Mustard, and Capers
You can make this potato salad with either white or sweet potatoes, depending on which you prefer, and it's still amazing either way. The fresh green beans, whole-grain mustard, Paleo mayonnaise, capers, fresh garlic, and sweet onion add lovely flavors, while the eggs are a great source of protein.
---
23. Red Cabbage Summer Coleslaw
This coleslaw has a secret summer picnic-loving ingredient. It's watermelon! Red cabbage, carrots, and watermelon offer a refreshing blend of colors, flavors, and textures, while an olive oil and red wine vinegar dressing with celery and garlic is the perfect topper.
---
If you have the time and will to do something creative this weekend, try making these picnic-friendly strawberry cars kids will love. They make a good replacement (or even distraction) from sweeter and less healthy picnic treats if you don't want to deal with the sugar high and inevitable crash.
---
Chips are a super-easy picnic food, especially if you want to bring an awesome dip to go along with them. If you choose to make these delicious baked plantain chips, make sure you use a Paleo-friendly oil (coconut is a great choice for these chips).
---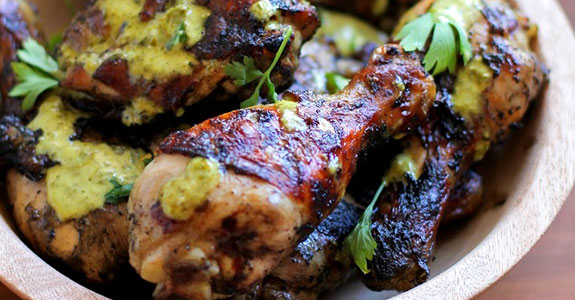 Photo: The Roasted Root
26. Grilled Chimichurri Chicken
This amazing grilled chicken is made with a homemade chimichurri sauce using garlic, parsley, fresh cilantro, olive oil, lime juice, sea salt, and white onion. You'll be the talk of the summer if you bring this to your next family picnic or share with friends!
---
This Greek salad is full of awesome Mediterranean flavors and yummy vegetables like cucumbers, tomatoes, red onion, green pepper, capers, and kalamata olives. While the feta cheese is a great authentic addition, feel free to leave it out if it isn't part of your diet.
---
28. Orange Creamsicle Cupcakes
Orange creamsicles are usually a hit with kids. But those ice cream truck treats are full of hydrogenated oils, corn syrups, sugars, and preservative you don't want anywhere in those little bodies. So try these Paleo creamsicle cupcakes and banish all the bad stuff!
---
29. Cranberry Orange Gelatin Gummies
These gummies are great for digestion, and if you can keep them relatively cool, they're a hit at picnics. These are sweet, tart, and lovely with cranberry juice, orange juice, lemon juice, raw honey, and healthy grass-fed gelatin and pasture-raised animals.
---

Photo: Tali's Tomatoes
30. Mushroom Bun Burgers With Sweet Potato Fries
If you're looking for a more classic-style coleslaw to bring to your next family picnic, try this one. You'll need coleslaw mix (buy it or make your own), lemon juice, ripe avocado, olive oil, and red onion. It's an easy recipe, but still has that lovely homemade, natural flavor.
---
Wanna make the kids happy at your next picnic? Give them dried fruit—bonus points for one that isn't usually found in stores, like kiwi! These pretty kiwi chips can be enjoyed all on their own, or as a fun part of Paleo granola or even fruit salads.
---
Let's give these gummies a try, too. Hibiscus is very hydrating, and it's super tasty. Kids love it! That makes these gummies perfect for a picnic where everyone will be running around and getting hot and sweaty. Try them with raw honey or even maple syrup!
---
33. Mango Apple Salad With Pomegranate Dressing
This salad keeps really well in the refrigerator, so you can make it ahead and have it waiting in the wings. With sweet mango, apple, pomegranate seeds, lemon juice, black pepper, mint, and a homemade pomegranate dressing (use coconut sugar), it's sure to be a hit!
---

Photo: My Poppet
It wouldn't be a picnic without deviled eggs now, would it? Of course not. So take on the job and make these easy, classic deviled eggs. Just use a Paleo-friendly mayonnaise (or homemade) to go with your awesome flavors of paprika and Dijon mustard.
---
Need a dessert? Why not bring cupcakes? These lemon blackberry cupcakes are perfect for summer with their moist, lemony, coconut cream and butter vanilla base with homemade blackberry buttercream frosting. Just make sure you have a way to keep them cool.