The first step to making the pizza bites is very similar to if you were going to make a full cauliflower pizza crust. Roughly chop the head of cauliflower into florets and add them to your food processor. I usually have to do this step in batches. Process the cauliflower until it reaches the consistency of rice grains – my head of cauliflower yielded about 3 cups of rice. The riced cauliflower should then be transferred to a skillet and cooked until soft. I just add a splash of water and sprinkle the cauliflower with salt and pepper, rather than sautéing the cauliflower with onion like in the traditional cauliflower rice recipe.
After cooking the rice so that it is soft, wring out the excess moisture. Place the cauliflower directly onto a large kitchen towel. Cheesecloth could be used also. Then wring out that cauliflower until you can squeeze no more. The final crust will end up being less soggy depending on how much moisture you can squeeze out.
Once you have wrung out extra moisture from the cauliflower, it is mixed with a few other ingredients, including an egg to bind everything together. Italian seasoning is also added, though you could use any of your favorite pizza seasoning combinations.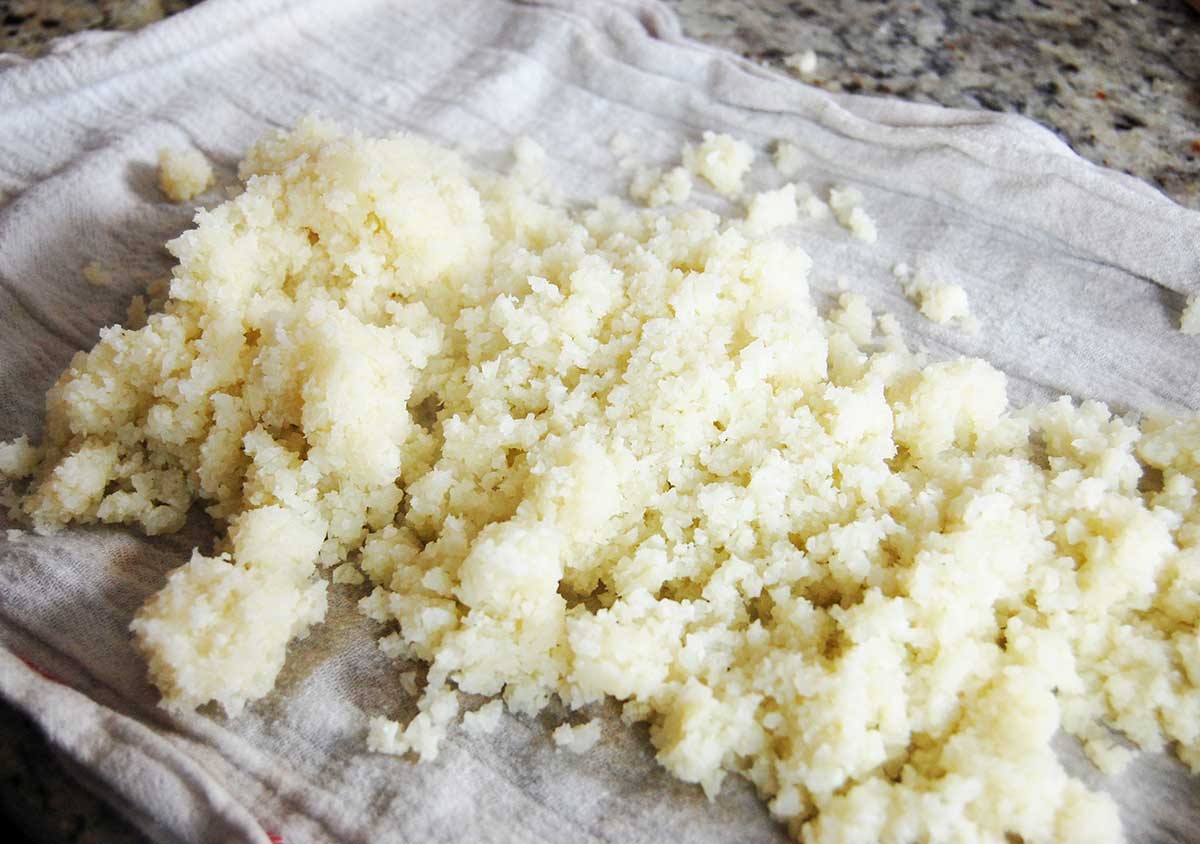 The next step is to use your hands to form the dough into small bite-size patties. The patties are then baked in the oven for about half an hour. If you want to add pepperoni or another kind of pizza topping, it can be added halfway through the baking time. Pesto or barbecue sauce and chicken are other varieties I'd like to try in the future.
I recommend serving these warm with a little tomato sauce on the side for dipping. They make a great appetizer and a healthy snack alternative. I believe the cauliflower bites would freeze well for enjoying later as well. That way you could pop a few into the oven whenever the pizza craving hits.
---
1 medium head of cauliflower, cut into florets
2 cloves garlic, minced
1 egg, beaten
2 tsp Italian seasoning
Pepperoni, optional
Salt and pepper, to taste
Preheat the oven to 400 degrees F. Place the cauliflower florets into a blender and process until they reach a rice-like consistency. Transfer to a pan and add a splash of water. Season with salt and pepper. Cook for 6-8 minutes until soft, adding more water if necessary.
Place the cauliflower onto a towel or paper towel and wring out excess moisture.
In a medium bowl, mix together the garlic, egg, Italian seasoning, salt, and pepper. Add the cauliflower to the bowl and stir.
Line a baking sheet with parchment paper. Shape the dough into bite-size patties with your hands and place on the baking sheet. Bake for 20-25 minutes, adding pepperoni halfway through if using. Serve warm.