One of the most popular peach cobbler recipes out there has you using two full cups of sugar in an 8-serving recipe, as well as a cup and a half of all-purpose flour, and a full eight tablespoons of butter. It also has you using a cup and a half of milk. All of these ingredients get the ax for our purposes, the only problem is they make up a bulk of the ingredients.
It's easy to see why traditional eating gets you the traditional results of weight gain, lethargy, and foggy headedness. When you're taking in all of that sugar, flour, and butter it's going to put you out of the game for awhile, not to mention give you health problems down the road. It's better to fix the glitch and make food that tastes really good but won't drag you down or hurt you.
The flour is an easy enough fix, you simply use almond flour instead and you'll get a lot more fiber out of it. The sugar is easy to replace as well, with the sweetness coming from honey, a natural source.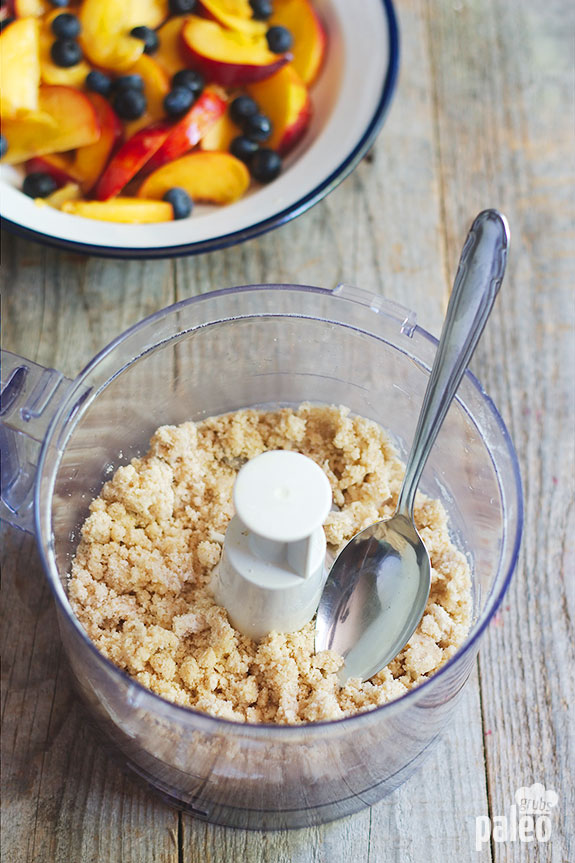 Keep in mind that you can use nectarines in lieu of peaches. Sometimes it's easier to find good quality fresh nectarines than it is peaches. I always recommend buying organic fruits and vegetables because their conventional counterparts will have so many chemicals in them that it negates much of the benefits they would otherwise provide.
If you make peach cobbler with just peaches it can be a little one-sided in terms of flavor, and I've noticed that by the end of the serving I'm kind of tired with it. So I added in some blueberries which adds a new flavor dynamic and also provides you with antioxidants. It makes this dessert healthier and improves the flavor in my opinion, but let me know what you think.
I like to serve this up in a big bowl that everyone can take a serving from. It's fun to push the spoon through the outer crust and get to the warm peach and blueberry filling on the inside.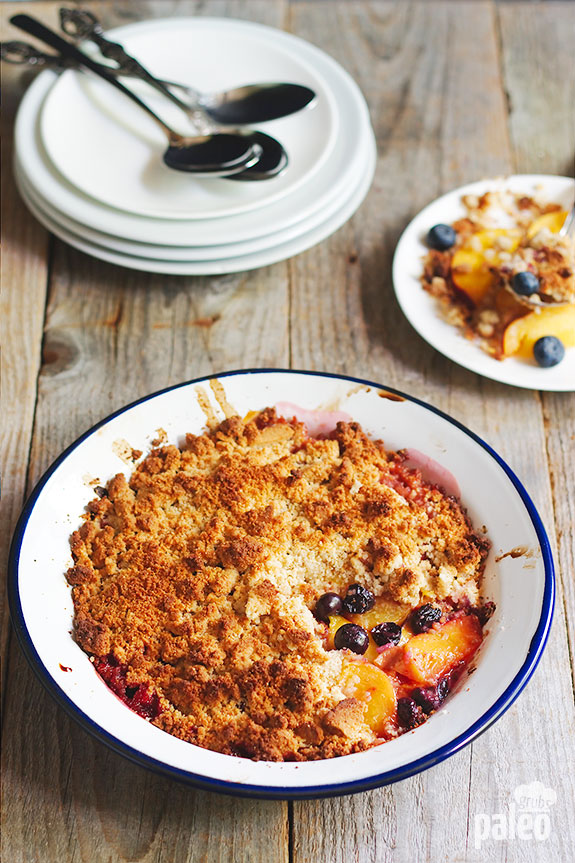 Be sure to get some of the crunchy topping and fruity center together in each bite for the full experience. It's not only the flavors that combine well, but the textures too. The crust will be crunchy and nutty while the center is sweet and fruity flavored and so soft.
---
For the crust

2 cups almond flour
1 tbsp lemon zest
1 ½ tbsp honey
1 oz coconut oil, melted

For the filling

4 peaches
½ cup blueberries
2 tsp raw honey
Preheat oven to 350°F. Wash, halve and cut the peaches into wedges. Toss peaches with blueberries and ½ tbsp of honey in a baking dish and bake in middle of oven for 10 minutes.
Place the almond flour, honey, lemon zest and coconut oil in a food processor and pulse until you have a mixture that resembles lumpy wet sand. Remove peaches from oven and sprinkle topping evenly over filling. Bake for 25 minutes or until topping is golden brown.
Serve warm.
More Good Paleo-friendly Peach Cobbler Recipes
Apricot Peach Cobbler
If you love peaches and apricots, this is the peach cobbler for you. An indulgent delight, and it can now be enjoyed on the Paleo diet. All the flavor of a peach cobbler pie is portioned into healthy individual servings. A sweet, buttery crumble is mixed together to go with the warm, juicy peaches.
Ingredients
For the filling:
2 peaches, peeled, pitted, and diced
5 dried apricots, diced
1 tbsp honey
1 tsp coconut oil, melted
1/2 tsp vanilla extract
1/2 tsp cinnamon
1/4 tsp nutmeg
For the topping:
1/4 cup almond meal
2 tbsp almonds, finely chopped
2 tbsp unsweetened coconut flakes
1 tsp cinnamon
1/2 tsp vanilla extract
Pinch of salt
2 tbsp ghee, room temperature
Instructions
1. Preheat the oven to 350 degrees F. In a small bowl, combine all of the ingredients for the filling. Stir well to coat the peaches. Divide the peaches between two ramekins. Bake for 5 minutes.
2. Meanwhile, prepare the almond topping. Using the same bowl, stir together the almond meal, chopped almonds, coconut flakes, cinnamon, vanilla, and salt. Drizzle in the ghee and stir into clumps. Remove the two ramekins from the oven after 5 minutes and top with almond crumble. Bake for an additional 10 minutes until lightly browned. Serve immediately.