Recipe Lists
54 Mouthwatering Paleo Pastry and Pastry-Inspired Recipes
"Mainstream" pastries are definitely off-limits for followers of the paleo diet, but that doesn't mean you can't enjoy your sweet friends at all anymore. Pastries of all kinds—sweet, savory, French, Swedish, simple, elaborate—can be made paleo style using alternative flours and sweeteners, and coconut milk in place of dairy. This list of paleo pastries and pastry-inspired treats include everything from eclairs to empanadas to turnovers to cream puffs, and every single one of them is delicious.
---
1. Chocolate Éclair Cake
These chocolate eclairs are a paleo replica of their sugar and flour filled cousin. This version is made with coconut cream, egg yolks, arrowroot powder, honey, vanilla, and scraped vanilla bean pods. It's amazing how simple the ingredients are for such a fancy treat!
---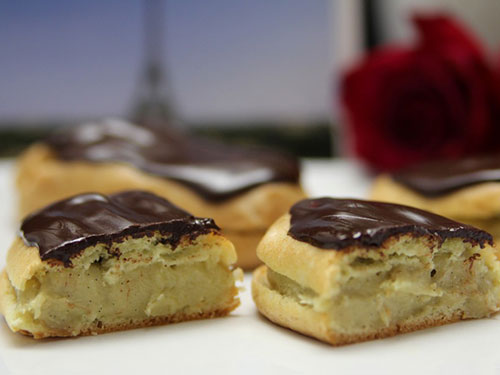 Photo: The Paleo Mom
2. Paleo Chocolate Eclairs
Your only substitutes for this recipe are to use coconut milk in place of the raw milk and coconut cream in place of the grass-fed heavy cream. The other ingredients, like melted butter, cassava flour, maple syrup, vanilla, and gelatin combine to form a pastry crust with a delicious vanilla custard filling.
---
3. Chocolate Éclair Icebox Cake
For this cake, too, use coconut milk in place of the dairy. The pudding filling is made with coconut milk, honey, egg yolks, vanilla, butter or ghee, and arrowroot powder for a delicious custard between grain-free graham crackers and topped with whipped cream and chocolate.
---
4. Paleo Empanada
Let's switch gears for a minute to make empanadas, which are still a pastry despite their often-savory fillings! This one is made with a crust of almond flour, tapioca, flour, and coconut milk filled with seasoned ground beef and chorizo or spicy ground pork sausage.
---
5. Empanadas With Pork, Olives, and Eggs
Switch things up with this unique combination of empanada fillings, using almond flour, sesame seed flour, tapioca flour, garlic powder, and other seasonings and a filling of ground pork, onion, garlic, eggs, olives, oregano, chili flakes, and black pepper.
---

Photo: Cook It Up Paleo
6. Apple Strudel, Nut Free
With a flaky, tender dough and a sweet, caramelized filling, this apple strudel is the bomb. Do people still say that? Well, I do, because in this case, it's true. This apple strudel is a bomb of butter, apples, coconut sugar, cinnamon, applesauce, and an awesome cassava crust.
---
7. Beef and Chorizo Empanadas
The beautiful thing about paleo empanadas is that there are dozens of ways to make the crust, and they're all good! This one is made with almond flour, eggs, and arrowroot starch. Fill them with ground beef, onion, chorizo, garlic, eggs, smoked paprika, and more.
---
8. Paleo Yuca Empanadas
Of all the ways to make a grain-free empanada crust, yucca is probably my favorite. For this recipe, you'll need chopped yucca, ground beef, avocado oil, sea salt, carrots, onion, garlic, cumin, chili powder, parsley, and onion powder. AIP diet modifications included.
---
9. Paleo Baklava
I bet you thought you'd never eat baklava again—how could paleo handle that file dough crust? Think again. Sunfood coconut wraps are perfect for this recipe, and you'll also need coconut sugar, honey, walnuts, pistachios, lemon juice, ghee, cinnamon, and cloves.
---

Photo: The Paleo Fox
10. Chocolate Hazelnut Baklava Cereal
Full of antioxidants, protein, and healthy fats, this amazing cereal is like baklava meets granola gone paleo. You'll need almonds, pecans, walnuts, hazelnuts, pistachios, cacao nibs, cinnamon powder, nutmeg, cardamom, sea salt, raw local honey, ghee, vanilla, and chopped dark chocolate.
---
11. 3 Step Paleo Baklava Bars
These bars aren't exactly "real" baklava, but they have a delicious flavor inspired by this middle-eastern treat, and they're easy to make with chopped hazelnuts, walnuts, almond meal, tahini or almond butter, salt, honey, coconut oil, coconut flour, cinnamon, and vanilla.
---
12. No Bake Baklava Bites
These no bake baklava bites are essentially energy balls/bliss balls (whatever you prefer to call them) made to taste like baklava with walnuts, pistachios, butter, honey, cinnamon, vanilla, lemon zest, and an optional pinch of sea salt if your nuts were unsalted.
---
13. Baklava Cake
If those two words have your mouth watering already, trust me, I get it. And once you taste this cake, you'll never want another cake again. Make it with eggs, maple syrup, vanilla, almond meal, pistachios, walnuts, almonds, honey, orange juice, coconut cream, and cinnamon.
---

Photo: For the Love of Food
14. Baklava Cinnamon Rolls
If you love baklava (yes) and you cinnamon rolls (yes), you'll love this baklava cinnamon roll recipe with almond and coconut flours, cinnamon, chia seeds, cardamom, vanilla, nuts, coconut oil, honey, dates, maple syrup, and other delicious additions.
---
15. Rustic Grain-Free Peach Galette
A galette is essentially a free-form pie, and its rustic by nature. This peach version is especially rustic, with a studded almonds crust made from almond flour, tapioca starch, butter, and maple syrup. Fill it with peaches seasoned with cinnamon, ground nutmeg, and ginger. Yum!
---
16. Chocolate Strawberry Galette
Is there any sweeter combination than strawberries and chocolate? I don't think so. Use them as a filling, along with vanilla and maple syrup, in this tasty galette with a crust made from almond flour tapioca flour, coconut sugar, egg, and grass-fed butter.
---
17. Strawberry Almond Galette
This galette is picnic-perfect with a buttery almond and tapioca crust with sliced almonds pressed into the sides, and a simple filling of strawberries, tapioca flour (for thickening), coconut sugar, vanilla extract, and almond extract. The almond extract really kicks up the flavor!
---

Photo: The Curious Coconut
18. Rustic Apple Galette
The unique crust or this galette is made with cassava flour, cinnamon, pumpkin puree, palm shortening, and dark maple syrup. I love the rich flavors in the crust, even before you get to the filling, which is also full of cinnamon and maple syrup—and of course, apples.
---
19. Apple Galette
For fall, make this apple galette with a honey-sweetened, flaky and buttery crust and a filling of sliced apples, raw honey, coconut sugar, lemon juice, cinnamon, and tapioca flour or arrowroot flour. It's like a simpler, no-fuss version of apple pie!
---
20. Mini Paleo Strawberry Galettes
Why is everything better when it comes in miniature, portion-perfect sizes? These strawberry galettes are a perfect example, with butter, coconut sugar, strawberries, almond flour, coconut flour, and more. Top them with a generous scoop of paleo-friendly ice cream.
---
21. Spiced Granny Smith Apple Galette
Make this galette in less than an hour with soaked, dehydrated almonds, ghee, coconut flour, apples, apple juice, cinnamon, sea salt, cardamom, and vanilla extract. Cinnamon and apples are always a winner, but the cardamom deepens the flavor with a delicious twist.
---

Photo: Nourish Every Day
22. Sugar-free Summer Fruit Galette
Obviously the fruit has natural sugar in it, so this isn't a truly sugar-free recipe, but since it's sweetened with stevia, there's no added sugar! You'll also need almond flour, tapioca flour, ground flaxseed, eggs, butter, cinnamon, and sliced stone fruits of your choice.
---
23. Cinnamon Peach Galette
This galette is made with ripe peaches, coconut sugar, lemon juice, cinnamon, tapioca starch, almond flour, butter, eggs, and a milk of your choice (I'd choose almond milk. I love the flaky crust with a crumbly coconut sugar finish!
---
24. Strawberry Vanilla Galette
With lots of fresh strawberries and plenty of vanilla extract, this filling of this galette is finger-licking good. Make the whole thing with those two ingredients plus almond flour, tapioca flour, butter, sea salt, apple cider vinegar, egg, and optional coconut sugar. So simple!
---
25. Paleo Vegan Rustic Pear Galette
Skip the butter and eggs for this galette and instead make it with coconut butter, coconut oil, maple syrup, vanilla, tapioca starch, cinnamon, salt, allspice, cloves, and nutmeg. Fill with ripe bears, maple syrup, and spices, and brush the crust with olive oil and more maple and cinnamon.
---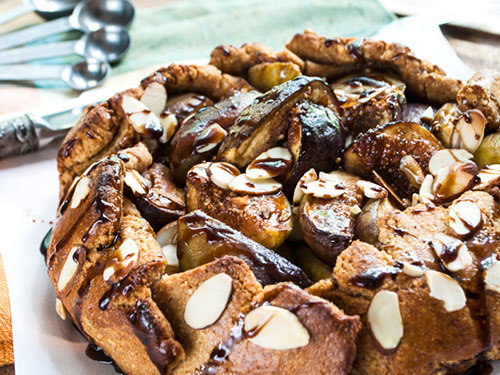 Photo: Between Two Forks
26. Fig Galette With Honey Balsamic Glaze
Can someone please make this and bring it over to my house? Right now maybe? I'm out of cashew meal. Seriously, this galette looks amazing. Make it with a blend of flours, grass-fed butter, honey, eggs, and a filling of ripe figs, coconut sugar, cardamom, lemon zest, and a honey-balsamic glaze. Yum.
---
27. Sweet Potato Popovers
For a change of flavor and texture, try these puffy and naturally-sweet popovers made from sweet potato, eggs, coconut milk, butter, arrowroot flour, cinnamon, and allspice. The sweet potato provides added vitamins, fibers, and yummy flavor.
---
28. Lamb Galette With Burst Tomatoes and Fig
This savory galette is a perfect dinner entrée for company, and it's pretty easy to make. You'll need coconut oil, cherry tomatoes, onion, figs, ground lamb, seasonings, almond flour, tapioca flour, coconut flour, egg, and coconut milk. Garnish with parsley and red chili flakes.
---
29. Cardamom Spiced Plum Galette
I love cardamom with fruits, and I've always thought it went especially well with stone fruits like plums, apricots, peaches, and cherries. Make this galette with almond meal, arrowroot powder, coconut sugar, butter, vanilla, cinnamon, and more.
---

Photo: Code to Wellness
30. Healthy Paleo Hamanteschen
I love that this version of hamanteschen is made with lots of healthy ingredients, like sesame seeds, hazelnuts, honey, vanilla, shredded coconut, poppy seeds, prunes, cinnamon, date sugar, ginger, and more. These are almost superfood hamanteschen!
---
31. Cherry Bomb Galette
Named for the burst of flavors contained within the crust and exploding in your mouth, this cherry bomb galette is really delicious. You'll need cassava, almond meal, lemon, ghee, eggs, honey, dark sweet cherries, sour cherries, sweet basil, balsamic vinegar, and more.
---
32. Swiss Chard and Bacon Galette With Butternut and Sage Crust
If you've never used butternut flour, this is a great opportunity to try it. Use it for this awesome galette with coconut milk, minced sage, black pepper, and a filling of bacon, white onion, chard, garlic, and caramelized onions or Dijon mustard—or even a bit of shredded cheddar if you eat cheese.
---
33. Green Apple Pecan Galette
With green apples and chopped pecans, this galette has a gooey-and-crunchy texture combo that's pretty much delicious in every way. You'll also need arrowroot flour, grass-fed butter, vanilla, cinnamon, nutmeg, and fresh lemon juice.
---

Photo: Real Food Forager
34. GAPS-friendly Date Hamanteschen
GAPS eaters should get to celebrate, too! Make these hamanteschen with coconut flour, almond flour, salt, ghee, coconut oil, honey, eggs, vanilla extract, and pureed date paste made from medjool dates. They have a caramel-like flavor that's super delicious.
---
35. Paleo Apple Breakfast Popovers
These popovers are baked with apples right inside as a filling, along with raw organic honey, cinnamon, nutmeg, vanilla, and lemon. The coconut milk makes them rich and delicious, and coconut oil is the called-for fat, but I'd totally use melted butter or ghee.
---
36. Hamantaschen With Prunes and Raisins
Made for the Jewish holiday Purim, these hamanteschen are a cookie-like pastry with fruity filings. This one is made with almond and arrowroot flours, vanilla, maple syrup, coconut oil, and a filling of prunes, raisins, and lemon juice.
---
37. Easy Grain Free Hamanteschen
Make your hamanteschen a little easier by making up the dough with almond flour, coconut oil, honey, coconut flour, sea salt, and vanilla. Then, instead of making up a filling from scratch, fill them with your favorite paleo-friendly fruit preserves. There's a recipe suggested if you do want to make your own.
---

Photo: Elana's Pantry
38. Chocolate Raspberry Hamaneteschen
This recipe really couldn't be simpler, with just 5 ingredients. All you need is blanced almond flour, cacao powder, celtic sea salt, honey (skip the agave nectar—it's highly processed), and raspberry jam. Make sure to choose a jam that's paleo-friendly, or make your own.
---
39. Paleo French Macarons
This recipe is for basic vanilla macarons, with several notes for modifying the recipe to make different flavors. In the end, if you've succeeded (macarons are notoriously difficult to make), you'll have a light and pillowy cookie/pastry with a slightly chewy center and a creamy filling.
---
40. Paleo Raspberry and Chocolate Macarons
Don't be fooled by the simplicity of the ingredients—measure precisely and have patience with these treats. I really love the raspberry and chocolate combo, especially the intense raspberry flavor that comes from using freeze-dried berries instead of fresh.
---
41. Simple Paleo Cream Puffs
This recipe is more about process than ingredients, but in any case, they're pretty simple. You'll need coconut oil, salt, arrowroot powder, and eggs, and you can fill them with a filling of your choice, like sweetened whipped coconut cream, or lemon curd.
---

Photo: Canaries in the Kitchen
42. Chocolate Covered Strawberry Macarons
With a chocolate outer layer and a strawberry cream filling, these paleo macarons are so delicious, and while you'll still need to be careful and precise, this recipe is a little easier to handle than the previous two—especially if you don't have a lot of experience with macarons.
---
43. Healthy Coconut Cream Puffs
These cream puffs are easy with a dairy-free coconut cream vanilla filling. Make the pastry base with coconut oil, salt, arrowroot powder, eggs, and more coconut cream, and get back to your delicious childhood memories. This recipe doesn't even use a sweetener!
---
44. Chocolate Chocolate Chip Cream Puffs
With lots of cocoa powder, grass-fed butter, chocolate chips, and raw honey, these cream puffs/profiteroles are so delicious and pretty easy to make. They'd be perfect for breakfast on a special occasion—now that I think of it, I know what I want on my birthday!
---
45. Paleo Apple Turnovers
These turnovers look absolutely amazing with their golden brown crispy crust and their gooey apple filling. Make them with blanched almond flour, tapioca flour, coconut milk, egg whites, salt, apples, coconut oil, cinnamon, and maple syrup.
---

Photo: Paleo Parents
46. Paleo Chocolate Profiteroles
If you can't get over these paleo profiteroles (also known as cream puffs), you're not alone. Make them with coconut oil, coconut milk, arrowroot starch, maple syrup, vanilla extract, vanilla bean, and dark chocolate for the silky chocolate ganache topping.
---
47. Caramel Apple Turnovers
For a vegan apple turnover with a luscious caramel sauce, try these recipe! You'll need granny smith apples, coconut sugar, cinnamon, freshly grated nutmeg, cardamom, and coconut oil. The wrappers are coconut oil-brushed coconut wrappers, so this recipe is extra easy!
---
48. Easy Paleo Apple Turnovers
With blanched almond flour, tapioca flour, coconut milk, and egg whites, the crust on these guys is crispy, flaky, and super tasty. Fill them with apples, coconut oil, cinnamon, and maple syrup along with a dash of sea salt.
---
49. Paleo Breakfast Popovers
Traditionally, popovers rely on flour, eggs, and milk. My dad makes them all the time, and I have so many fond memories involving popovers…fortunately, this paleo popover recipes works well and is really simple, using eggs, coconut milk, celtic sea salt, and coconut flour.
---

Photo: Swiss Paleo
50. Spiced Pear and Fig Turnovers With Maple Cream
Any recipe that includes maple cinnamon cream is a winner in my book, and this one is awesome with grass-fed butter, cinnamon, maple, coconut flour, coconut oil, vanilla, and a filling of pears, figs, ghee, cloves, ginger, and more.
---
51. Totally Amazing Paleo Popovers
This is a sweeter popover, made with egg whites, almond milk, melted butter, white vinegar, vanilla, walnut oil, Almond Glory mix, sugar of choice (date sugar, maple sugar, or coconut sugar would all work), and baking soda. Definitely top with melted butter and enjoy with jam!
---
52. Paleo Arrowroot Popovers
Made with arrowroot powder, coconut flour, sea salt, eggs, coconut milk, and a fat of your choice for greasing the pan, these simple paleo popovers remind me of the ones I used to enjoy as a kid. They're puffy and so tasty for a breakfast treat.
---
53. Skinny Breakfast Popovers With Homemade Jam
Make these popovers with eggs, coconut milk, sea salt, and coconut flour, and fill them with a tasty, juicy strawberry jam made with fresh strawberries, maple syrup, orange zest, and a pinch of cinnamon. I love the zest, spiced flavor of this jam. So good.
---

Photo: Don't Eat the Spatula
54. Paleo Cherry Turnovers
Why should apples have all the fun? This turnover has a yummy cherry filling made from fresh cherries and lemon zest, and a rust of cassava flour, arrowroot starch, sea salt, and palm shortening. There's no added sweetener, not even maple syrup or honey!