---
As an American who is used to a colorful and varied vegetable area in the grocery store, my first adventures grocery shopping in Galway were eye-opening. Three quarters of the veg area was root vegetables: multiple kinds of potatoes (no surprise there), piles of carrots, mounds of rutabaga, and heaps of parsnips. If you've never seen a parsnip, it looks like a big carrot that has lost its color: parsnips are a creamy white color.
And all the other vegetables, in small amounts, were off to the side – and almost all of them were imported. Ireland isn't exactly the best place to grow non-root vegetables!
So I got adventurous and started branching out and trying different root vegetable recipes. And this is one of my favorites.
When I think of a "gratin" I usually think of potatoes and cheese. But let's be honest: that's a heavy dish, full of calories and fat and generally not much else. But with a little creative thinking – that I now call "Paleo thinking" – I was able to turn that dish into a healthier version that still satisfied my need for a yummy starch with my protein (I love this with red meat, particularly).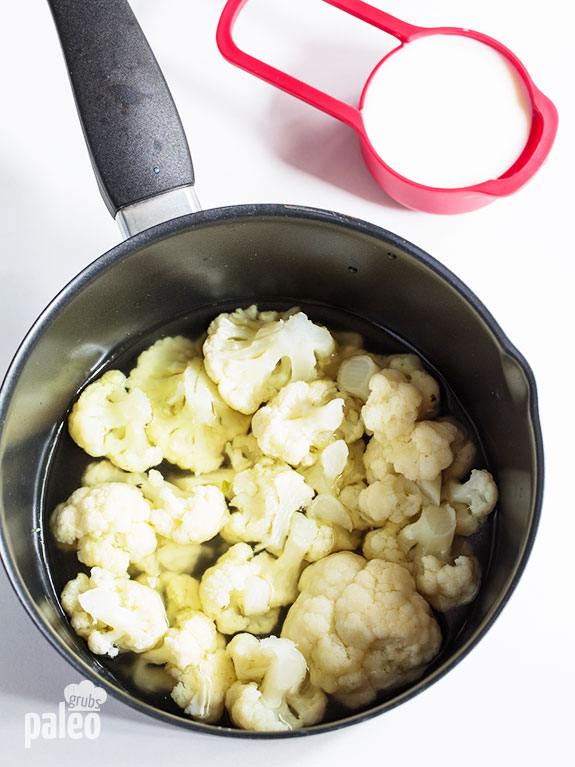 A lot of people have jumped on the mashed cauliflower instead of mashed potato bandwagon. Why? Because cauliflower is an excellent source of vitamin C, a few B vitamins, omega-3s, and fiber – and, you really lose nothing in the flavor and texture department. So why not substitute cauliflower for potatoes? In this recipe, the almond milk makes them slightly looser than you would make for a mashed cauliflower, so they are easier to spread.
A typical gratin would use sliced potatoes but we're looking for a healthier substitute – and you can't really slice cauliflower. So that's why we use the parsnips. And, similar to cauliflower, the slightly sweet parsnip is great for vitamins B and C, contains antioxidants, and is high in fiber. Another Paleo win!
This recipe is guaranteed to satisfy your need for some creamy potato-like dish that will stand up to the heartiest of proteins. Although I admit – the first time I made mashed parsnips instead of mashed potatoes, my Irish roommate responded: "Great! Where are the potatoes?" It's not a myth – they really do eat potatoes with everything!
---
2 cups cauliflower florets
1 ½ cups chicken stock
1 cup almond milk
1 tablespoon nutritional yeast, optional
1 onion, sliced
1 pound parsnip, peeled and thinly sliced
2 tablespoons olive oil
Place the chicken stock and cauliflower florets in a medium pot, cover and bring to the boil over medium-high heat. Cook for 3 minutes more and remove from the heat.
Allow to cool slightly then transfer into a blender together with almond milk and nutritional yeast if using. Blend until smooth. Season to taste and set aside.
Using a food processor with slicing disk or mandoline slicer, thinly slice parsnip and onion. Place the parsnip and onion in a large bowl, add the olive oil and mix well. Add 2/3 of cauliflower puree to the bowl and mix to combine. Transfer the mixture into the baking dish and pour the remaining cauliflower puree on top, even out with a knife or spatula. Bake in a pre-heated oven at 400 ºF for 40-50 minutes or until golden brown.
Serve it warm with your favorite roast or steak.