Who doesn't love a big hunk of crusty bread with a bowl of soup? Oh, wait, me. I don't love that anymore. I used to, but now that I eat Paleo, big chunks of bread are out. But if you're like me, sometimes a bowl of soup needs something on the side. Something to add a different flavor and texture to your meal. And these zucchini fritters are just the thing.
You know how you know they are tasty? Because they're called fritters. Little known fact: anything called a fritter is required by (my) law to be crispy on the outside and warm on the inside and a little chewy and packed with flavor. And these zucchini fritters don't disappoint.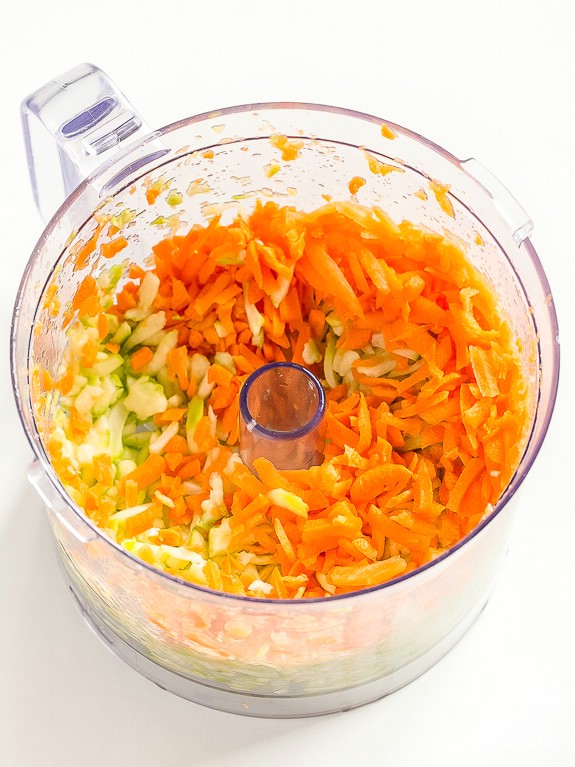 A lot of fritters consist mostly of dough – usually a wheat flour dough. And since this is a Paleo recipe, you already know that we do something different with our fritters. Instead of wheat flour, these fritters are packed with zucchini and carrots. As the fritters cook, the veggies get nice and soft, so you still get than warm soft inside texture of a traditional fritter. And – bonus! – you get all the health benefits of adding a serving of vegetables to your plate.
Traditional fritters are also usually deep fried. But there's really no reason to do that. You can get a nice browned and crisp outside just by lightly frying them in a pan with just a little olive oil. This keeps the fat content down considerably and, of course, uses a "healthy-for-you" fat.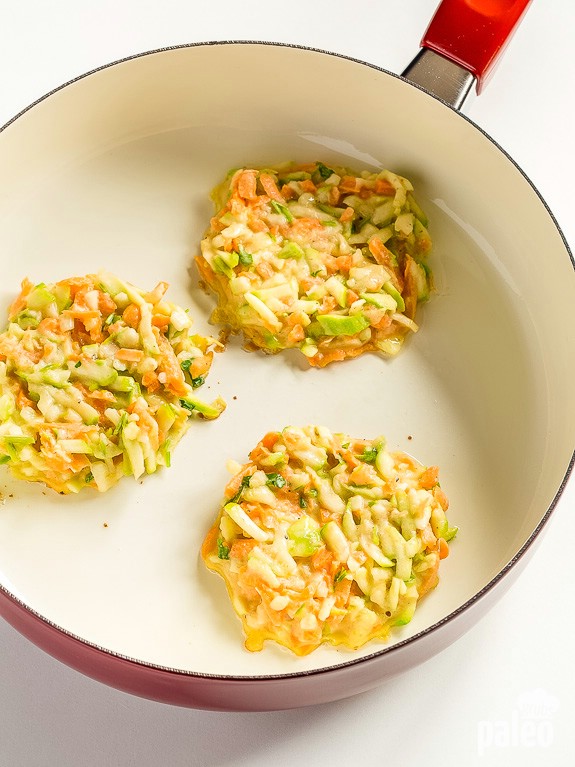 These fritters do need just a spot of some kind of flour to help them hold together and get the right consistency. But instead of wheat flour, we used almond flour. You'll never know the difference, except you will know that your recipe is Paleo-friendly!
Make sure you don't skip the step of squeezing the water out of your zucchini-carrot mixture. These vegetables have a lot of water and if it is left in, they won't hold together while they are cooking and you'll just end up with a bunch of mushy vegetables instead of a nice, crisp fritter. No one wants that!
One final cooking tip: whenever you're cooking something in oil on the stove, make sure the oil is piping hot before you put anything in it. If not, the food will soak up the oil before it really starts cooking and your food will be greasy. That's especially true of these fritters. If they soak up too much oil, they won't get crisp.
Now I started off by saying that I like to have these fritters as a side dish to a bowl of soup. But they are also great in many other ways with a lot of different accompaniments. For instance, you could easily use these fritters as the base for an appetizer. Add a dollop of herbed Paleo mayo on top and – voila – finger food for your next party!
And you could certainly find other creative ways to top these off. They go great with a bit of fish and tartar sauce on top and would actually make a great side dish to many proteins.
So get out that grater and grab some zucchini and give these versatile and healthy little fritters a try.
(Make this next: Spanish Zucchini Tortilla)
---
2 medium zucchinis, peeled
2 medium carrots, peeled
½ small red onion, finely chopped
2 tbsp chopped fresh parsley or 2 tsp dried parsley
2 eggs, lightly beaten
½ cup almond flour
¼ tsp salt
¼ tsp black pepper
3 tbsp olive oil
Shred the carrots and zucchini with a hand grater or food processor.
Place the shredded veggies in a colander, sprinkle with a generous pinch of salt and mix through.
Let stand for 10 minutes, then squeeze out all the moisture from the veggies with your hands.
Place the grated zucchini and carrots in a large bowl.
Add the red onion, parsley, eggs, pinch of salt, pinch of pepper and almond flour and mix until combine.
Heat the olive oil in a large skillet over medium heat.
For each fritter, spoon ¼ cup of the mixture onto pan.
Cook for 2-3 minutes per side.
Serve warm with your favorite salad and sauce like herbed paleo mayo or tartar sauce.