Featured
30 Paleo Recipes for Mustard Lovers
Mustard is one of the most versatile condiments there is, since it goes with so many things sweet and savory alike. You can find it on salads, chicken, fruit, and more. Try some of these delicious paleo mustard recipes to add flavor to your dishes.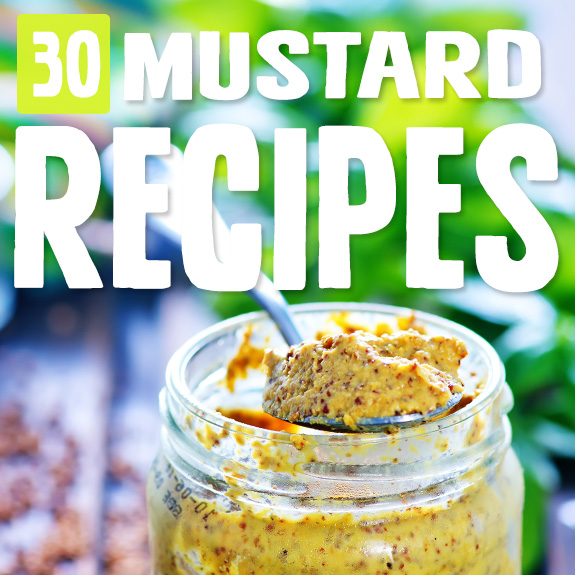 ---
1. Maple Mustard Poppy Seed Baked Cod
Coating the top of your fish in sauces before you baked it is one of the best and easiest ways to infuse it with plenty of delicious flavor. This recipe uses Dijon or stone ground mustard, mustard powder, olive oil, maple syrup, and poppy seeds. Serve with veggies or salad.
---

Photo: Whitty Paleo
2. Spicy Maple Bacon Crackers With Mustard Mayo Dip
Bacon crackers? Yes please! This recipe is made with bacon steaks, eggs, almond or coconut milk, coconut oil, maple syrup, coconut and tapioca flours, and cayenne; The dip is an awesome combination of homemade mayo and yellow mustard, with a cheesy option using nutritional yeast.
---
3. Pistachio Crusted Chicken With Raspberry Mustard
This is a chicken dish with a "breading" that's actually healthy, so you can trick your kids into thinking they're your run-of-the-mill chicken tenders if you need to. They won't be able to resist the pretty pink raspberry mustard sauce made with raspberries and honey.
---
4. Baked Lemon Honey Mustard Chicken Recipe
Of course, honey mustard is a classic favorite. Especially with chicken! This recipe uses bone-in chicken thighs, olive oil, fresh lemon juice, chopped rosemary, salt, pepper, and a sweet and savory glaze of olive oil, honey, whole-grain or Dijon mustard, and lemon.
---
5. Honey Mustard Asparagus Bacon Salad
Honey mustard makes a lovely dressing, too, and it's awesome on this asparagus bacon salad. You'll need bacon, a hard-boiled egg, asparagus spears, mushrooms, spinach, Dijon mustard, avocado or extra virgin olive oil, and a touch of raw, local honey.
---

Photo: Joyful Bite
6. Mustard and Rosemary Asparagus and Sweet Potatoes
This simple roasted veggie dish is absolutely delicious and only needs a few ingredients, so you probably already have them on hand. The sweet potato and asparagus are flavored with olive oil, dry mustard, rosemary, salt, and fresh garlic.
---
7. Maple-Mustard Glazed Salmon
These salmon fillets are coated in whole grain mustard, Dijon mustard, maple syrup, extra virgin olive oil, kosher salt, and fresh cracked black pepper. The mustards and maple syrup cook into the most delicious glaze to coat the fish, which soaks up their flavors.
---
8. Fennel Salad With Pears, Apples, and Mustard Dressing
The contrasting flavors of sweet apples and pears against savory-sweet, spicy fennel make an excellent salad, and in this recipe, they're drizzles with a lemony mustard vinaigrette made with grainy mustard. The mustard dressing is also a gorgeous finish!
---
9. Honey Mustard Glazed Cranberry Pork Loin Roast
In this recipe, the pork juices along with onions and the other ingredients cook down into a delicious gravy-like sauce at the bottom of the pan. You've got two glazes here: a honey mustard thyme glaze and a white wine sauce. That's probably all I need to say.
---

Photo: A Clean Bake
10. Roasted Rainbow Carrot Salad With Honey Mustard
This gorgeous rainbow salad is made with a base of rainbow carrots, mixed baby greens, fresh cranberries, pistachios, and mandarin oranges. Then it's drizzled with a homemade honey mustard vinaigrette with Dijon mustard, garlic powder, and ground black pepper.
---
11. Smoked Wings With Spicy Mustard Sauce
These wings are seasoned with garlic, onion, cayenne, black pepper, and kosher salt. All the fancy flavors come from the spicy mustard sauce, made with grass fed butter, garlic, onion, two kinds of mustard, and Frank's Red Hot sauce. Told you they were going to be spicy!
---
12. Country Style Pork Rib Stew
If what you need is a heart, meaty stew to fill your belly, this is your recipe. This stew is made with an affordable cut of ribs and lots of veggies like celery and carrots. The more sophisticated flavors come from tomato paste, red wine, and Dijon mustard.
---
13. Apple Mustard Chicken
The sweetness of apples in this recipe is a fun twist on the typical honey mustard or maple mustard chicken. You'll need chicken thighs, apple cider, coarse-grained mustard, garlic, coconut aminos, raw honey, sea salt, and freshly ground black pepper. Easy!
---

Photo: The Organic Dietitian
14. Roasted Brussels Sprouts With Honey Mustard
Roasting is hands-down the best way to eat Brussels sprouts, and it leaves them with crispy leaves and a caramelized edge if you slice them in half before cooking. These sprouts, of course, are taken to the next level with the addition of whole grain mustard, maple syrup, garlic, and pecans.
---
15. French Tomato, Tuna, and Mustard Quiche
This is a quiche unlike any you've had before, with a sweet potato crust and layers of tuna and tomatoes. The coconut milk gives things a creamy, fluffy texture and adds additional healthy fats. The sliced cherry tomatoes on top get all caramelized from the heat. So good!
---
16. Honey Mustard Roasted Nuts
These honey mustard nuts are perfect for snacking, and they're much cheaper to make yourself than buying pre-made roasted and flavored nuts at the store. Plus you know what's in them! You can use a blend of whatever nuts and seeds you like for this recipe.
---
17. Roasted Potato Salad With Mustard Vinaigrette
This gorgeous salad is a far cry from the unidentifiably creamed potato salads that usually grace the tables of family picnics. It's made with roasted potatoes, walnuts, scallions, garlic, whole grain and Dijon mustard, red whine vinegar, and other delectable seasonings.
---

Photo: The Endless Meal
18. Grilled Mustard Chicken With Creamy Walnut Sauce
This three-part full meal is having me drooling all over my keyboard. It starts with a side of roasted green beans with olive oil, sea salt, and white wine mustard, and adds delicious mustard chicken with herbs. Finally, we finish with a walnut cream sauce. Wow.
---
19. Baby Broccoli With Lemony Mustard Sauce
This baby broccoli is sweet and tender, and perfectly accompanied by cherry tomatoes and slivered almonds. The simple and silky lemony mustard sauce is made from Maille Walnut Dijon mustard, olive oil, garlic, and lemon. Ready in twenty minutes!
---
20. Tricolor Grilled Potato Salad With Bacon, Spring Onions, and Mustard
This potato salad is so unique, it doesn't even resemble traditional mayonnaise-heavy potato salad. It's made with a mix of small potatoes, scallions, jalapenos, bacon, white vinegar, lemon juice, whole grain mustard, and olive oil. That's it! And would you look at that picture?
---
21. Healthy Maple Dijon Baked Chicken
For a simple and easy baked chicken breast that's bit on flavor, make this 5-ingredient maple Dijon version. You'll need a chicken breast, garlic, maple syrup, Dijon mustard, and a pinch of fresh chopped parsley for garnish. It's so easy and so tasty marinated in those flavors.
---

Photo: Inspiration Kitchen
22. Whole Grain Dijon Mustard Mashed Cauliflower
How here's a dish we haven't done yet! It's not only chicken and salads that like Dijon mustard. This mashed cauliflower recipe is absolutely delicious, and easily adaptable to paleo by replacing the parmesan with nutritional yeast and the cream cheese with coconut milk.
---
23. Purple Sweet Potato Collard Wraps With Cashew Honey Mustard
These wraps feature every color of the rainbow, and I seriously wish I had one in front of my right now. They've got everything from sprouts to sweet potatoes and red pepper flakes, mashed purple sweet potatoes, and a cashew honey mustard make from creamy soaked cashews and ground ginger.
---
24. Bacon Wrapped Chicken Breast
In this recipe, tender chicken is wrapped in bacon with a layer of honey mustard in between. The flavors of the bacon and honey mustard meld together and soak into the chicken like nothing you've ever tasted before, so you better gather your ingredients and run to the kitchen.
---
25. Chicken With Mustard and Prosciutto
For a slightly more sophisticated version of the flavor combination of mustard and bacon, this recipe uses smoked paprika, sea salt, and black pepper for marinate the chicken along with a sauce of diced prosciutto, olive oil, diced onion, fresh thyme, chicken broth, and grainy mustard.
---

Photo: Honey and Birch
26. Red Fruit Salad and Honey Mustard
Treat yourself or your queen to this gorgeous ruby red salad with red fruits like raspberries, currants, and pomegranate seeds. It's drizzled with a simple dressing of honey and yellow mustard, which is so unique for a fruit salad and definitely delicious.
---
27. Mustard Braised Short Ribs With Mashed Cauliflower
These awesome, roasty short ribs are the ultimate in winter comfort food, with garlic, beef broth, Dijon mustard, non-dairy milk of choice, sea salt, and stalks of fresh thyme. Serve them alongside healthy mashed cauliflower with butter or ghee.
---
28. Deviled Eggs With Truffle Salt
Mustard lends a lovely spicy flavor to traditional deviled eggs, and this recipe is a contemporary twist with truffle salt added, along with Dijon mustard, yellow mustard, and ground black pepper. Don't forget the paprika for sprinkling on top!
---
29. Macadamia Nut Chicken Tenders and Peach Mustard Sauce
Crushed nuts are a popular way to "crust" chicken tenders in the paleo worlds, because it makes them crunchy but also adds both flavor and nutrition without any grains. These macadamia chicken tenders are awesome with the homemade peach mustard sauce!
---

Photo: Shutter Smack
30. Tarragon Chicken Salad
For a simple chicken salad you can pack in your lunch to take to work (or give to the kids, if they've got sophisticated palates) try this tarragon chicken salad made with celery, diced pickles, shallots, cucumbers, cherry tomatoes, and more with a lovely honey-Dijon dressing using white wine vinegar.