Featured
40 Paleo Ways to Use Leafy Greens
These days, everyone seems to be trying to get more leafy greens into their diet. And for good reason! These guys are nutritionally dense, and these paleo-friendly leafy greens recipe will have you licking your lips in no time.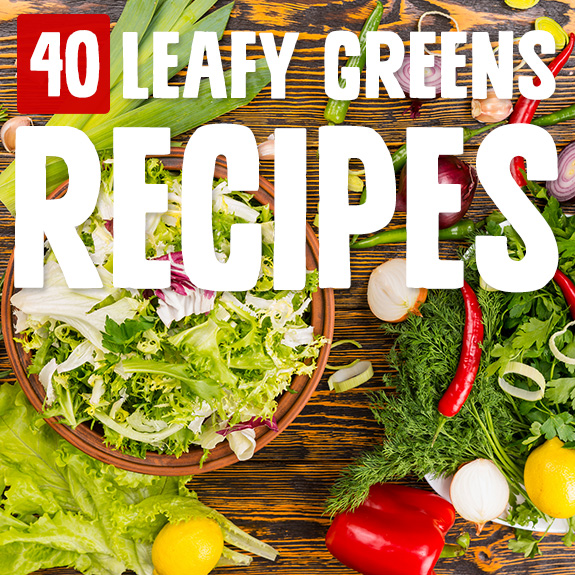 ---
1. Spring Frittata
This light and beautiful spring frittata works for breakfast, lunch, or dinner. The full cup of spinach gives a boost of leafy green vitamins and minerals, so if your kids like eggs, this can be the perfect way to get some greens into them without an argument. And it's so tasty!
---

Photo: Eat Drink Paleo
2. Beetroot and Pumpkin Salad With Oregano Garlic Chicken
My favorite salads are a little heartier than just a handful of leaves. I like them with roasted vegetables, and maybe as a side with some oregano garlic chicken! You can use whatever mixed greens you like for this recipe—I'd consider throwing in the greens from the beets if you bought them with greens.
---
3. Spring Green Soup With Sugar Snap Peas
I sometimes make a green soup when I've bought too much greenage at the farmers market and I need to use it up before it gets slimy. This one is delicious with ghee, garlic, ginger, red potatoes, scallions, coconut aminos, sugar snap peas, fresh black pepper, and a mix of whatever greens you've got on hand.
---
4. Cajun Shrimp and Cauliflower Grits and Greens
I used to be a huge grits fan, and I love this grain-free grits recipe using cauliflower! Serve it with Cajun shrimp and bacon bits with sautéed greens using avocado oil, green onions, roasted red pepper, sea salt, and black pepper. You can use roasted red peppers from a jar to make it easier.
---
5. Healthy Mint Chip Shake
Greens aren't just for salads and sautees! This is one of my favorite ways to enjoy greens: in a smoothie. Yes, I'm one of those people that's not as into salads. And that's okay! because all I need to get my greens in for the day sometimes is bananas, almond milk, peppermint extract, dark chocolate chips, and spinach.
---

Photo: Gourmande in the Kitchen
6. Golden Beet Noodles With Beet Greens and Cilantro Tahini Sauce
These gorgeous noodles are made with golden beets seasoned with sea salt, garlic, and extra virgin olive oil. You'll serve them right along with the greens that came attached to them, so wash those greens and keep them! The delicious sauce has a little bit of heat from the fresh chili pepper.
---
7. Sweet Apple Salad
This salad has a base of mixed greens, red pepper, cool and creamy avocado, sweet and crunchy gala apples, bacon or turkey bacon, and walnuts. SO yummy and very nutritionally balanced, too! Top it with a sweet apple vinaigrette of apple cider vinegar, stone ground mustard, and more.
---
8. Tropical Green Super Smoothie
With bright and cheerful tropical flavors, this smoothie will make both your body and soul happy. Make it with coconut yogurt, diced mango, peaches, pineapple, frozen banana, chia seeds, kale or baby spinach, and unsweetened apple juice. You could also use coconut water!
---
9. Two Toned Kale Smoothie Bowl
Made with chopped kale and chopped spinach, this two-toned smoothie is sweet and healthy. It's got superfoods like chia seeds and blueberries, and can be made with any dairy-free milk you choose (mildy flavored ones like almond are best). Top as you wish!
---

Photo: Per Chance to Cook
10. Sweet and Crunchy Paleo Balsamic Tuna Salad
This easy tuna salad has a lot of flavors going on, from tuna to balsamic vinegar to cucumbers to apples. For extra nutrients, add hard boiled eggs. The veggies like cherry tomatoes and carrots make this salad so fresh and delicious. Serve over mixed greens.
---
11. Southern Collard Greens
These collard greens are the absolute best. You'll need olive oil, bacon, onion, garlic, the collards, kosher salt, fresh cracked pepper, chicken stock, and a pinch of red pepper flakes. The bacon fat cooks the collards into a bacony delight with flavors of onion and garlic.
---
12. Green Vegetable Smoothie Bowl
Most of us are familiar with fruity green smoothies, but what about this fruit-free version? This is an all-veggie smoothie bowl with chia seeds, coconut water, zucchini, cucumber, baby spinach, vanilla protein powder, cinnamon, almond butter, and maca. You can throw some fruit on to if you need it for sweetness!
---
13. Kale and Potato Hash With a Fried Egg and Lemon Almond Basil Pesto
This amazing hash is part salad, part breakfast stir-fry with russet potato, fresh kale, cherry tomatoes, eggs, olive oil, and a creamy-delicious pesto made from fresh basil, garlic, shaved almonds, lemon juice, and more olive oil. It's warm and yummy and irresistible.
---

Photo: Anya Seats
14. Bacon Loves Spicy Southern Greens
Here's another collard recipe with our base of bacon, collards, onion, and garlic, and this one is plenty spicy with red pepper flakes. For the best nutritional benefits in this recipe, use a homemade bone broth as your chicken broth. In a pinch, store-bought is fine.
---
15. Apple Cider Vinegar and Greens Detox Salad
This salad is perfect for lunch the day after you've indulged a little more than you meant to. It'll help your body fill up with real fuel in the form of Brussels sprouts, baby kale, spinach, broccoli, watercress, green onions, apple cider vinegar, olive oil, chia seeds, and raw sunflower seeds.
---
16. Citrus Avocado Salad With Shrimp and Smoky Vinaigrette
I'm a huge fan of citrus in salads, and this one is perfect with romaine lettuce, red kale, navel oranges, pink grapefruit, red onion, and fresh wild shrimp. Cover it in a delicious dressing made from olive oil, red wine vinegar, smoked paprika, honey, garlic, and sea salt.
---
17. Ultimate Green Cocoa Smoothie Bowl
For a super easy green smoothie bowl that gets your greens in but tastes like dessert, try this recipe. You'll need baby spinach, frozen banana, milk, any nut or seed butter (I bet cashew would be amazing), avocado, cocoa powder, and whatever toppings you like.
---

Photo: Making Thyme for Health
18. Shredded Brussel Sprout and Kale Salad With Maple Pecan Parmesan
Shaved Brussels Sprouts are a great way to add texture to your salads. This onealso has lacinato kale, dried cranberries, lemon juice, Dijon mustard, olive oil, and a yummy "parmesan" topping made from pecans, nutritional yeast, smoked paprika, maple syrup, and salt.
---
19. Swiss Chard With Raisins and Pine Nuts
I'm always looking for ways to cook greens creatively so I'm not limited to salads and green smoothies. I love this Swiss chard recipe with onion, olive oil, red pepper flakes, golden raisins, toasted pine nuts, and champagne vinegar or white balsamic. So delicious.
---
20. Roasted Delicata Squash Salad
Delicata is my favorite winter squash because it caramelizes so nicely, it's easy to cut, and you can eat the skin so no tricky peeling. Use it for this salad with ground paprika, fresh greens, dried cranberries, and red chili pepper flakes. You can leave out the gouda or replace it with crushed nuts.
---
21. Ethiopian Collard Greens
Now here's a way of cooking collards that you probably haven't tried before! You'll need collards or kale, Ethiopian spiced butter (or olive oil), minced ginger, garlic, white onion, smoked paprika, cardamom, coriander or cumin, fresh chili pepper or cayenne, and lemon.
---

Photo: Anya Seats
22. Rustic Veggie Omelet With Garlic
Omelets can be an easy way to work extra veggies and greens into your diet with just a few minutes of cooking. This one uses tomato, onion, avocado, olive oil, garlicky greens (recipe included) and salt and pepper to taste. A great balanced breakfast!
---
23. Pepper Kale Chips
Chips are another fun way to eat sturdier greens like kale, and all you have to do is set them up and bake. This version is made with extra virgin olive oil, nutritional yeast, red pepper flakes, garlic powder, salt, and pepper to taste. Watch out, they're addictive!
---
24. Boiled Dandelion Greens
Do you live in an area with lots of dandelions in the spring and early summer. Don't kill them—they're an important early food source for honey bees! You can turn the heads into fritters and boil the greens with olive oil, sea salt, and lemon juice like in this recipe.
---
25. Prosciutto Wrapped Scallops
This scallops recipe is easy and elegant with a bit of patience and attentive cooking. The salsa verde is made with tomatillos, avocado, cilantro, lime juice, red onion, jalapeno, and garlic, and the perfectly seared scallops are wrapped in prosciutto and served over mizuno sautéed in bacon fat.
---

Photo: To Her Core
26. Springtime Zucchini Noodles With Garden Greens Pesto
Did you know pesto isn't just for basil? You can also use leafy greens of any kind—like spinach, rocket, beet greens, etc. This recipe also sues cashews instead of pine nuts! Garlic and lemon juice plus nutritional yeast complete the pesto, which is perfect for slathering on zucchini noodles.
---
27. Pumpkin Spice Green Smoothie
Ever thought about combining refreshing greens with warming, comforting flavors like pumpkin spice? Try this one with frozen spinach, vanilla protein powder, milk of choice, chia seeds, nut butter (almond butter works great), and pumpkin spice seasoning.
---
28. Sauteed Garlic Chard
This super simple garlic chard recipe will have you running to the farmers market for sure. All you need is coconut oil, garlic, chard, sea salt, and freshly ground black pepper. You can serve it alongside roasted vegetables, steak, chicken, or anything else.
---
29. Mixed Greens With Raspberries and Cashews
This fresh and light salad has creamy avocado for healthy fats to fill you up, deliciously sweet raspberries, and mixed greens of your choice. Top it with an apple cider vinaigrette made from olive oil, apple cider vinegar, honey, lemon juice, garlic, sea salt, and black pepper.
---

Photo: Rubies and Radishes
30. Paleo Shrimp and Mango Wraps
Going paleo doesn't have to mean giving up wraps. You can use these awesome coconut-based paleo wraps to make yummy shrimp and mango wraps with garlic, toasted sesame oil, jalapeno, lime juice, micro greens, mint, and julienned cucumbers.
---
31. Catalan Style Greens
These delicious greens are made with onion, olive oil, apple, garlic cloves, golden raisins, pine nuts, white wine, nutmeg, white pepper, and a pinch of coconut sugar for a yummy Catalan flavor. You can use whatever greens you want, and serve these as a side dish.
---
32. Harissa Portobello Mushroom Tacos
These tacos are served inside big collard green leaves! They're filled with Portobello mushrooms, spacy harissa, cumin, onion powder, and a homemade guacamole with ripe avocados, tomatoes, red onion, lemon or lime juice, salt, and chopped cilantro. Top them with cashew cream!
---
33. Cider Vinegar Glazed Golden Beets
These beets are served over their own greens, seasoned with caraway seeds, shallot or small onions, apple cider vinegar, olive oil, sea salt flakes, and freshly ground black pepper. You don't necessarily need a lot of fancy seasonings to make your naturally-delicious foods taste good!
---

Photo: Eat Spin Run Repeat
34. Power Greens Tuna Salad
This salad is made with shredded mixed greens, cherry tomatoes, diced cucumber, red onion, basil, light tuna, and avocado. It's a much lighter, healthier, and in my opinion, tastier way to make tuna salad than the gooey, mayonnaise-laden traditional version.
---
35. Summer Garden Salad
For a salad filled with summer's best and freshest seasonal flavors, try this simple but wonderful recipe using mixed greens, nectarine, grapes, radishes, blueberries, cucumber, pistachios, and a dressing with honey, lemon zest, Dijon mustard, salt, and pepper.
---
36. Avocado and Grapefruit Toasted Coconut Salad
The combination of toasty coconut and bright, cheery grapefruit is served of red or green leafy kale, flat leaf parsley, and avocado. The avocado is filling and refreshing, so it helps keep you full longer than other salads might. Plus it's full of healthy fats!
---
37. Strawberry Lemonade Green Smoothie
Make this smoothie with fresh or frozen strawberries, lemon, avocado, pumpkin seeds, brazil nuts, chia seeds, hemp seeds, spinach, and almond milk. It tastes a lot like strawberry lemonade, but it's creamy and full of healthy, nutritious greens.
---

Photo: Forever Fit
38. Beet Greens With Citrus Yogurt Dressing
I can't get over the gorgeous colors in this beet greens dish. Yes, beet greens are delicious! Always buy your beets with the greens on them. Then make this with olive oil, butter, pumpkin seeds, and a dressing with coconut yogurt, lemon juice, olive oil, salt, pepper, and chopped capers.
---
39. Shades of Green Salad
I live in the desert now, and something I really miss about where I grew up is all the wild sorrel. If you live in a temperate climate, you probably have some, too. This salad is made with sorrel, wild asparagus, green peas, and snow peas and along with sesame seeds and a yummy dressing.
---
40. Spring Greens With Balsamic Soaked Raisins and Pine Nuts
This recipe is so simple, but it's elegant and tasty. It would make a great starter for a swanky dinner party with guests! You'll need raisins, balsamic vinegar, spring greens, extra virgin olive oil, toasted pine nuts, and a pinch of flaky sea salt.