Recipe Collections
23 Homemade Paleo Granola Recipes for an Easy Breakfast
There's a reason we often turn to cereals and other convenience items for breakfast: who feels like cooking in the morning? Some mornings I love to make a big hot breakfast, and other days I'm not feeling it. On those days, I turn to paleo granola with some fresh fruit and almond milk, and I always make my own with one of these incredible recipes.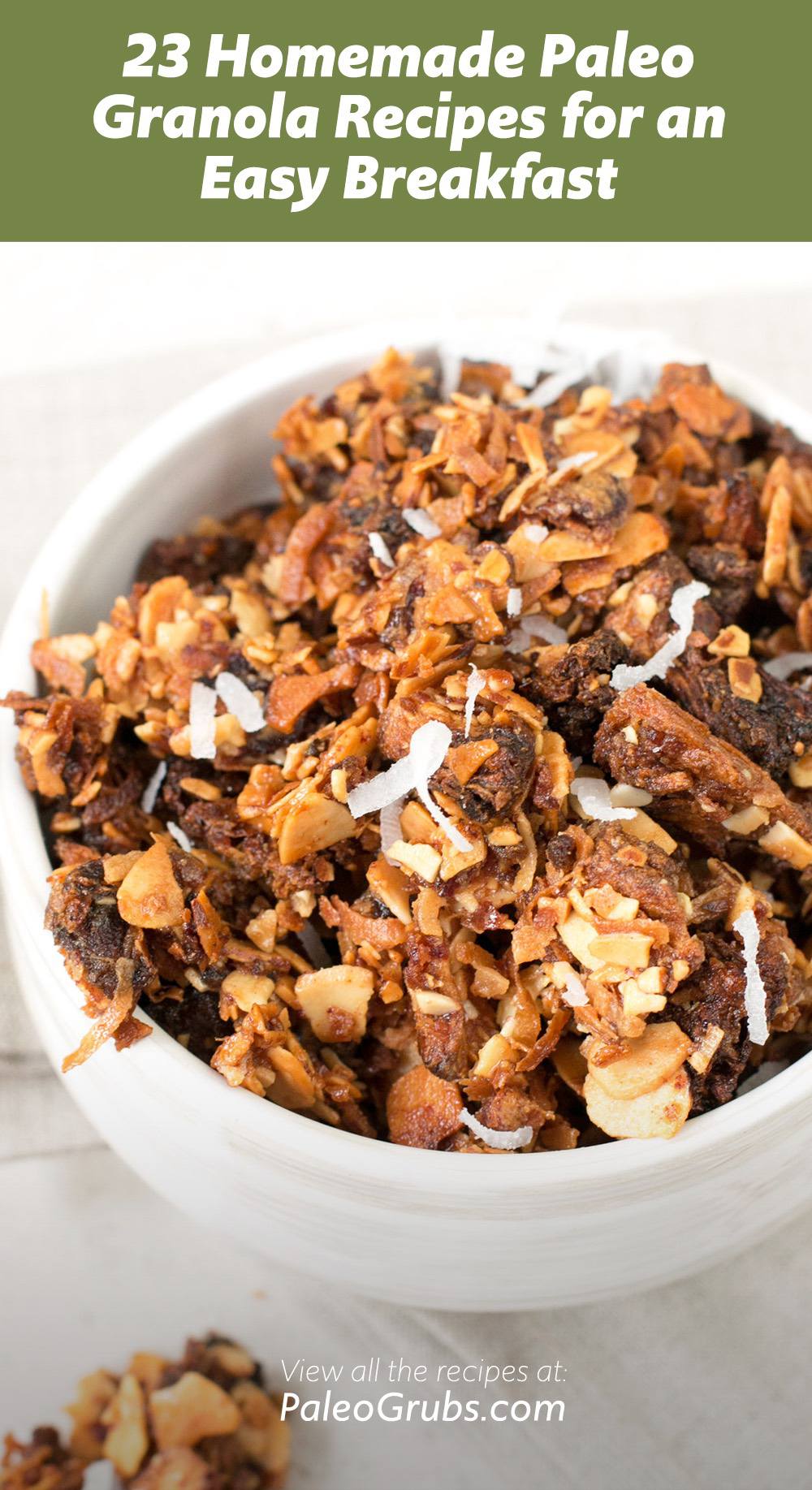 ---
---
---
Cherry Pistachio Paleo Granola
Gluten-free granola can be adapted to suit many different tastes and preferences, but this recipe is a favorite. The chunky clusters of granola are perfect for snacking or even gifting to others. Pistachios and dried cherries make it lightly sweet and salty. This granola can be a filling afternoon snack or enjoyed for breakfast.
Ingredients
1 1/2 cups raw cashews
1/2 cup pistachios, shells removed
1/4 cup sunflower seeds
1/4 cup pepitas (pumpkin seeds)
3/4 tsp salt
1/2 tsp cinnamon
1/4 cup extra virgin olive oil
1/4 cup honey
1/2 tsp vanilla extract
3/4 cups dried cherries
Instructions
1. Preheat the oven to 300 degrees F. Line a baking sheet with parchment paper. Add the cashews, pistachios, and pepitas into a blender and pulse to break the mixture into smaller pieces.
2. Whisk together the oil, honey, and vanilla in a large bowl. Add all of the remaining ingredients except the cherries, including the cashew mixture. Stir gently until everything is evenly coated.
3. Transfer the granola mixture to the lined baking sheet, spreading out in an even layer. Bake for 30-40 minutes until golden, stirring regularly. When the granola starts to turn golden, add in the dried cherries and bake for an additional 5 minutes. Remove from the oven and let cool completely.
4. Break into chunks and store in an airtight container or resealable bag for up to a week.
---
---
---
---
---
---
---
---
---
---
---
---
---
---
---
---
---
---
---
---
(You may also like: Crunchy Cherry Pistachio Paleo Granola Bars)