It was in England that I fell in love with freshly baked Naan bread or better yet: Garlic Naan. Even though I always find it odd to have a rice, potato or pasta dish accompanied by bread, I never once question the need for Naan! Nor did I ever turn it down, needless to say. So let me get straight to the good news: Naan bread tastes just as good when made grain free and gluten free! I'll be the first to admit that some paleo versions of this or that do not exactly taste like the original (they may be tasty but may not closely resemble the original flavor and texture) but I can honestly say that this recipe for Naan will not disappoint. And if you are a garlic lover like myself, you'll be in Paleo Naan heaven.
While Naan is typically baked in the oven, I opted for a stove-top version. Grain free oven baked Naan is definitely an option but I found the texture to be lacking just a tad (even though the flavor was spot on). The creaminess of the yogurt from any of the typical Naan recipes can easily be substituted with full fat coconut milk.
The creamier your coconut milk, the better! I use canned coconut milk as I have no access to otherwise packaged full fat coconut milk in my area; if you have the time, you might consider making your own coconut milk!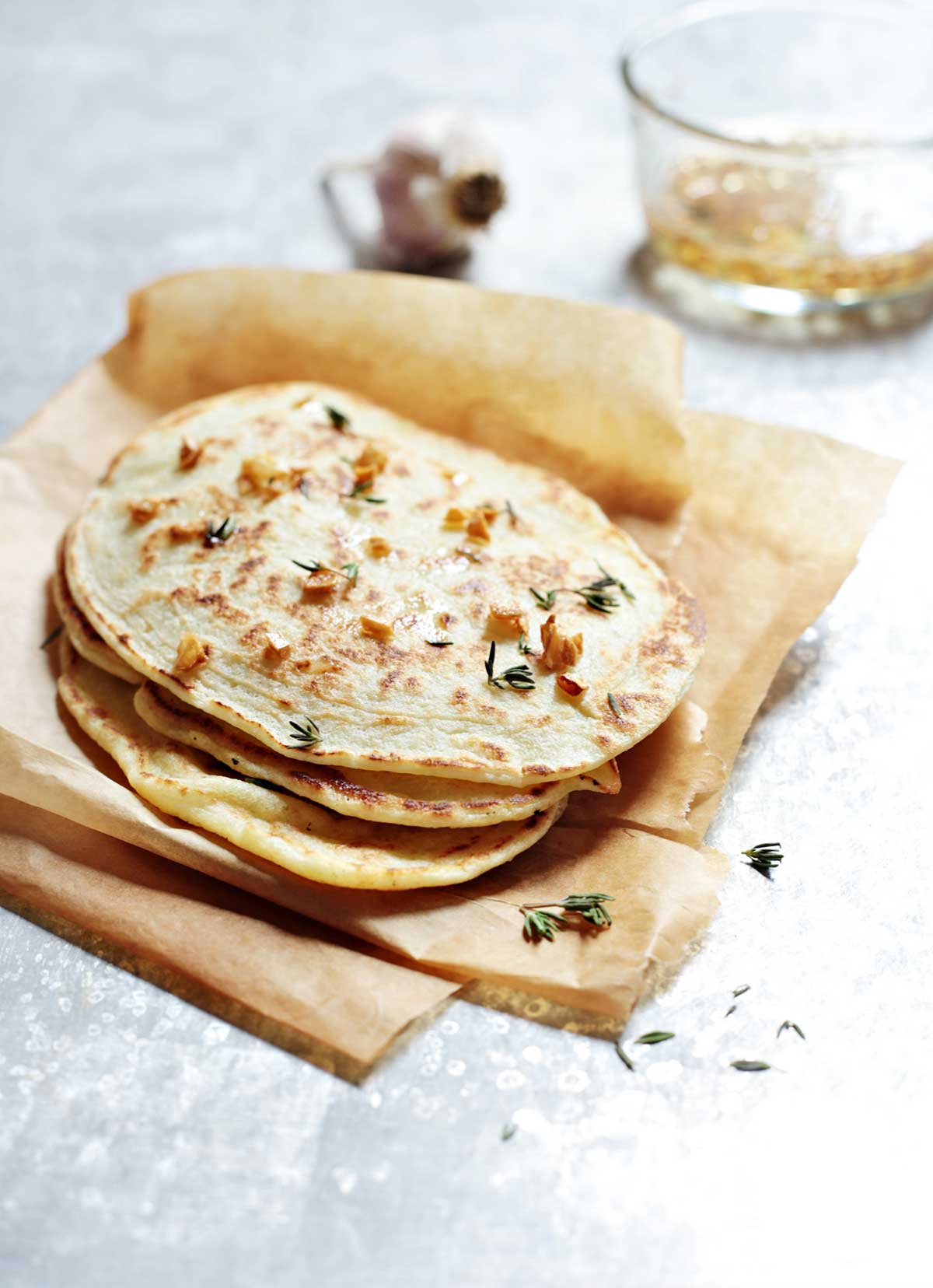 Depending on how much you love garlic, you can either sprinkle some raw garlic on top of your cooked Naan bread (which would be my preferred method) or you can sauté or oven roast garlic which adds an extra step in preparing this bread but is totally worth it if you would like to add another dimension of flavor. Last but not least, some freshly chopped parsley or any other herb of your choice rounds out this Naan bread experience beautifully!
This Naan bread tastes best freshly cooked but I have tried it both cold and reheated; either tasted good but my vote definitely goes to the freshly made version!
(Make this next: Paleo Curry Chicken)
---
3/4 cup arrowroot starch
3 tablespoon coconut flour
1/4 teaspoon salt
1 egg
1 cup full fat coconut milk
2 cloves garlic, finely chopped
Combine arrowroot starch, coconut flour and salt in a medium bowl and mix to combine.
In a separate bowl, whisk egg with coconut milk, then add the wet mixture to the dry mixture and stir until well incorporated. Allow to sit on the counter top for 5-10 minutes for the batter to thicken.
Heat a 9" pan over medium-low heat and add a little bit of oil to it, then spoon about 1/3 cup of batter into the pan and cook on each side for 2-3 minutes.
Sprinkle with fresh or roasted garlic and drizzle with olive oil; serve warm.