Vegetarian
23 Umami Eggplant Recipes Everyone Will Love
Eggplant is an awesome ingredient to start using more of in your Paleo cooking. With a unique texture and surprising versatility, you'll be impressed with the different ways you can enjoy eggplant and all its healthy benefits.
---
1. Eggplant, Artichoke & Corriander "Martini"
This is a flavorful, quick, healthy, and super tasty Paleo-friendly dip. Steam the eggplant until it's soft enough that it will be creamy when blended with the other ingredients. Since eggplant has a pretty subtle flavor, you can combine this with a range of different spices you might have on hand. Try a different combo!
---
2. Eggplant Bolognese with Zucchini Noodles
Eggplant ramps up this bolognese nicely and adds some extra texture and flavor as well as nutrition to the meal. It's sometimes easy to forget that Paleo is just as much about the veggies as it is the meat.
---
Is cheese Paleo-friendly or not? Some say yes, some say no. If you do use cheese, go for the good stuff that's less processed than pre-packaged cheese, as it is more natural and don't use low fat! When items are made low fat, it usually increases their carbs and we want things low carb and as natural as possible on a Paleo diet.
---
This is a Paleo diner's dream dinner. Healthy, tasty, satisfying. But you may be wondering – what's ghee??? Ghee is made by bringing regular butter just to a boil. It will separate and then you can skim off the white stuff on the top. What's left is ghee – basically, butter minus almost everything but the fat. That's why some Paleo recipes that would otherwise use butter use ghee instead!
---
Simple grilled eggplant has an earthy, wonderful flavor. You can eat this alone, especially with a drizzle of olive oil and a good sea salt and maybe a touch of paprika, or use it in another dish: use in place of lasagna noodles, make ground turkey wraps with it, or blend it up with some lemon and tahini for a tasty dip. Incredibly versatile!
---

Photo: Athletic Avocado
6. Easy Paleo Dinner: Spicy Bruschetta Stuffed Eggplant
This is a Paleo diner's dream dinner. Incorporating the chicken sausage gives you much needed protein, while the spinach gives you great health benefits like vitamin C and iron. The spices will not only wake up your taste buds but supposedly wake up your metabolism as well! All in one tasty, roasted, creamy eggplant half.
---
7. Eggplant, Avocado and Bacon
You know what makes everything better? Avocado. Ha! You thought I was going to say bacon, didn't you? Well, bacon is pretty fabulous too so when you put the creamy cool avocado together with the salty warm bacon… magic happens. Eggplant substitutes as the wrap here so this is a super Paleo-friendly lunch!
---
These eggplant cannelloni are stuffed with tangy, creamy goat cheese. Is that Paleo? Well, depends on your point of view but most Paleo eaters agree that if you're going to have a bit of dairy, it should be something like goat cheese, which is processed very little compared to most packaged cheeses. And it's tasty, so why not?
---
9. Roasted Eggplant and Red Pepper Tapenade
You can use this recipe as is or try changing it up – maybe carrots and cumin? Or chunks of fresh green bell pepper for an added crunch? You can always up the spice level by adding crushed red pepper. Keep it Paleo by serving with a side of cut-up crunchy veggies.
---

Photo: The Little Plantation
The Americans out there may be wondering… what's aubergine? Pronounced O-BER-JHEEN, aubergine is simply what the rest of the English-speaking world calls eggplant. Besides, "autumnal aubergine" just has a nice ring to it! And this autumnal aubergine dip will leave you wanting more. To keep your snack Paleo, serve it with assorted crudité instead of bread or crackers.
---
Eating Paleo but missing pizza? Here's a recipe that gives you all the flavors of pizza with none of the crust! Instead, use a circle of eggplant as the base. Then, follow the recipe or throw on whatever you love on pizza – anchovies and olives? Sausage and peppers? Another versatile eggplant recipe!
---
12. Paleo Eggplant and Zucchini Lasagna
Now you can have lasagna and not worry what those lasagna noodles are doing to your insides. The combination of eggplant and zucchini works well here and there's plenty to discover with each bite. Even a second helping won't leave you groggy.
---
13. Spinach and Eggplant Noodle Miso Soup
Miso soup is a great way to start any meal. Its light, earthy flavor won't overwhelm your taste buds but will warm you, inside and out, and this particular recipe gives you the added health benefits of eggplant and spinach: notably, vitamin C and iron.
---

Photo: Home Sweet Jones
14. Begoon-Pora: Burnt Eggplant
If you're eating Paleo, then this makes a great side dish for chicken, fish, or pork. You could also use it as a dip with crunchy raw veggies or eat it by the spoonful! And in case you're wondering, garam masala really means just a blend of spices, but if you don't trust your own spice-mixing abilities, search for a recipe online.
---
15. Roasted Red Pepper and Eggplant Gazpacho (Grain-Free)
Gazpacho: the famous chilled Spanish tomato soup. It's great for the summer, not only because it's chilled, but because it has bright, citrusy flavors and crunchy veggies. This recipe adds eggplant, which won't change the tomato-y flavor much, but will provide an extra savory smooth texture to this delicious treat!
---
16. Pan Seared Tilapia with Grilled Watermelon and Eggplant and Avocado Sauce
This is Paleo eating at its most glamorous. A silky, luscious tilapia filet, packed with protein, the bright fruity char-grilled watermelon, the earthy smokiness of grilled eggplant, the tart citrus of lemon, and the cool creamy avocado sauce… what meal could want more?
---
17. Baked Eggplant Fries with Rosemary and Thyme
When you want a snack that is filling but also nutritious go with these baked eggplant fries. They're seasoned with rosemary and thyme so they're no slouch in the flavor department. Dip them in some Paleo ketchup for the full experience.
---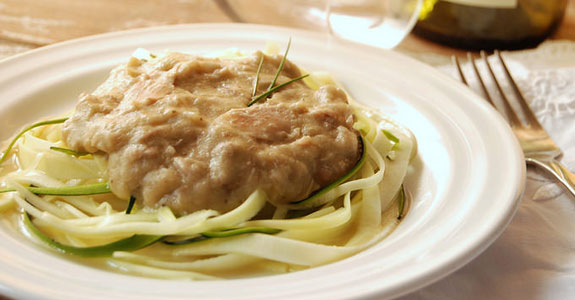 Photo: Almost Bananas
18. Creamy Eggplant Chicken Zucchini Noodles
Looking for a classic winter chicken dish that's Paleo-friendly? Look no further. This recipe replaces regular noodles with zucchini noodles (you'll need a spiralizer to make them). The eggplant make the sauce thick and creamy without the use of any non-Paleo thickeners. You could even use chicken left over from the night before!
---
19. Sambal Terung (Malaysian Roasted Eggplant with Chili Sauce)
Get ready for some heat with this one! Chilies on top of peppers on top of chilies! Note that the recipe uses Paleo-friendly coconut oil and coconut palm sugar (or honey, if you can't find the coconut palm sugar) and gives you the earthiness of roasted eggplant on which all the spice is served.
---
20. Lamb Stew over Charred Eggplant Puree
This Middle Eastern delight is served over grilled eggplant puree instead of over rice. That means it's perfectly Paleo-friendly! Earthy flavors are blended with the perfect amount of spice to wake up your taste buds without setting your mouth on fire. If you're not a fan of lamb or can't get it, substitute chicken.
---

Photo: The Iron You
21. Imam Bayildi (Stuffed Eggplant)
You can stuff eggplant with plenty of things but this staple Turkish dish is vegetarian and would be a great Paleo side dish with chicken kabobs or a roasted pork loin. The exotic flavors are all the spark you need for a tasty, warming, hearty dish.
---
22. Baingan Bharta: Smokey Eggplant Mash
This recipe is full of the flavors of India: garlic, ginger, chilies, coriander, and cumin. It will wake up your taste buds and get your metabolism going – especially if you throw in some extra chilies. If you're eating Paleo, use this as a side dish with chicken, fish, or pork, cooked simply. It's enough spice for the whole meal!
---
23. Korean Gaji-Namul (Eggplant)
Yet again demonstrating the complexity yet adaptability of eggplant, this recipe uses Asian flavors. If you've had Korean food before, you know to expect some spice – and this recipe has got it! Sesame oil and mushrooms add to the earthy umami of the eggplant, making this a great dish to start a meal with.