Featured
35 To Die For Paleo Deviled Eggs
I bet most of us can say that deviled eggs are a common feature at our family gatherings. Most of us, though, probably can't say that those deviled eggs are healthy for a Paleo style of eating. So next time your family gets together, volunteer to bring the deviled eggs, and check out the recipes below.
---
1. Chipotle Bacon Pumpkin Deviled Eggs
Why not get a little crazy right out of the gate, shall we? You don't have to use the specific recommended brand of pumpkin in this recipe, and you could even use your own homemade puree (or sweet potato!). Do make sure your mustard is Paleo-friendly, though.
---
Adding smokey flavor to deviled eggs is a great idea and this recipe shows you exactly how to do it while keeping everything Paleo. They not only taste great but they look great too, making them the perfect choice for a party.
---
3. Green Eyed Monster Deviled Eggs
Apparently turning deviled eggs into scary creatures is kind of a thing, so let's just run with the theme a little bit. These deviled eggs use avocado, horseradish, Dijon mustard (make sure yours is Paleo), peppers, and black olives for a mix of flavors and textures.
---
This recipe isn't for the strict Paleo follower, but for those of us with a little wiggle room for healthy and protein-rich Greek yogurt, if you can tolerate it. These deviled eggs have the Greek yogurt as a replacement for the mayonnaise in a traditional deviled egg recipe.
---
Let's get down to what we really want in a deviled egg: bacon. Okay, maybe that's not a necessity for everyone, but I promise you these bacon-and-bacon-fat-filled ones will definitely hit the spot. They pack a punch of heat as well, with your favorite hot sauce right in the filling.
---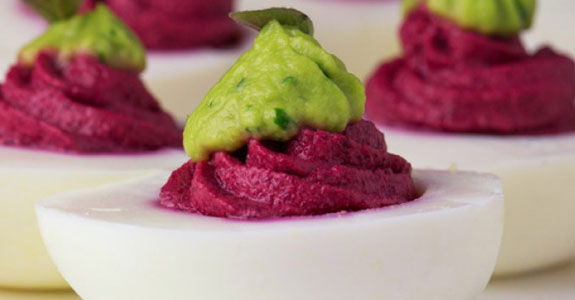 Photo: Amazingly Tasty
6. Beet and Avocado Deviled Eggs
Now we're getting colorful! This recipe uses pureed beets and avocado to make the deviled egg filling. Beets are packed with vitamins, minerals, and nutrients, and they'll add a lovely, earthy flavor to these deviled eggs, balanced with a kick of fresh garlic or wild garlic leaves.
---
Made from avocado and Paleo-friendly mayonnaise, these deviled eggs are full of guacamole flavor from lime, cilantro, cumin, and cayenne pepper. They would be perfect for a summer party, since they're a filling, fresh snack or appetizer.

---
These fiesta deviled eggs are similar to the guacamole deviled egg recipe above, but with a bit of tomato and jalapeno pepper added for good measure. You could make these in a variety of spice levels—some of us need a warning!
---
And yet another avocado-based deviled egg—this one doesn't use mayo, and it doesn't use coconut oil or any other oil. Just the avocados, lime juice, some jalapeno, and some guacamole seasonings. Simple to make and oh, so yummy.
---

Photo: The Right Recipe
10. Hard Cooked Eggs With Basil and Fluffy Ham
This easy recipe is almost too simple to be called a deviled egg. You don't need mayonnaise, avocado, or anything fancy. Some people do use heavy cream in Paleo-style eating, but others don't—so use coconut cream if you need to. I love the basil in this recipe!
---
11. Easter Avocado Deviled Eggs
These would be lovely for a simple Easter luncheon. Or maybe what makes them Easter deviled eggs is that you can use up all those dyed Easter eggs you ended up with on the day your kids dyed the kitchen floor hot pink. Either way, these are yummy, and the mayonnaise is optional.
---
12. Deviled Eggs With Bacon and Chives
This recipe is for a basic deviled egg with no mayonnaise and no avocado needed. You'll season and whip up the filling with olive oil and mustard, and top them off with crumbled, cooked bacon, chives, olives, and delicious roasted red peppers. Simple? Yes. Awesome anyway? Of course.
---
Haha… see what I did there? I know, I know—silly joke. But that's what this blogger has nicknamed these basil, avocado, and bacon deviled eggs that are stuffed with tons of fresh, shredded basil (my absolute favorite herb for just about anything). You gotta give these a try!
---

Photo: Cupcakes Omg
I've been really into pickling lately, and I'm loving these beautiful pink pickled eggs (hint: whenever you see that shade of pink on a whole foods blog, you know there are beets involved!). These are easy to make, so delicious, and make a fabulous party presentation.
---
Now this is a unique recipe! It includes its very own homemade mayonnaise recipe with flavorful ingredients like raw honey and apple cider vinegar, and is (of course) made with plenty of crispy bacon, chili powder, and smoked paprika for an amazing flavor.
---
16. Truffle Salted Deviled Eggs
If you're feeling creative, you could use the homemade mayonnaise recipe from the previous listing (smoky bacon deviled eggs) to make these truffle salted deviled eggs, which do need some kind of Paleo-friendly mayonnaise to make them. You can boost the truffle flavor by sprinkling half of it on top instead of mixing it in.
---
17. Guacamole Deviled Eggs, Take Three
I'm including several variations on these deviled eggs, because I do think they're really fantastic, and the shifting of the ingredients each time makes it so there's a version everyone can call their favorite. I'm not a huge fan of cilantro, so I like that this one doesn't use as much.
---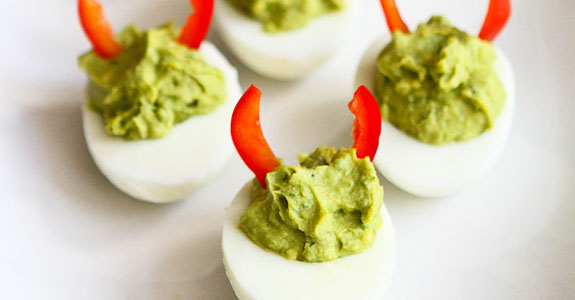 Photo: Cookin Canuck
18. Devilish Avocado Sriracha Deviled Eggs
These eggs are looking a little devilish. Even if you choose not to dress them up, you can still enjoy these spicy little guys with their fresh avocado-lime flavor and sriracha kick.
---
19. Smoked Salmon Deviled Eggs
These deviled eggs look and sound fancy, but they're really easy to make and have only a few ingredients. You'll need eggs, avocado, smoked salmon, Dijon mustard (make sure it's Paleo), salt and pepper to taste, and paprika to sprinkle over the top for color.
---
These spicy deviled eggs pack quite a punch, and the recipe includes instructions on making your own Paleo-friendly mayonnaise. I can't believe how simple these are, and how few ingredients for how fantastic they look when finished! I guess it really is all about the swirl.
---
I'm calling these extra creamy because just look at that silky filling in the pictures! You'll need mayonnaise for this one, but this blogger includes a recipe for Paleo-friendly and ketogenic mayonnaise. And definitely, whatever you do, don't forget the bacon.
---

Photo: Hold The Grain
22. Avocado (and Mayo) Deviled Eggs
Can't do without the mayonnaise in your deviled eggs? That's okay—there's a way. This recipe includes an additional recipe for homemade avocado oil mayonnaise, which is totally Paleo-friendly and goes well with any application, including these simple deviled eggs.
---
As long as you choose a Paleo mayonnaise here, you can be filling up on bacon deviled eggs in no time. These are made with spicy brown mustard, apple cider vinegar, and a smidge of extra bacon grease for a fantastic and powerful flavor.
---
24. Jalapeno Bacon Deviled Eggs
Let's take that fabulous bacon, and add a kick to it. You need three whole jalapeno peppers, which will get minced into the filling and stuck on top, as well. These could be spicier or milder depending on how many of the seeds you leave in the filling.
---
These little buddies have just five ingredients in them, and one of those ingredients is eggs, so there's not a lot of guesswork to be done here. Easy! There's a recipe included for coconut oil mayonnaise, which you can use in these deviled eggs and keep on hand for future mayonnaise needs.
---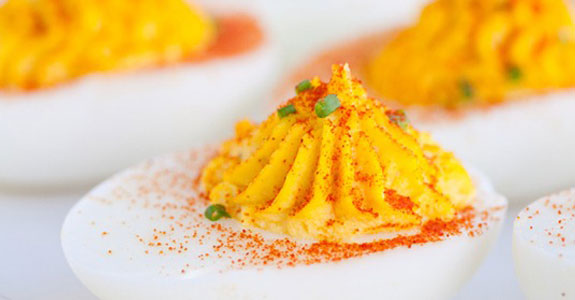 Photo: The Primalist
As long as you use homemade mayonnaise (or a store-bought Paleo variety), you can enjoy many different types of deviled eggs, including these horseradish ones. I love the color from the paprika. Double check that your mustard is Paleo, as well.
---
While made with similar ingredients to other avocado deviled egg recipes, these change up the seasonings a bit so they'll remind you more of a taco than a big bite of guacamole on a grain-free chip. Notes included on how to make perfect hardboiled eggs!
---
28. Avocado Deviled Eggs With Salmon Roe
These deviled eggs are fairly basic, but are made super fancy with the addition of salmon eggs on top. They'd be perfect at a party, especially with the extra wedge of avocado as garnish. I love the color contrast between the avocado and the salmon eggs.
---
29. Bacon and Balsamic Deviled Eggs
These are almost like your standard deviled eggs, except Paleo (with coconut oil mayonnaise) and made a thousand times better by the addition of bacon and delicious, umami-rich balsamic vinegar. Coconut oil mayonnaise recipe is included! And you don't have to turn these into chicks if you'd rather have them the normal shape!
---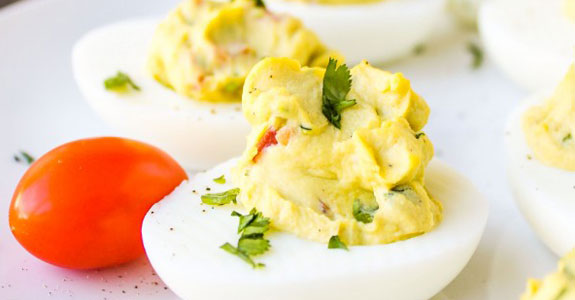 Photo: The Food Charlatan
30. More Deviled Guacamole Eggs
This time, you can skip the mayonnaise entirely. These guacamole deviled eggs get all their creaminess from the avocado and coconut oil. These will work best if you use your coconut oil at room temperature (it should be solid but not hard).
---
You've seen truffle salted deviled eggs, but these are a little bit different. These eggs use truffle oil, ground white pepper, chives, crushed black pepper, and sea salt to get their flavor. No mayonnaise or avocado needed! This makes 4 deviled eggs, so increase it if you need more.
---
This post includes three equally simple, equally healthy, and equally mayonnaise-free deviled egg recipes. You'll use them to make "heavenly" classic deviled eggs, Mexican deviled eggs, and spicy tuna deviled eggs. There's even a video to go along with these recipes.
---
33. Wasabi Avocado Deviled Eggs
Proceed with caution. If, like me, the first time you ate sushi, you said, "Hmm, what's this green stuff?" and spread a nice big helping on your roll, you know what I'm talking about. But "that green stuff" can have an awesome flavor if you tolerate the heat, so think about this recipe!
---

Photo: Free Range Katy
34. Whipped Butter Deviled Eggs
I love butter, so it's a great thing that the Paleo way of eating encourages the moderate use of healthy fats like butter. These perfect deviled eggs are made with a fluffy filling of egg yolks, whipped butter, yellow mustard, homemade mayonnaise, ACV, and seasonings.
---
Love buffalo flavor? Give these deviled eggs a try. You can use whatever hot sauce you like best, but Frank's Original Buffalo sauce is Paleo and delicious. Any Paleo mayonnaise recipe will do for this one.
---
36. Bacon Avocado Deviled Eggs
You've seen a lot of this avocado business, and I can guarantee you'll see a lot more before this list is over. Avocado has the right amount of creaminess to replace the mayonnaise, and it's a healthy fat you should be eating plenty of. Here's a basic recipe for avocado deviled eggs.