Recipe Lists
67 Easy Paleo Breakfast Ideas
Far from being boring and restrictive, a paleo lifestyle is full of new and interesting ingredients, alongside some of your old, everyday favorites, as this collection of easy and tasty paleo breakfast ideas shows. By making a few simple changes, you can create a myriad of crave-worthy paleo-friendly breakfast recipes that will give you energy, keep you full and satisfy whatever your craving.
---
---
---
---
---
---
---
---
---
---
---
---
---
---
---
---
---
---
---
---
---
---
---
---
---
---
---
---
---
---
---
Brussels Sprout Egg Nests
These paleo-friendly breakfast egg "nests" are a playful way to add some variety into your morning routine. This recipe is a great way to use up any leftover Brussels sprouts, which are sautéed and then topped with egg for a savory breakfast. Sprinkle with red pepper flakes for a little added kick.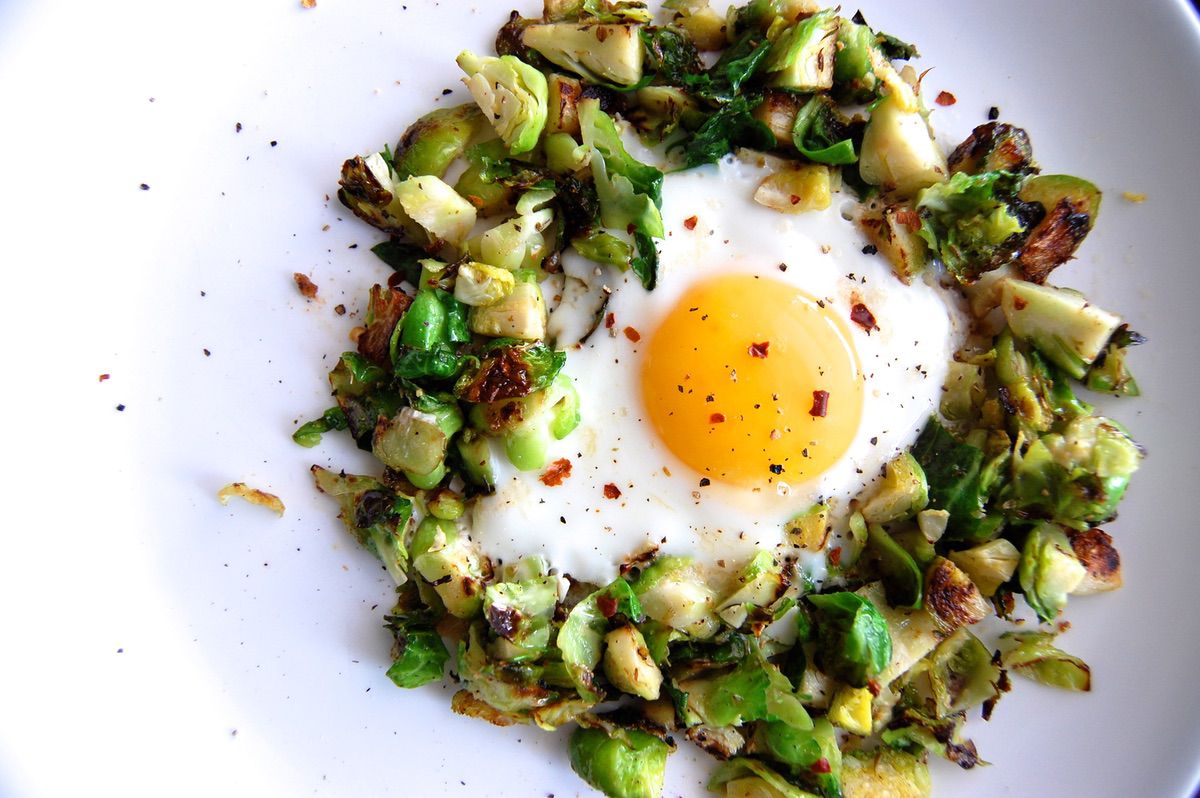 Ingredients
2 cups Brussels sprouts, chopped
1/2 tsp salt
1/2 tsp garlic powder
1/4 tsp freshly ground black pepper
1/4 tsp red pepper flakes
1 tbsp extra virgin olive oil
2 eggs
Instructions
1. Toss the Brussels sprouts with all of the seasonings except the red pepper flakes in a large bowl.
2. Heat the olive oil in a large skillet over medium heat. Add the sprout mixture and stir. Cover with a lid and cook for 4-5 minutes, stirring occasionally.
3. Create 2 small holes in the Brussels sprouts and crack an egg into each. Cover the pan with the lid again and cook until eggs are set, 4-5 minutes. Carefully transfer to a plate, top with red pepper flakes, and serve warm.
Huevos Rancheros
Huevos Rancheros are a traditional Mexican breakfast and a great way to get some spice into your morning meal. There are three steps to the preparation: cook the salsa, prepare the tortillas, and then quickly fry a few eggs. Everything is then assembled together for a spicy and savory breakfast.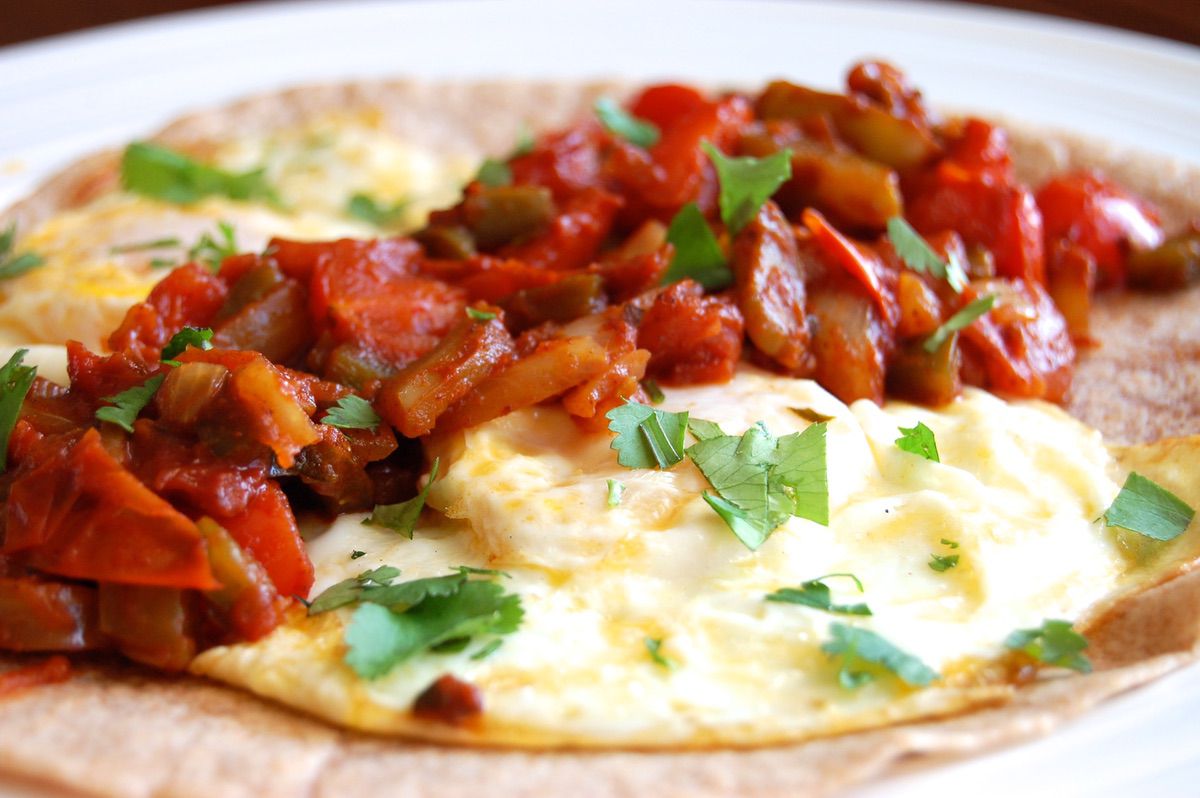 Ingredients
1/2 medium onion, diced
1 tsp extra virgin olive oil
1 large ripe tomato, chopped
1 jalapeno, seeded and finely diced
1 tsp chili powder, or more to taste
4 Paleo tortillas
4 eggs
2 tbsp fresh cilantro, chopped
Instructions
1. Heat the olive oil in a large skillet over medium heat. Cook the onions for 3-4 minutes to soften. Add the tomatoes to the pan and stir. Sprinkle with chili powder and salt and stir in the jalapeno. Bring the mixture to a simmer and then reduce the heat to low, simmering for 8-10 minutes.
2. At this point, warm the tortillas in the oven or microwave. Fry the eggs in a separate skillet over medium-high heat. Cook for 3-4 minutes for a runny yolk.
3. To assemble, top the tortilla with the fried eggs and tomato salsa. Sprinkle with cilantro and serve warm.
Smoked Salmon Egg Scramble
In this egg scramble, flavors that are typically found together on a bagel are cooked together for a delicious meal without the carbs. Capers, red onion, and salmon are added to eggs for a savory paleo breakfast served over sliced tomatoes. The scramble is cooked on low heat for creamier eggs.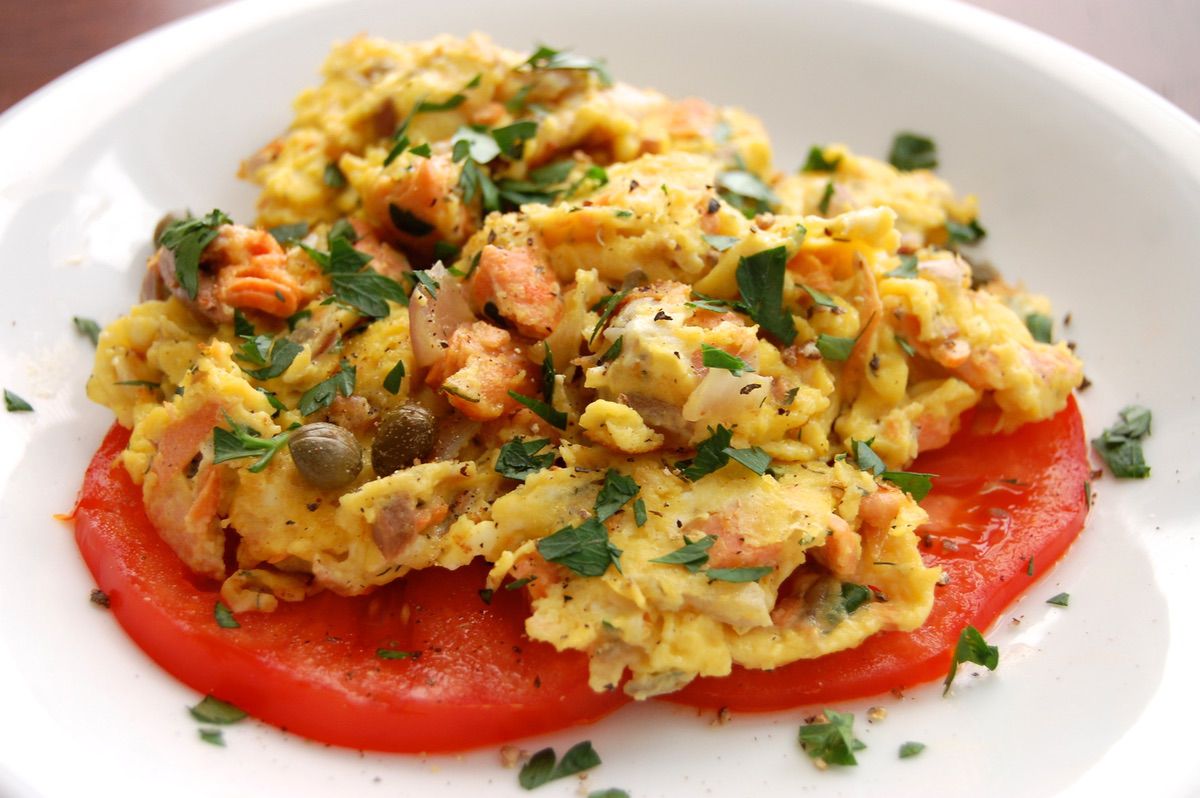 Ingredients
1 tsp coconut oil
1/4 cup red onion, finely diced
2 oz. smoked salmon, chopped
3 eggs
1 tsp capers
1 tsp fresh parsley, chopped
1/2 tomato, sliced
Salt and freshly ground black pepper, to taste
Instructions
1. Heat the coconut oil in a skillet over medium heat. Add the red onions and sauté for 3-4 minutes. Turn the heat down to low.
2. Meanwhile, whisk the eggs with salt and pepper in a small bowl. Add in the chopped salmon and stir. Pour the egg mixture over the sautéed onion in the pan. Stir gently to scramble.
3. To assemble, place the tomato slices on the plate. Top with the cooked egg scramble and garnish with capers and parsley.
---
---
---
---
---
---
---
---
---
---
---
---
---
---
---
---
---
---
---
---
---
---
---
---
---
---
---
---
---
---
---
---
---
---
---
---
(You may also like: 100 Best Paleo Recipes of All-Time)