But the even better part about these particular ribs is the BBQ sauce. Typical BBQ sauces, whether they're homemade or store bought, are filled with sugar. In this recipe, we substitute honey for sugar.
Most BBQ sauces are made with brown sugar. A lot of people think that brown sugar is less processed than white sugar, but they are mistaken. The brown sugar in the store is merely white sugar with a bit of molasses added. So, it's no better than white sugar.
Honey is a great substitute for sugar – brown or white – because it is a less processed, more natural product, especially if you go with raw honey. In addition to carrying little bits of vitamins and minerals in it (which regular sugars certainly don't have!), it is a more complex sugar, which means it will take your body longer to break it down.
When your body breaks down regular sugar, it doesn't take long at all, so the sugar goes rushing into your system and your blood sugar levels rise dramatically. Unfortunately, since the sugar gets processed so quickly, this elevated high doesn't last long. And you know the saying "the bigger they are, the harder they fall?" Well, that's definitely true of sugar rushes.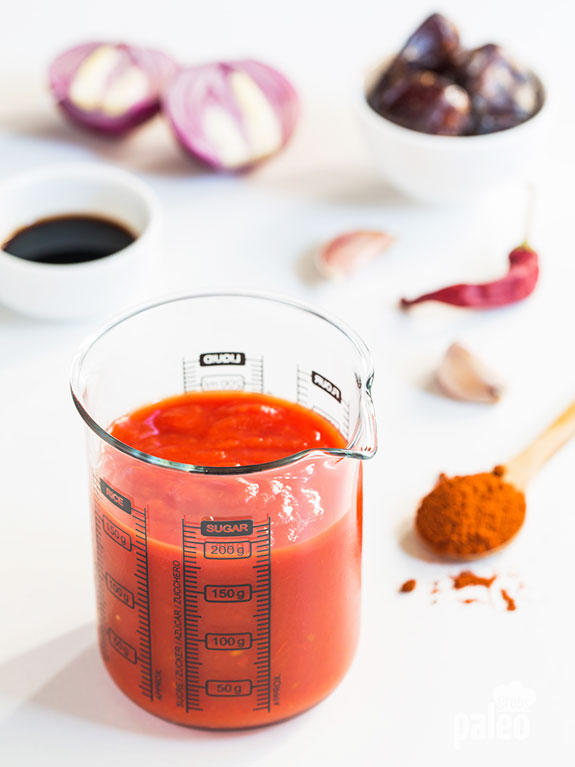 After an extreme sugar high, your blood sugar will quickly drop. That quick drop will make you feel sluggish and will probably leave you craving more of what got you your sugar high in the first place. But raw honey is different. Since it takes longer to break down, it does so at a more even rate and doesn't spike your blood sugar rate like regular sugar does. That means no spike, no drop, and no cravings!
The other great thing about this recipe is that the herbs and spices produce a really pumped up flavor – you won't miss anything with this recipe! Remember: if you don't like spicy flavors, you can cut down on the peppers. Or, if you like the heat like I do, add more!
It's important to use your own homemade spice blend instead of a store bought kind because many store bought spice mixes have anti-caking additives that are really not good for Paleo success. But not to fear – these spices are pretty common so you should be able to pick them up and use them for this and other recipes without a problem.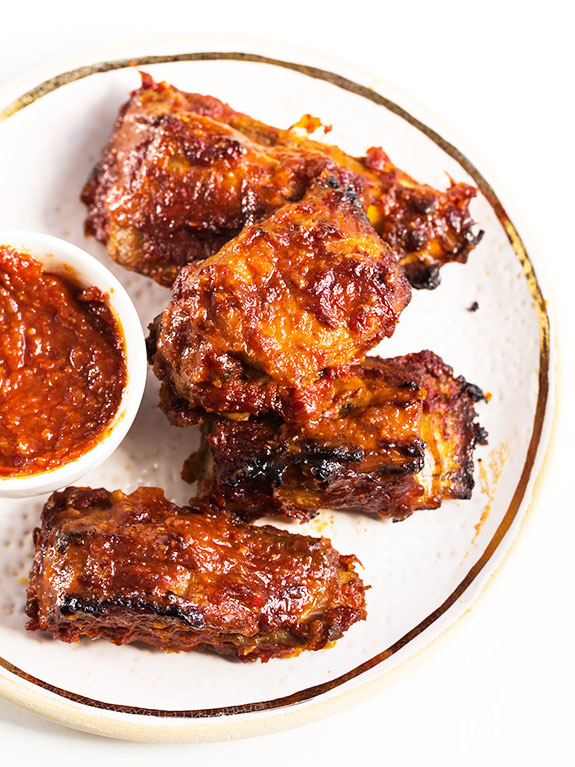 So forget the hours and hours on the grill and warm up the oven instead. These oven-baked BBQ ribs are good anytime of the year and can go from store to plate in less than two hours. Your friends and family will think you've slaved for hours to get this tender, tasty rib recipe ready and you'll know the secret: not only is it healthy, it's quick and easy too!
---
For the barbecue sauce

1 cup organic tomato sauce (no sugar, no salt added)
½ cup water
1 tbsp balsamic vinegar
3 dates, pitted
1 small onion
2 garlic cloves
1 tsp smoked or regular paprika
1 dried chili, deseeded
½ tsp cayenne pepper
1 tbsp honey
1 tsp salt

Rest of ingredients

2 pounds pork ribs
2 garlic cloves
1 bay leaf
½ tsp salt
½ tsp whole black peppercorns
2 tbsp olive oil
1. In a large pot place the pork ribs, 2 garlic cloves, whole black peppercorns and ½ teaspoon of salt. Cover with water and bring to boil over medium heat. Lower the heat and simmer for 20 minutes.
2. Meanwhile, make the barbecue sauce. Place all the ingredients except honey in a blender and blend until smooth. Transfer the mixture in a saucepan and cook over medium heat, stirring constantly, 10 to15 minutes or until mixture thickens. Remove from the heat, stir in honey. Taste and adjust seasonings if necessary.
3. Preheat oven to 350 F. Remove the ribs from pot, and place them in a 9×13 inch baking dish. Pour half of barbecue sauce and 2 tablespoons of olive oil over ribs and toss to coat. Bake for 45 -50 minutes basting with sauce and meat juices every 15 minutes. Serve ribs with remaining barbecue sauce on the side.