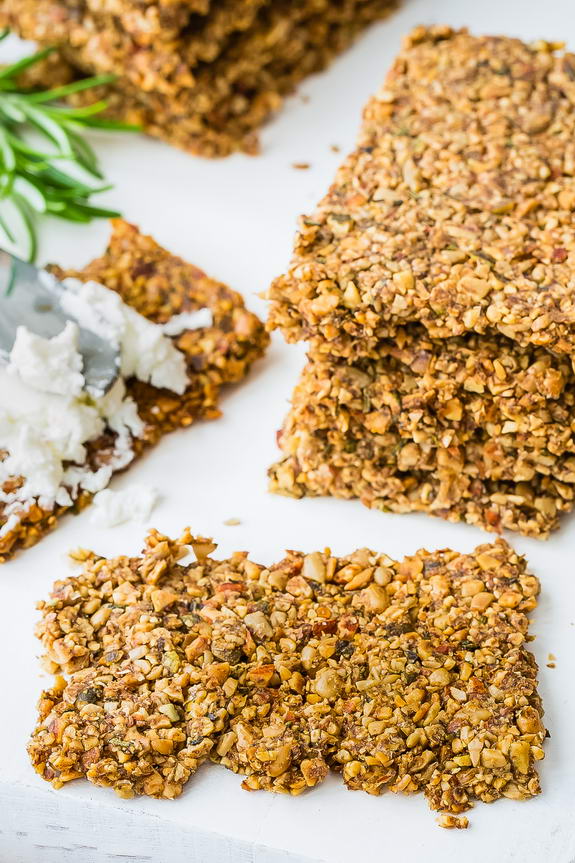 Crackers are so popular because they are a great snack, transport easily, and are tasty as all get out. And the great thing about these Paleo nut and seeds crackers is that they tick all those same boxes: good for snack time, easy to bring with you wherever you go, and they have great flavor. But these crackers have one thing store bought processed crackers don't: healthy benefits!
Most of us know that nuts are good for us, so it's no surprise to see almonds – great sources of protein, fiber, health fats, calcium, and magnesium – are part of this recipe. But as good as nuts are, did you know that seeds are even better for you? Seeds are like mini bundles of life – literally.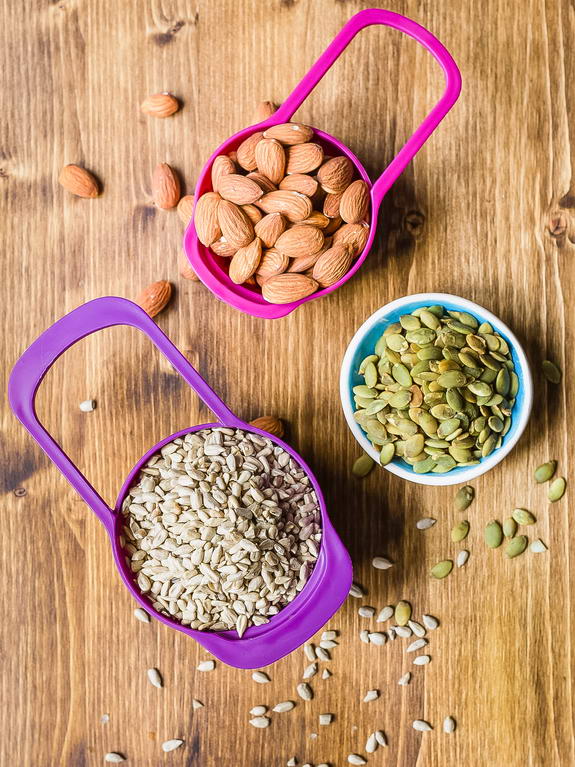 They contain everything needed to create a plant (except the water and nutrients from the soil) in one teeny-tiny package. For instance, sunflower seeds have almost 50% more protein than even almonds! They're also high in fiber and have a ton of vitamin B-6 and even more magnesium than almonds.
Pumpkin seeds are also high in protein, fiber, and a variety of vitamins and nutrients. And flax meal – ground up flax seeds – should be added to all your meals. I put it in smoothies, on salads, in soups – just about everywhere. I tablespoon of flax meal has 3 grams of fiber and 2 grams of protein. I know that doesn't sound like a ton, but keep in mind that it's only for a tablespoon worth of flax meal. For its volume and weight, that's a ton!
So, we know these crackers are going to be healthy. But what good is something that is healthy but doesn't taste good? It's no good at all! Because who wants to eat stuff that tastes like cardboard? Not me. And that's why I can recommend these nut and seeds crackers because just like all my favorite recipes, this recipe is packed with flavor. Pepper and garlic powder give the crackers a little zing and since I absolutely love the flavor of rosemary, that's in there too. If you can't find rosemary or don't like it, feel free to try another favorite herb. Basil, for instance, would be great with these crackers too.
And don't forget the salt! When you're eating an otherwise healthy diet, salt isn't a problem for most people. In fact, I've known some people who started eating Paleo and have had to add salt to their diet. That's because the processed foods so many Americans eat are simply packed with salt. When you cut out processed foods, you're getting rid of a ton of salt in your diet. Of course, if you need to watch your salt levels, always follow your doctor's instructions.
Once you've ground up all the nuts and seeds and flavorings, you'll put in the wet ingredients. The water, olive oil, and egg will help everything bind together. Be careful to not put in too much liquid but too little liquid can be a problem as well because then your crackers won't hold together. Also, unlike many snack bars and cake recipes, you'll want to cut these crackers into individual pieces before you bake them. If you wait until after, they will be crunchy and you probably won't be able to cut them in straight lines. Of course, if you're left with crumbles, they are great tossed in salads or onto the top of a soup.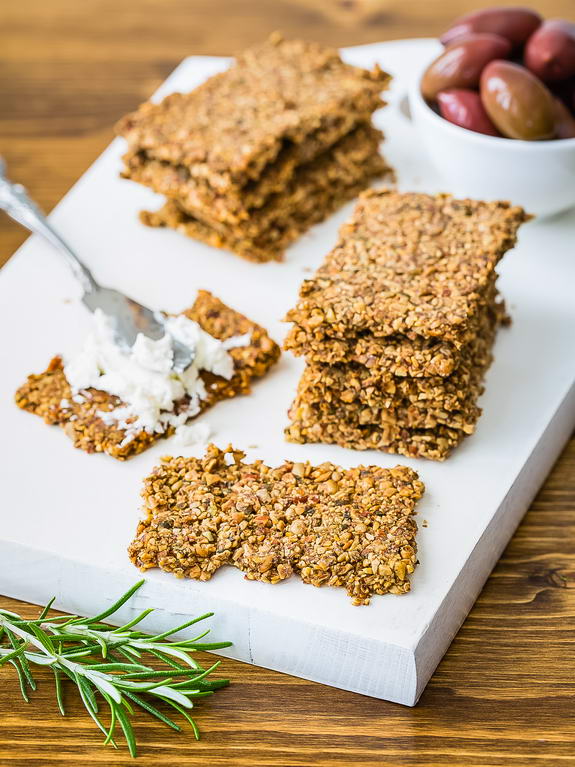 So put down those store bought crackers and get ready to snack like a Paleo champ. These nut and seeds crackers deserve a place of importance in your weekly meal prep!
(Make this next: Seed and Nut Sandwich Bread)
---
½ cup almonds
1 cup sunflower seeds
½ cup pumpkin seeds
¼ cup flax meal
½ tsp salt
¼ tsp black pepper
¼ tsp garlic powder
1 ½ tbsp chopped fresh rosemary
3 tbsp water
1 tbsp olive oil
1 egg
Preheat oven to 325ºF.
In a food processor place the almonds, sunflower seeds, pumpkin seeds and process until roughly chopped.
Add the flax meal, salt, black pepper, garlic powder and rosemary and pulse a few times to combine.
Add the egg, water and olive oil and process until combined.
Roll out the dough between 2 parchment sheets until about 1/6'' thick.
Slice the dough into squares and transfer the entire sheet onto baking tray.
Bake for 30 minutes or until golden and crisp.
Let cool completely before serving.