---
In order to get the cookies to the right consistency, I suggest using a food processor in order to ground the walnuts to an almost flour-like base. If you don't have a food processor though it's not a big deal, the cookies will just be a tad bit crumbier. As you might be tell from the photos, I myself used a blender because the food processor was broken – so I had to make a compromise. A person can never have too many kitchen gadgets! The end result being that the walnuts did not get as finely ground as I usually prefer, but they still tasted delicious, and my sweet tooth was fully satisfied.
The ingredients for the recipe are probably already in your pantry. Convenient and simple to make – what's not to like? Feel free to adjust the honey and vanilla levels to your own taste preferences. If you are not a fan of coconut, these could be made into no-bake chocolate cookies by substituting chocolate chips. I'm a coconut fan. I really like the almost buttery flavor that the coconut and ground walnuts form when combined.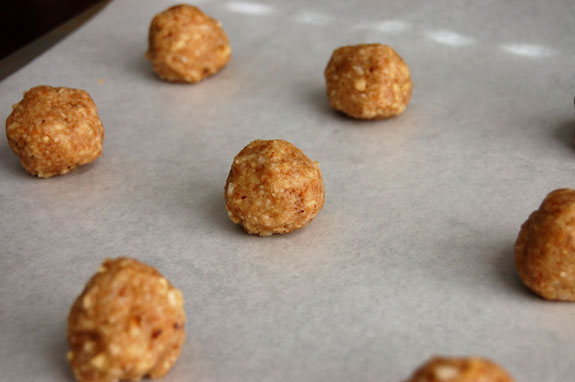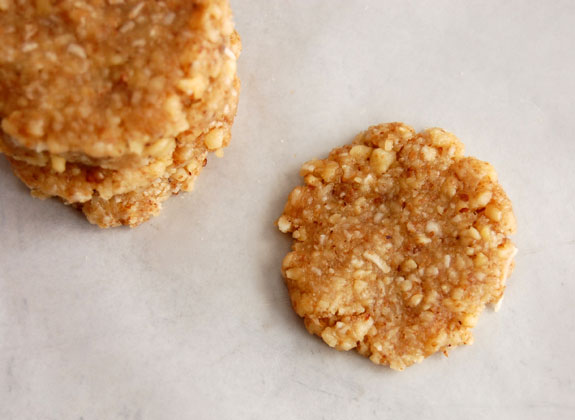 Blend, shape, and freeze – three easy steps for a sweet treat in no time. You could also get the kids involved in helping to first roll the dough into balls and then flattening the balls into cookies. These nutty, chewy cookies keep best in the freezer in an airtight container after they are formed, for snacking at your leisure.
---
Ingredients

1 cup walnuts
1/2 cup unsweetened coconut flakes
2 tbsp raw honey
1/2 tsp vanilla extract
1/4 tsp salt
Add walnuts to food processor and blend until finely ground. Add in the remaining ingredients and blend until a dough forms, about a minute.
Turn out the dough onto a piece of parchment paper. Using your hands, roll pieces of the dough into small balls, about 1 inch around, and space out on parchment paper. After all of the balls are formed, press down on each ball to form a flat cookie. Place in the freezer for at least 30 minutes before serving. Store in an airtight container in the freezer.