Preparing Paleo snacks ahead of time is the absolute key behavior that keeps my Paleo diet on track. Without easy-to-grab snacks, I will inevitably get hungry and grab something else that's way too easy to grab and the chances of it being Paleo are slim to none.
You should be able to find the ingredients for these no-bake Paleo protein bars at your local health food store, if not at your local grocery store. This combination of ingredients gives you a snack bar that has plenty of protein and fiber, a bit of the good-for-you kinds of fats that seeds are so high in, and a bit of sweetness from natural sources. And – this is the best part – you'll love the taste of these chewy bars.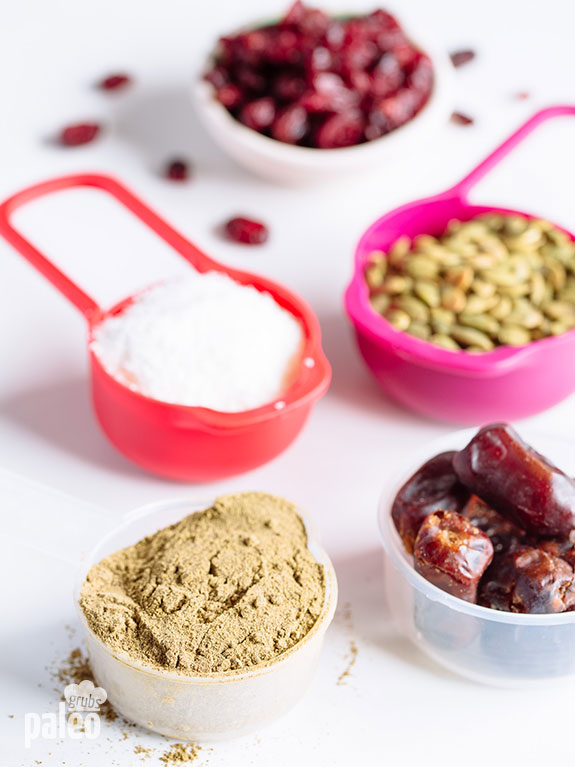 And yep, that's hemp you see in the recipe. But let's clear up a few common misconceptions about hemp. Hemp is NOT marijuana, although both come from the same plant – the Cannabis plant. When Cannabis is grown to be hemp, it has been bred to have far less, if any, of the THC that is present in plants that are used to make marijuana. That means the thing that makes marijuana smokers high is absent from hemp.
So no, you absolutely will not get a buzz from ingesting hemp hearts and hemp powder!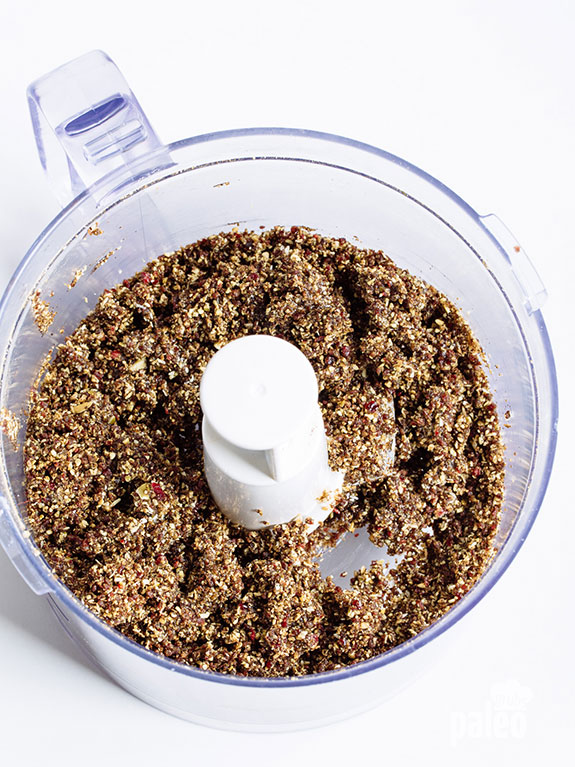 Hemp hearts are otherwise known as hemp seeds. When paired with hemp protein powder, you're getting a blast of protein, along with the other benefits of healthy fats, and plenty of nutrients. All from a natural source! The pumpkin seeds ratchet up this goodness even further.
I prefer to make these bars with unsweetened dried cranberries, but unsweetened dried strawberries are just as effective. They add a tart sweetness to the bars that balance the sweetness of the Medjool dates.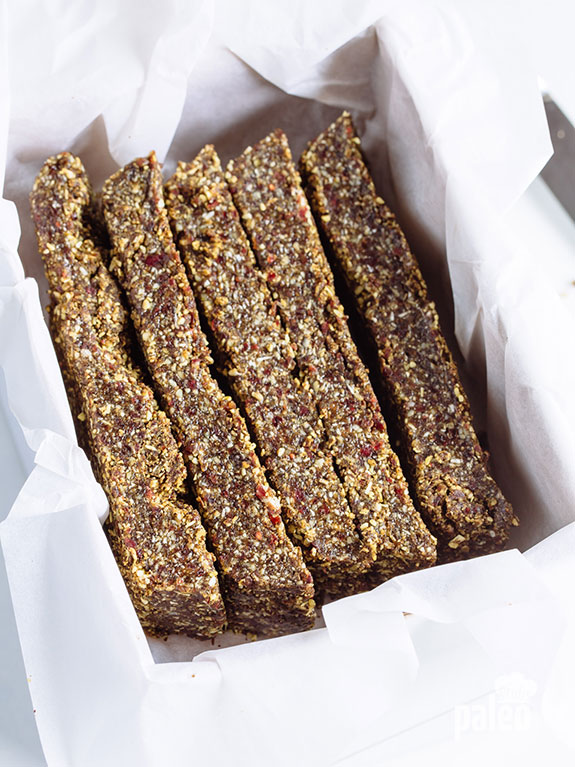 After you've blended up the hemp hearts, hemp protein powder, unsweetened shredded coconut (sometimes called "desiccated coconut"), pumpkin seeds, and your unsweetened dried berries, you'll add the "wetter" ingredients. The coconut oil, honey, and Medjool dates not only add all sorts of great flavors to your no-bake Paleo protein bars, but these are the ingredients which will hold your bars together.
Because the honey is liquid at room temperature and the coconut oil isn't far from it, I always keep these bars in the fridge. That way, even if I grab one in the morning and toss it in my gym bag for a few hours later, it will still keep its shape. One more tip for storage: after I slice these bars, I wrap them individually in wax paper. That way, I have pre-proportioned packages, ready to go.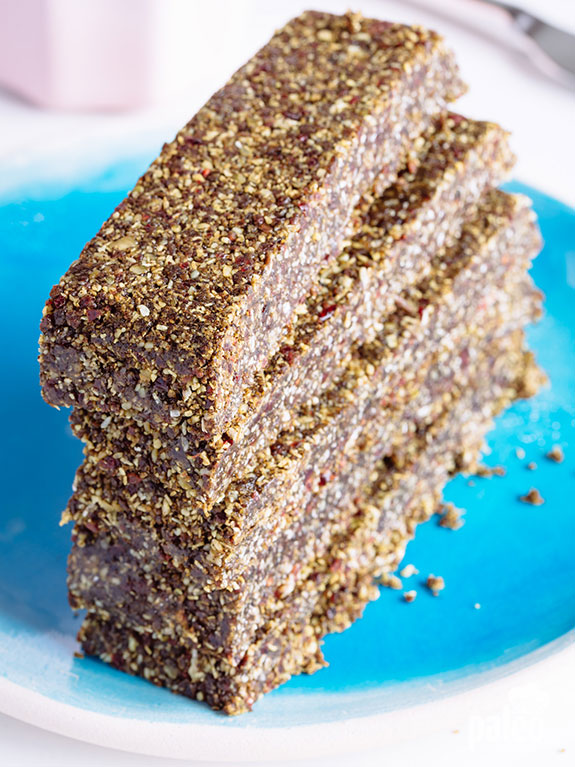 I make these no-bake Paleo protein bars almost every weekend to prepare for the week ahead. I can't count the number of times I've been out and about for the day and gotten the munchies and instead of grabbing a burger at the drive through or a bag of chips from the convenience store, I munch on one of these.
Not only do they tide me over until my next meal, they make me feel proud to be making good choices for my body and my health… and, not to mention, they are super tasty!
Where do you buy high quality hemp hearts & hemp protein powder?
I have tried finding these 2 essential ingredients locally, but I usually have a hard time finding them. My friend recommended these hemp hearts and this hemp protein powder and it is all I ever use now 🙂 There are a TON of healthy Paleo recipes you can use this superfood with, so don't worry if you have extra.
---
¼ cup hemp hearts
¼ cup hemp protein powder
½ cup unsweetened shredded coconut
¼ cup pumpkin seeds
½ cup unsweetened dried strawberries or cranberries
3 tbsp melted coconut oil
2 tbsp honey
5 pitted Medjool dates
In a food processor pulse together shredder coconut, pumpkin seeds, hemp hearts, hemp protein powder and dried berries.
Pulse in coconut oil, honey and dates.
Line an 8×4 inch baking dish with plastic wrap.
Press mixture into prepared dish and refrigerate for minimum 2 hours.
Slice and serve.