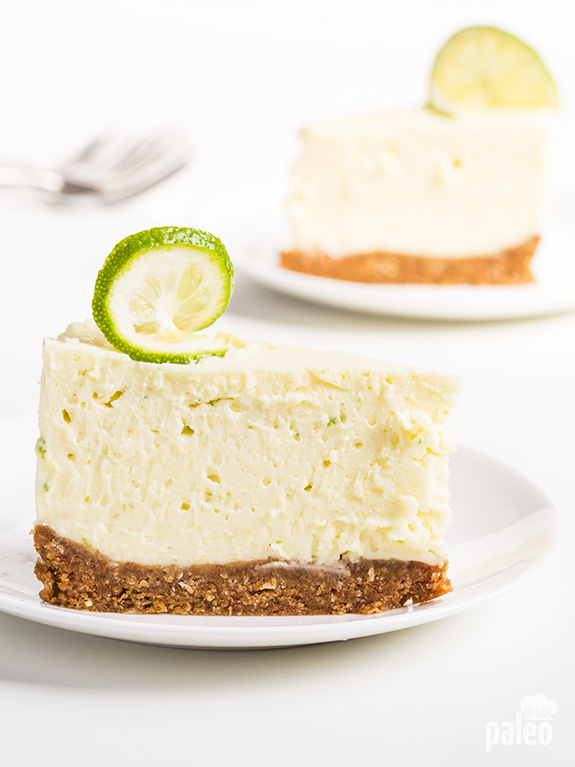 And then it hit me…key lime cheesecake!
I love that not-too-sweet and super tangy burst of pure sunshine that key limes bring to the party, blended into a creamy pie, all supported by a perfectly tender and crunchy pie shell.
Now, I'm not gonna lie – this pie takes a little effort and time to make, but, boy, it's worth it. I decided that I was looking forward to this pie so much that I wanted to actually draw out the process and really let myself simmer in expectation. So, the first day, I went shopping for all the ingredients. I set them all out on the counter so I could think about how lovely this pie was going to be. And of course, shopping a day ahead of time allowed me to soak the cashews overnight, which is an important step to make sure they are creamy enough when you blend them up with the other ingredients.
After I did my shopping, I called a few friends. Not too many. I didn't want to have to cut the pie in seriously small pieces! And I invited them over for dessert the next night, which happened to be Friday. Friday night pie night. I can deal with that.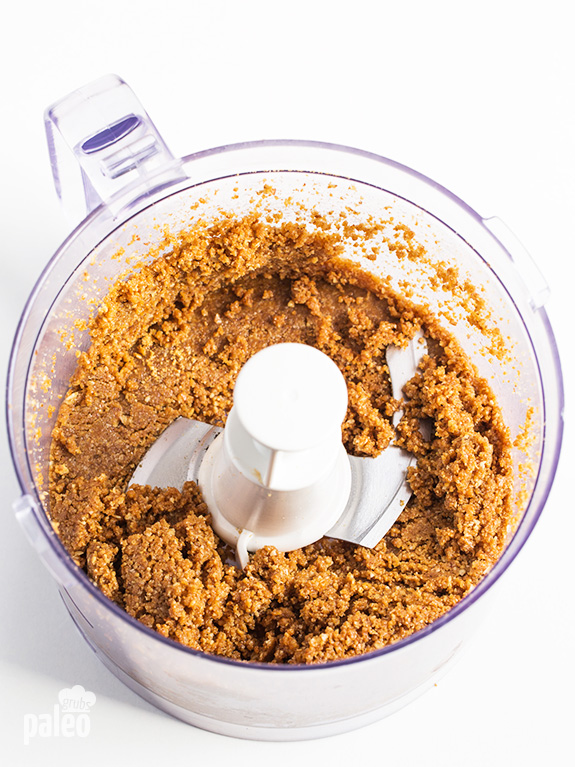 Friday afternoon, I began my cure-the-dark-cold-fall-blues pie making.
The Paleo pie crust is one of my favorites. A pie crust with fiber and protein?! Who ever heard of such a thing? (Of course, you have, if you've been reading this blog!) I just love the way that eating Paleo isn't about taking things away: it's about adding nutritional value to everything – even pie crust.
Next I made the filling. I used key limes because they happened to be available at my local grocery store. Get them if you can, but if not, don't be afraid to use full-sized limes. Key limes tend to have a little brighter flavor and a bit more sweetness, but there is plenty of honey in this recipe that it will satisfy your sweet tooth if you use regular limes, too.
Then, while pouring the filling into the crust, I "accidentally" got my finger in the way. Free tasting! So there's another benefit of this pie – it's good for bowl licking.
I have to admit, I probably checked in on the pie in the freezer every 10 minutes I was so excited about getting to taste it. Finally, the appointed hour arrived and my friends settled in my cozy living room. I warmed up a knife with hot water from the tap so it would glide right through the still slightly frozen pie. And I served up 5 big slices of sunshine on a plate.
It was just what we needed as the cold rain and the yellow leaves fell outside the window.
Some of our other favorite Paleo cheesecake recipe…
---
For the crust

1 ½ cups almonds
10 pitted dates (soaked in warm water for 10 minutes then drained)

For the filling

3 large limes or 6 key lime limes, juiced and zested
2 ½ cups cashew nuts, soaked overnight in cold water
½ cup full fat coconut milk
¼ cup coconut oil
1/3 cup honey
For decoration (optional)
1 lime, thinly sliced
To make the crust, place the almonds and dates in a food processor and pulse until combined. Grease an 8-inch springform pan and line with parchment paper. Press the mixture firmly and evenly against the bottom of the cake pan.
To make the filling, rinse the cashew nuts and drain them well. Place them in a high power blender or food processor with the rest of ingredients and blend until smooth. Pour the lime filing over the cake base and place the cake in the freezer for at least two hours or until firm. Remove from the freezer for 10-15 minutes to thaw before serving.