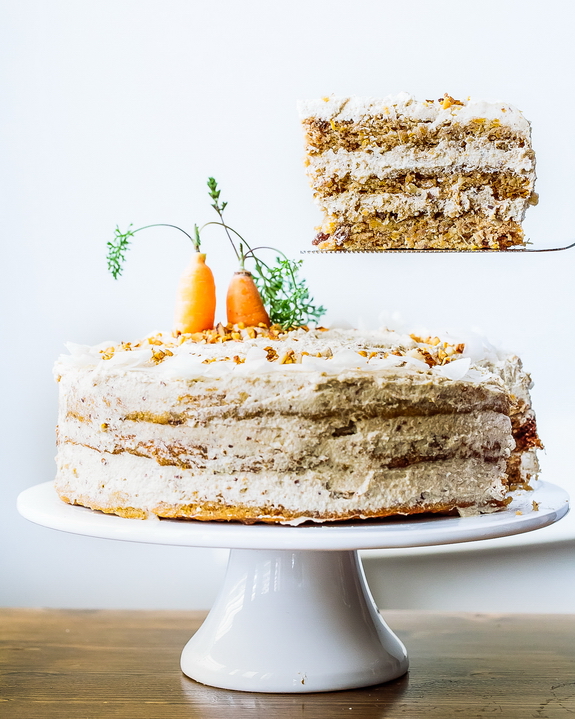 But how long have you been cooking with me? By now you must know that my favorite thing about Paleo is that it's about gaining new ways of doing things and eating new foods – not suffering through excluding the things you love the most. And boy do I love carrot cake.
Don't get me wrong – I have nothing against vanilla cake or chocolate cake, although I've never really understood the whole red velvet thing, honestly. I feel like it should taste like cherries and when it doesn't, I'm terribly let down. Every time. But I digress.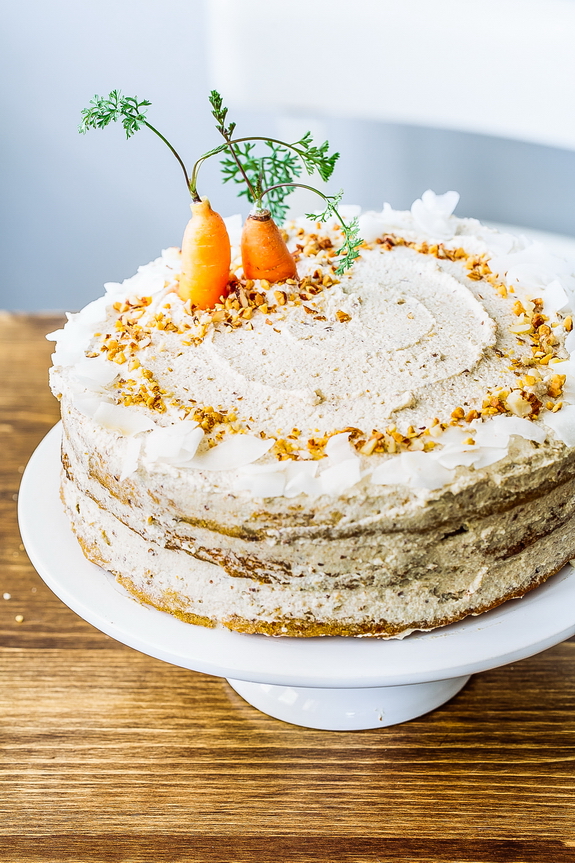 I've always loved carrot cake, even though as a kid I would've preferred just about anything to carrots. But mix them with a little sugar and… hey! This is Paleo! So let me tell you about how I "Paleo-fied" carrot cake.
First of all, the sweetness of this cake comes from natural sources like unsweetened pineapple slices (or use fresh pineapple – even better!), honey, and raisins. No processed white sugar here! And, while they add sweetness to the cake, the also add good stuff like nutrients and vitamins – that's something that processed white sugar never does. We're already ahead of the game!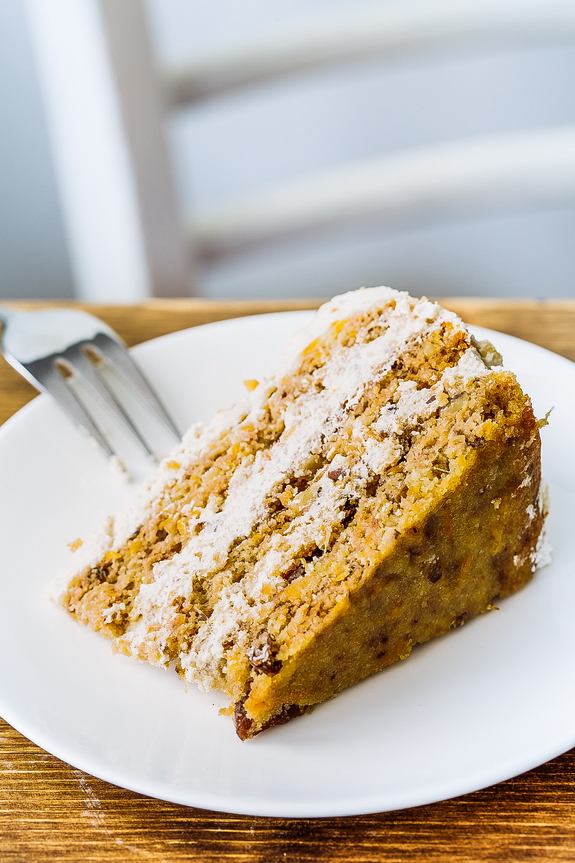 You'll notice that, of course, there is no wheat flour. Instead, there's a bit of coconut flour. But if you compare the amount of wheat flour in a traditional carrot cake to our Naked Carrot Cake, you'll notice there's far less coconut flour than there would be wheat flour. That's because we have a bunch of other ingredients that help make up the bulk of the cake, like almond butter, grated carrots, and walnuts. The result is a hearty, moist, flavorful cake with a dynamic texture. So much better than your everyday carrot cake.
If you're wondering about why there is vinegar in your carrot cake, it's because when baking soda and vinegar get together, they make bubbles. And when those bubbles are in a cake batter, they get stuck there and allow the cake to rise and be fluffy – instead of overly dense. And, trust me, you won't taste the vinegar!
And what's carrot cake without frosting? The traditional topping for a carrot cake consists of mostly cream cheese and white sugar. There's a big Paleo no-no! Instead, we blend up some soaked cashews to make a milk-like substance, blend that with dates for sweetness, and add coconut milk to get that creamy mouth feel. It's delicious and you'll never have to feel guilty even if you eat the frosting right off a spoon!
You might be wondering…. Why do I call this "Naked Carrot Cake" instead of just "Paleo Carrot Cake"? Well… of course, it's all natural ingredients. So you could take it that way. Or you could think about how this is the one cake that you can eat all you want of and still look good naked! Even if that's not your goal, you'll never feel so satisfied and guilt-free by any other cake ever. I guarantee.
(Make this next: Raw Mini Carrot Cakes with Cinnamon Glaze)
---
For the cake

4 eggs
12 oz unsweetened canned pineapple slices, drained well
½ cup almond butter
2 tbsp coconut oil plus extra for greasing
¼ cup honey
½ cup coconut flour
2 tsp cinnamon
1 tsp baking soda
1 tsp apple cider vinegar
pinch of salt
¾ cup grated carrots
½ cup raisins
½ cup chopped walnuts

For the frosting

1 ½ cup cashew nuts
15 pitted dates
1 tsp pure vanilla extract
1 tsp cinnamon or to taste
2 tbsp melted coconut oil
1/2 cup full fat coconut milk

For decoration (optional)

1 tbsp shaved coconut
2 tsp chopped walnuts
2 fresh carrots (tops only)
The night before, place the cashews in a bowl, cover with water and soak.
Preheat oven to 350 F.
To make the cake, in a bowl place the pineapple, almond butter, eggs, honey and coconut oil. Using a hand blender, blend to combine.
Add coconut flour, cinnamon, baking soda and pinch of salt.
Whisk to combine.
Add the apple cider vinegar, grated carrots, raisins and chopped walnuts and mix to combine.
Take three 8 inch round cake pans and brush them generously with coconut oil.
Divide the mixture between pans and bake in preheated oven for 20 minutes or until a toothpick comes out clean. Cool completely.
To make the frosting, drain the cashew nuts and place them in a high power blender.
Add the coconut milk, coconut oil, vanilla extract, dates, cinnamon and blend until smooth.
Remove the cakes from the pans.
Place one of the cakes on a platter and spread 1/3 of filling evenly.
Carefully place the 2nd layer of cake on top.
Spread 1/3 of the filling.
Add the last layer of cake on top.
Spread the remaining frosting.
Sprinkle with shaved coconut and chopped walnuts if using and place in a fridge for minimum two hours before serving.