---
Fact of life that I have learned: boys eat a lot. I am still surprised sometimes by how much they can actually consume in one sitting. I thought that the amount would go down once they quit growing so much after the teenage years, but I have been proven so wrong. Therefore when I needed to make some food for 'the boys' coming over last week, I wanted it to be hearty. And I knew it should be a lot of food, but I did not want it to burn a hole in my wallet. And even Paleo-friendly. With sweet potatoes as the base, these nachos fulfilled their intended role: feeding a group of guys during game time. I have to admit though that I had my own fair share. I just couldn't stop eating them.
It may seem like there are a lot of separate components to making these nachos, but none of them are complicated. And the result is definitely worth the effort. Start by making the sweet potato chips in the oven. If you want to try a little variety, you could also use plantain chips, parsnip chips, beet chips, you name it.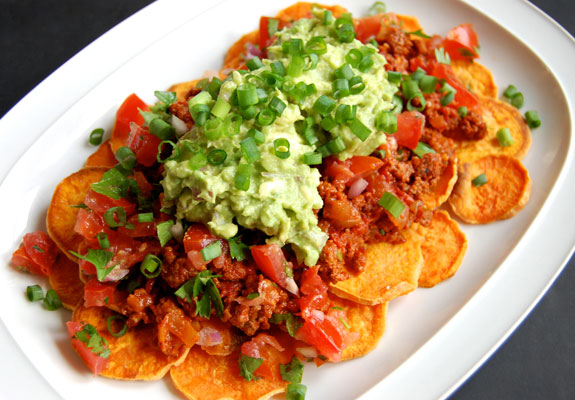 While the potato chips are baking, start the beef mixture on the stove. This part of the recipe can be made ahead of time and reheated when you want to serve it. Other than cooking the beef and spices, the only other ingredient to prepare is guacamole, depending on whether you want to make it yourself. I usually prefer homemade guacamole, or you could just use smashed avocado; it does not have to be anything fancy.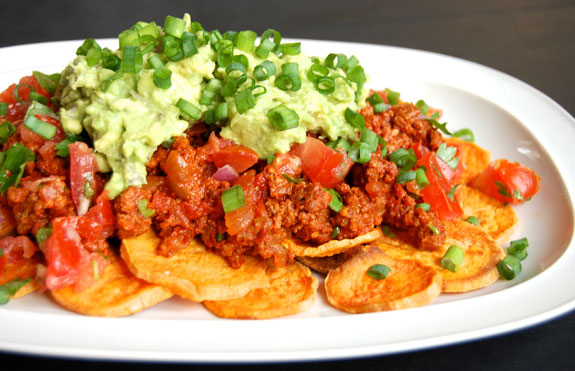 Sweet potato nachos smothered in beef, tomatoes and guacamole are the perfect way to feed large appetites. Make this plate of Paleo nachos for your next game day celebration.
---
2 medium tomatoes, diced and seeded
2 tbsp fresh cilantro, chopped
2 cups guacamole
1-2 tbsp lime juice
2 tbsp green onions, chopped

For the sweet potato chips

3 large sweet potatoes
3 tbsp melted coconut oil
1 tsp salt

For the meat

1 medium yellow onion, finely diced
1 tbsp coconut oil
1 green chili, diced
1 lb. ground beef
2 cloves garlic, minced
1 tsp smoked paprika
1/2 tsp ground cumin
1 tbsp tomato paste
12 oz. canned diced tomatoes
1 tsp salt
1/2 tsp pepper
To make the sweet potato chips, preheat the oven to 375 degrees F. Peel the sweet potatoes and slice thinly, using either a mandolin or sharp knife. In a large bowl, toss them with coconut oil and salt. Place the chips in a single layer on a rimmed baking sheet covered with parchment paper. Bake in the oven for 10 minutes, then flip the chips over and bake for another 10 minutes. For the last ten minutes, watch the chips closely and pull off any chips that start to brown, until all of the chips are cooked.
While the potato chips are baking, start preparing the beef. Melt the coconut oil in a large skillet over medium heat. Add the onion and chili to the pan and sauté for 3-4 minutes until softened. Add the ground beef and cook for 4-5 minutes, stirring regularly. Add the garlic, diced tomatoes, tomato paste, and remaining spices and stir well to combine. Bring the mixture to a simmer and then turn the heat down to medium-low. Cook, covered, for 20-25 minutes, stirring regularly.
Stir the chopped tomatoes, lime juice, and cilantro into the beef mixture. Adjust salt and pepper to taste. Remove from heat.
To assemble the nachos, form a large circle with the sweet potato chips on a platter. Add the beef mixture into the middle of the circle, and then top with guacamole and green onions.