P.S. I use this Paleo-approved butter to make this delicious Naan and other Paleo baked goods.
In Persian, the word "nan" refers to any kind of bread and in languages throughout the Middle East and South Asia, there are words similar to "naan" that refer to something akin to our recipe today. But if you've ever been to an Indian restaurant, you've probably had the kind of naan we're talking about today. It's a leavened bread that's often served with Indian dishes or as an appetizer. This recipe is for a simple (and simply delicious!) naan, brushed with ghee, which is Paleo-friendly clarified butter. Add a pinch of salt and a bit of parsley, and you're good to go.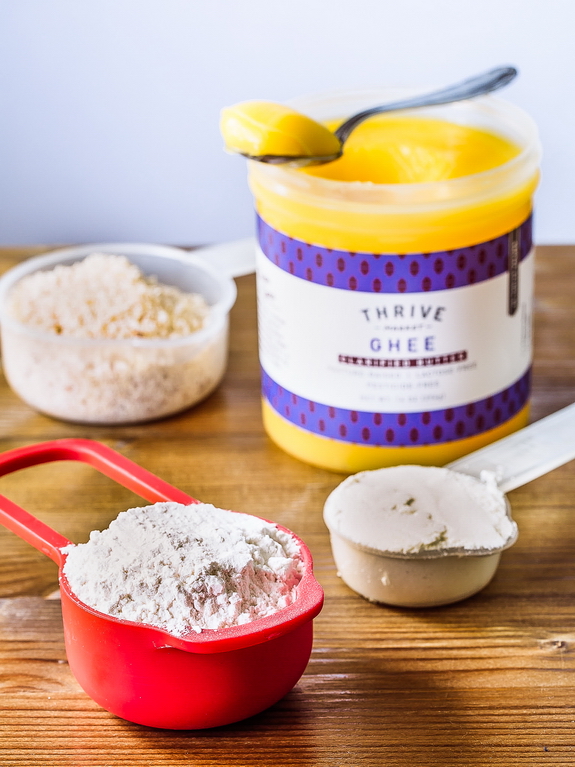 If you've read your local Indian restaurant menu, you know that naan comes in many varieties. Sometimes cumin seeds are added to the dough for extra flavor. And naan can even be stuffed with ingredients like seasoned ground meat or, one of my favorites, raisins and nuts. So once you master this simple recipe for naan, don't be afraid to experiment with other Paleo-friendly accompaniments and stuffings for your naan. Your naan can go from a side dish to THE dish!
Of course, there are a few simple changes to a traditional naan recipe that make it Paleo. The most obvious is that we switch out wheat flour for almond flour and arrowroot flour, which are both Paleo friendly substitutes. Why both almond and arrowroot flours and not just one or the other? Because almonds and arrowroots produce slightly different textures and flavors in the flours and we don't want one to dominate the recipe. Combining them assures that you will get even flavor and texture that's as close to the flavor and texture of wheat flour as possible.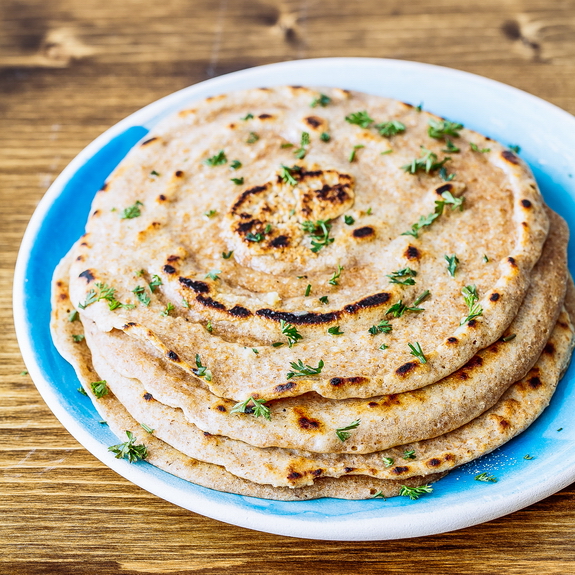 Many naan recipes use yogurt as the wet component. So here is our second big Paleo substitution: this recipe calls for full fat coconut milk instead of yogurt. If you haven't been doing Paleo for very long, the "full fat" part might make you a little nervous. But remember: when you eat Paleo, fat is not a worry. After all, our ancestors never had low fat coconut milk! Can you imagine a Paleolithic hunter requesting low fat coconut milk? No way! Besides, you really need this fat to produce the texture you want in your naan bread.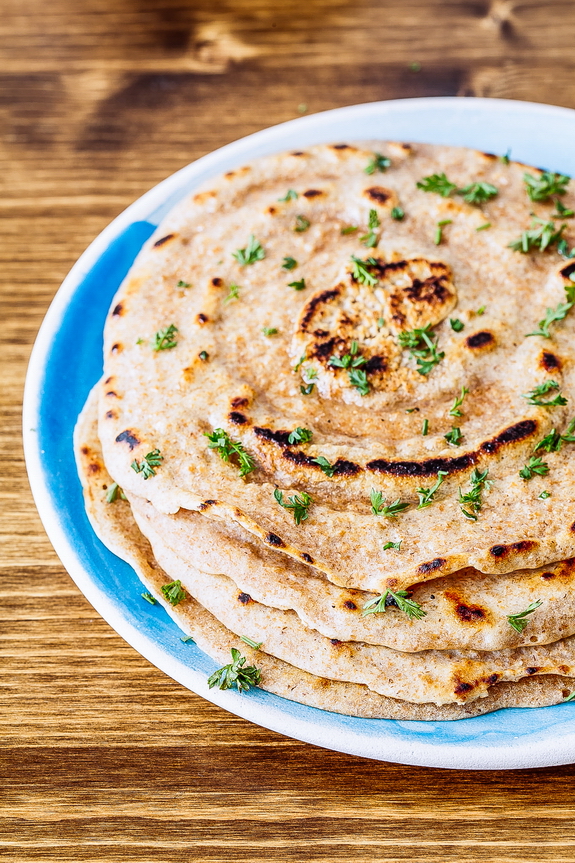 Finally, traditional naan is generally made with yeast. Instead, we make ours with baking soda and vinegar. The chemical reaction that occurs when baking soda and vinegar mixes creates tiny bubbles and those bubbles get trapped in the dough and make it rise. So you end up with a light and fluffier dough, without the yeast.
Get creative with your naan – why not make a naan burger? Just make your naan a bit smaller and top it with a burger and your favorite Paleo burger toppings. Or how about a naan pizza with Paleo tomato sauce and Paleo cheese? Really, anywhere you would use any type of bread, naan can substitute and make it a bit more interesting
(Make this next: Seed and Nut Sandwich Bread)
---
-
¾ cup almond flour
¾ cup arrowroot flour
½ cup full fat coconut milk
¼ cup water
½ tsp baking soda
½ tbsp apple cider vinegar
1 ½ tbsp ghee, melted
1 tbsp parsley (optional)
pinch of salt
In a bowl place the almond flour, arrowroot flour, baking soda and pinch of salt.
Add the coconut milk, water and apple cider vinegar. Mix to combine.
Heat a small non-stick frying pan over medium heat.
Brush with 1teaspoon of melted ghee.
Pour in ¼ cup of batter and swirl around slightly.
Cook for 3 minutes per side or until golden and crisp.
Repeat with the remaining mixture.