Tips
How to Save Money on the Paleo Diet – 6 Money Saving Tips
If you've been wanting to transition into a Paleo diet, but you are hesitating because of budget-related concerns, there are some definite methods and strategies to help reduce the cost involved with eating real, whole foods.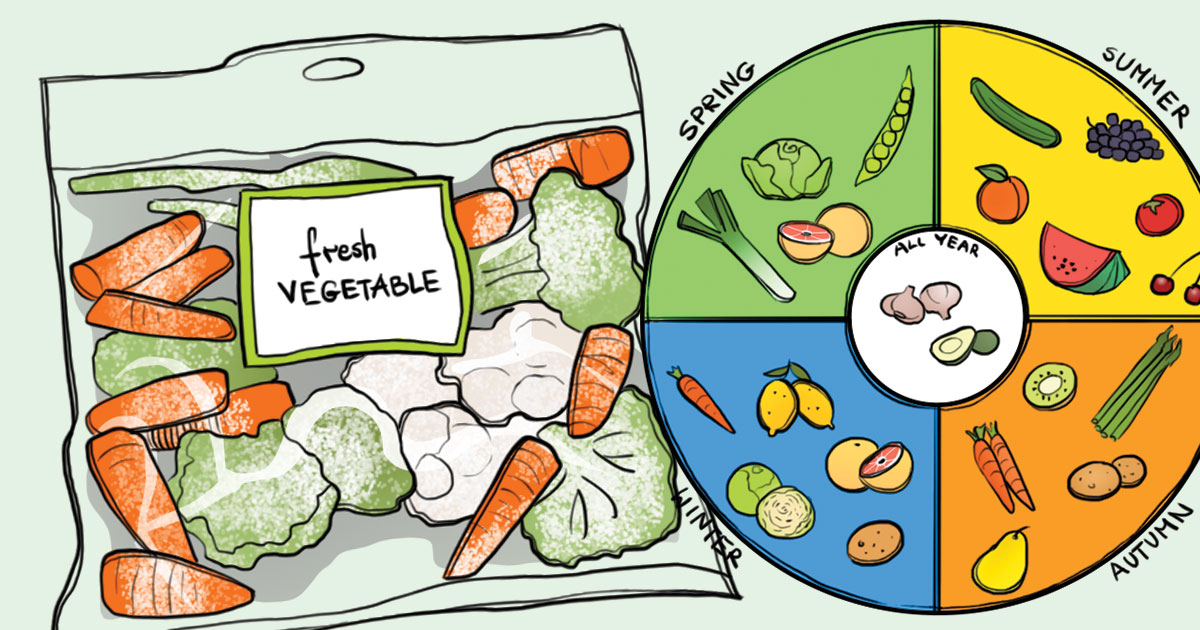 Many individuals are hesitant to give Paleo a try because they think it's going to cost a lot of money; however, cooking your meals at home and reducing your spending on needless snacks full of unhealthy ingredients can on its own be a cost-saving measure. (1)
Aside from cooking your meals at home and limiting your unnecessary purchases, you can cut your cost even further by following these six simple and practical tips and strategies:
1. Be on the look-out for sales, specials, and coupons.
For those individuals who are particularly organized and prepare meals according to a meal plan, before you dive into your planning, look for the weekly sales, specials and coupons. This may require a bit of a shift in thinking as many individuals create a weekly meal plan first, and then they will go look for a deal.
Pick up your local paper, particularly on the day of the week when the grocery ads come as inserts, and spend some time perusing the sales for the week. Even better, if the sale inserts come with coupons, cut them out and couple the coupons with the sale items for greater savings.
In addition, you don't have to shell out any cash for a newspaper if you are only buying it for the adds, inserts, or coupons. In our world of technological advancements, couponing doesn't require circulars, weekly papers, and scissors anymore.
Instead, go online and visit popular websites such as Coupons.com, SmartSource.com and redplum.com, which allow you to search for deals currently available in your area.
Once you've gathered your list of sales and coupons, and organized your list, head out and watch your pennies stay in your pocket rather than adding up at the store! Shopping according to a list can be a cost saving measure alone. (2)
2. Be picky about the organic items you choose to buy.
If have a love affair with fresh fruits and vegetables, as you should when following the Paleo diet, be aware that there are ways to cut costs when buying fresh produce.
Most of you know that organic fruit and vegetables are grown without the use of pesticides. The Environmental Working Group is a non-profit organisation that generates a wealth of information on how to avoid harmful environmental contaminants such as those found in your food. (3)
This report released by The Environmental Working Group, called the Shoppers Guide to Pesticides in Produce, was developed upon review of 43,000 pesticide tests as a way to help educate consumers on which foods are best to purchase as organic versus non-organic fruits and vegetables.
Below, you'll find the "clean fifteen" list outlining conventionally grown foods known to have lowest pesticide load. Please keep in mind that although these are the safest choices to purchase as non-organic items, not all of the items listed below may fit into your version of the Paleo diet:

Avocado
Sweet Corn*
Pineapple
Cabbage
Sweet peas (frozen)
Onions
Asparagus
Mango
Papayas*
Kiwi
Eggplant
Grapefruit
Canatloupe
Cauliflower
Sweet Potatoes
* A small amount of sweet corn, papaya and summer squash sold in the United States is produced from GE seedstock. Buy organic varieties of these crops if you want to avoid GE produce.
3. Shop according to the season.
One definitive way to save money on produce is to purchase your fruits and vegetables according to when it is in season. You may have already noticed that prices can skyrocket in the produce section when a particular item isn't in season.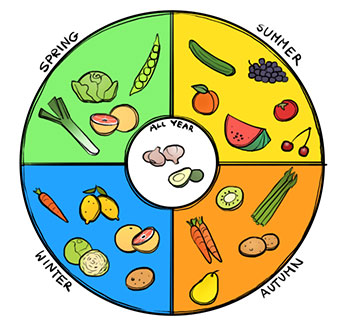 Think about asparagus and berries for example. Not only may the taste seem off when you purchase such produce in the off season, but you'll end up paying way more compared to the in-season months.
"You can save 30-50% on the price of produce by buying what's in season."
For a guide to when certain produce is in peak-season, this chart from the USDA is a great resource to print out or bookmark. If you find yourself craving fruits and vegetables that aren't in season, be sure to read the next helpful tip, as you may be able to work these choices into your rotation year-round.
4. Frozen items are a definite alternative to buying fresh.
It is a bit of a myth that the only fruits and veggies worth purchasing and eating are those that are bought fresh.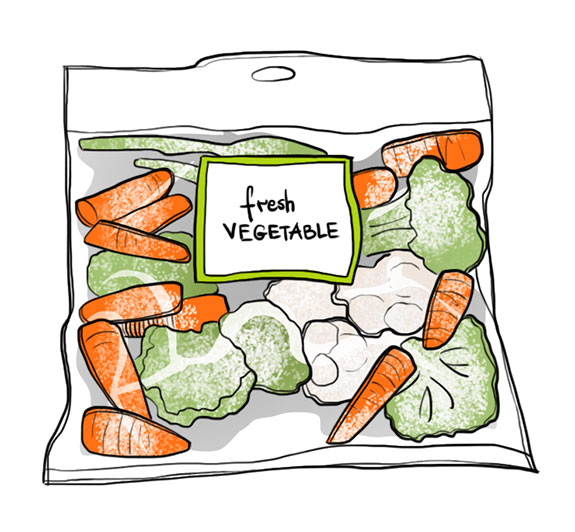 Ever wonder why you can often buy frozen fruits and vegetables all year long, often for far more reasonable prices compared to fresh fruits and vegetables? Farmers and food manufacturers are able to freeze produce during its peak season in order to make it available year round. (4)
A great way to save money is by purchasing the largest bags of fruits and vegetables that fit within the Paleo guidelines. If you are wondering if buying your produce in bulk from the frozen section will impact your nutrient intake (i.e. vitamins, minerals, and antioxidants), rest assured it won't impact your nutrition significantly.
"Study after study show the same thing: frozen produce and fresh produce have similar nutritional value."
Before you head out to the store to stock up on your frozen items, take a quick inventory of what is already in your fridge and freezer. People tend to forget what they have in the freezer because it gets lost or hidden, so use up your older inventory first before going out and purchasing new. Think of it like your own rotation system as well as a cost-saving technique.
5. Buy in bulk, and consider getting a warehouse membership if you don't already have one.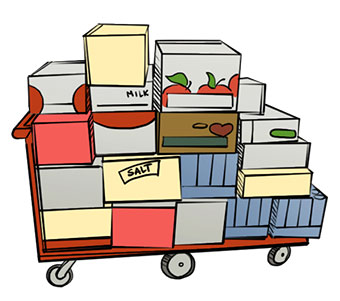 It is probably no secret that buying certain items in rather large quantities is a definite money-saving strategy. While it might not be as glamourous or sexy to shop at the big warehouse stores, it will definitely pay off in the long-run.
With a little bit of planning, you'll soon learn where to find the best bulk deals. While it may require purchasing some extra storage shelves or rearranging your pantry to make room for your big box items, you'll appreciate having extra cash in your bank account at the end of the month.
In addition, if you have family members and friends that follow the Paleo diet as well, ask if they would like to split some of your bulk purchases with you to save yourself some storage room and lead to even bigger savings.
If you want to stretch your dollar even further at the warehouse stores, consider the following buying tips, too:
Instead of steak, sub in a hamburger patty. Lean hamburger may be more expensive, too, so buy the higher fat option if you are needing to stretch your dollar even further.
Pork and chicken are great substitutes for other protein sources such as fish and red meat.
Eggs are another great source of protein. Not only are they incredibly cheap, particularly at warehouse stores, but they can be used in so many recipes.
Eating nuts as a snack can add up, even when buying in bulk. Swap out the nuts once in a while for a big bag of avocado and snack on that.
Berries tend to be expensive, though buying them frozen is less expensive. Swap the berries for a big bag of apples from time-to-time, and watch the savings add up!
Chop your own veggies rather than buying the bagged or pre-cut stuff which tend to be more expensive.
6. Shop online for shelf-stable items and ingredients.
When stocking your pantry with shelf-stable goods such as flours, nut meals, canned goods, or spices, always look into buying online before dishing out your "dough" at the store.
If you tend to do a fair amount of baking with coconut and almond flour, there are plenty of online retailers that offer these items at a very reasonable price. in bulk instead of in expensive, small bags.
As an added benefit, shopping online can also force you to eat better if you have the tendency to give into cravings or impulse buys at the grocery store. Similarly, you have greater control over your spending as you can easily tabulate your subtotal, watching it tick upwards with every item added to your "cart" making it more likely that will adhere to your buying budget.
Besides saving yourself some time and money by shopping online, you may be exposed to new and tasty Paleo products that may become a part of your regular rotation. (5)
Take Home Message
As you continue on your Paleo journey, you'll most likely discover new and exciting ways to properly nourish your body and eat the foods you love without breaking the bank.
Ultimately nourishing your body to support your health and wellness goals doesn't have to be a burden on your budget.
At the end of the day, with a reasonable amount of commitment and dedication to preparation, your food bill can be comparable or lower than your average food cost before diving into the Paleo diet.