The debate over whether alcohol is allowed on Paleo still rages on, but to play it safe it's best to avoid it and this mojito is an alcohol free version that will let you unwind without undoing the progress you've made on Paleo.
Alcohol puts a strain on your liver and increases your appetite. If you're trying to lose weight with Paleo it's probably best to avoid alcohol until you reach your goal weight.
When you're preparing a drink, some of the biggest things you'll want to avoid is using pre-made mixers, sodas, or anything else that has sugar and other additives in it that would go against Paleo. Most recipes for cocktails and other drinks were not created with your health in mind. That's why you'll need to seriously scrutinize the ingredients list to make sure nothing gets added that spoils the deal.
A traditional mojito calls for mint, lime, rum, club soda, and sugar. We're going to leave out the rum, but you could always add it in if you're going to allow alcohol into your version of the Paleo diet. The mint and lime remina, but of course I just had to get rid of the sugar. But it wouldn't be a very good mojito if it didn't have the sweetness, so I'm using honey instead as a natural source of the sweet stuff.
To doctor it up even further I'm using strawberries which totally jive with the lime and mint. I prefer a strawberry mojito to a regular mojito, and have since the first time I added strawberries to the equation. Add in some sparkling water for that bubbliness and you've got a drink that acts as a reward for a completed work week, or is great for fitting into a social situation where drinking is the norm or expected.
It's funny to think that without the alcohol working against you the wholesome ingredients in a mojito are able to benefit the body. Strawberries are a source of antioxidants, and so is mint, with lime providing Vitamin C along with it's tartness. You may never thought about a mojito contributing to your good health, but that's what this one does.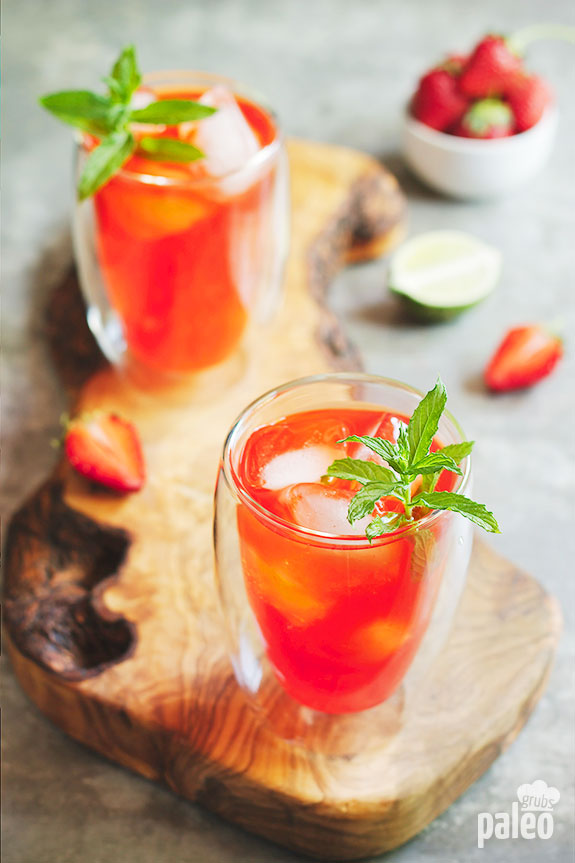 Also, if it helps you relax and de-stress it's going to do a world of good. Try kicking back with one of these tasty beverages and muse about how good things are going in your life. It will make you feel good about your choice to go Paleo, and will reassure you that it's a diet where you can have just about anything you want, as long as it's made the right way.
---
8 strawberries
juice of 1 lime
4 mint sprigs
8 ice cubes
1 tbsp honey
sparkling water
Place the strawberries and two mint sprigs into a small bowl and mash up with a fork or potato masher. Add lime juice and honey and mix to combine.
Divide the mixture and ice cubes between two glasses and top with the sparkling water.
Decorate with remaining mint sprigs and serve.