---
I have been craving quiche lately for some strange reason, so I went searching for a good recipe out there on the big ol' internet. The problem I encountered is that there are not a ton of options out there for a Paleo-friendly version of quiche. A lot of people made crust-less quiche, which I understand makes the recipe Paleo, but in my view that's called a frittata. The whole point of a quiche is that there is a flaky crust to the complete the omelet and pie picture. So I have come up with a solution, and here it is presented as mini quiches for your snacking pleasure.
Making the crust is the first step to forming the quiche. It is a simple combination of almond flour and egg, which turns out golden and flaky. It also didn't crumble or break. You bake the crusts first before putting in the filling, otherwise the quiche can end up soggy. When forming the crust in the muffin tins, try to get it as thin as possible, because it will puff up a little bit in the oven.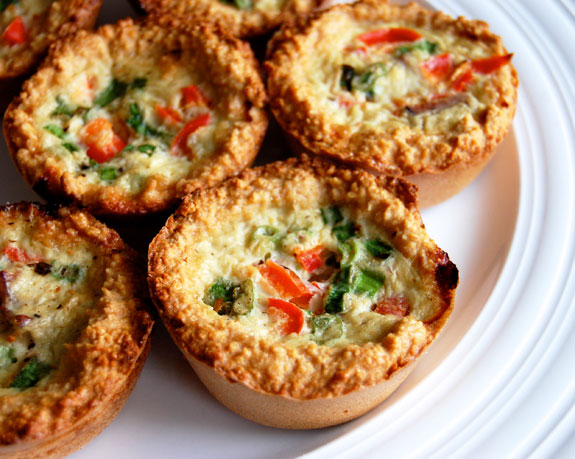 I don't often call food cute but I think these might have earned the title. This recipe makes a dozen mini quiches, but you could use this same recipe for the crust and put it in a pie plate for one large quiche. If you make the mini quiches be prepared to dedicate a little extra time to form the crust in the muffin pan. If you have some leftover, you can store them in fridge and then pop them into the toaster oven for a quick treat.
The filling is the same process as making an omelette. Feel free to fill the quiche in with whatever ingredients you prefer. I used what I had on hand: turkey bacon, diced red pepper, and green onion. After filling the quiche crusts you bake everything together for another 20-25 minutes until the eggs are set. The centers should still be slightly wobbly, but not loose. After letting the quiches cool for about 10 minutes, use a knife to pop them out of the muffin tin and serve!
Next time you are feeling fancy, or have a big brunch party, or just have a craving, try out these mini quiches. Your efforts will be repaid in a delicious and savory dish that is sure to be a crowd-pleaser.
---
For the crust

3 cups almond flour
2 eggs
2 egg whites

For the filling

2 eggs
2 tbsp sliced green onions
1 tbsp diced red pepper
1 piece bacon, cooked and diced
1/2 cup almond or coconut milk
1/4 tsp salt
Fresh ground black pepper, to taste
Pre-heat oven to 375 degrees F. Spray the muffin tin with some coconut spray oil. In a medium bowl, stir together the almond flour, eggs, and egg whites until a dough forms. Spoon about a tablespoon of dough into each tin, pressing towards the outside to form a mini crust. Bake crust for 15-20 minutes, until it starts to turn golden brown.
While the crust bakes, whisk the filling ingredients together and season with salt and pepper. Pour egg mixture into the baked crust. Bake for an additional 20-25 minutes, until the center is just set. Remove from the oven and cool for 10 minutes. Using a knife, lift quiches from muffin tin. Serve warm.