This is a classic dish in Mexico, but of course don't call it Mexican rice in Mexico. They don't call it Spanish rice either, it's just "rice" or "red rice" thanks to its rather recognizable color.
Cauliflower is an amazing vegetable because of its versatility. You can use it any number of ways and there are several paleo dishes that incorporate cauliflower in some way to replace an ingredient that isn't paleo friendly.
Cauliflower rice is one of the easiest ways to replace regular rice, so it was just a matter of doctoring up cauliflower rice so that it tastes like Mexican rice. As an added bonus cauliflower is a member of the cruciferous vegetable family and provides essential vitamins and minerals as well as antioxidants that have been proven to help prevent cancer.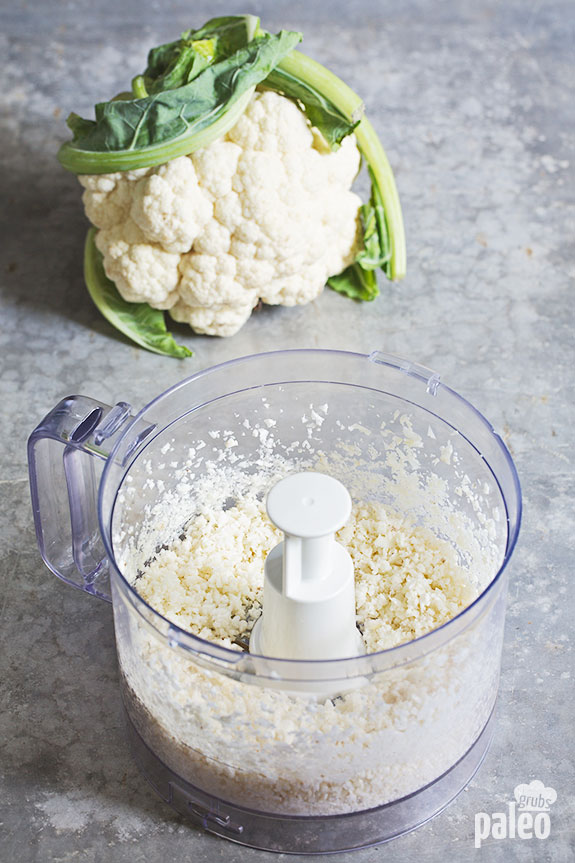 In order to do that I went with a combination of cumin, oregano, chili flakes, and even more spices, as well as plenty of tomatoes. Some of these ingredients give the rice its color, and they all work together to create an awesome flavor that makes the rice more than just a side and more like the centerpiece of the meal.
It's really just a matter of tinkering around with the different spices in order to come up with the right flavor combination that makes the rice taste the way it should each time you make it. I've made this enough times to know that this specific combination of seasonings, including all of the herbs and spices, make it taste the best. however, if you are short on one of them you can still make it, but it is worth gathering all of the necessary ingredients before starting out.
Some of my favorite dishes to serve this up with are any form of taco, including my recipe for fish tacos. You should also try it with burritos, and you have your choice of either using it to stuff inside the burrito, or serving it alongside the burrito.
Here's a tip: you can turn this into a meal all by itself by simply adding a protein to the rice. For example, if you have some chicken breast available you can make it into Chicken Mexican Rice, or if you have some ground beef handy it becomes Beefy Mexican Rice. It is very filling and gives you a serving of vegetables along with your meat. The possibilities are pretty endless, as long as you have a quality protein source like shrimp, ground turkey, or other meat.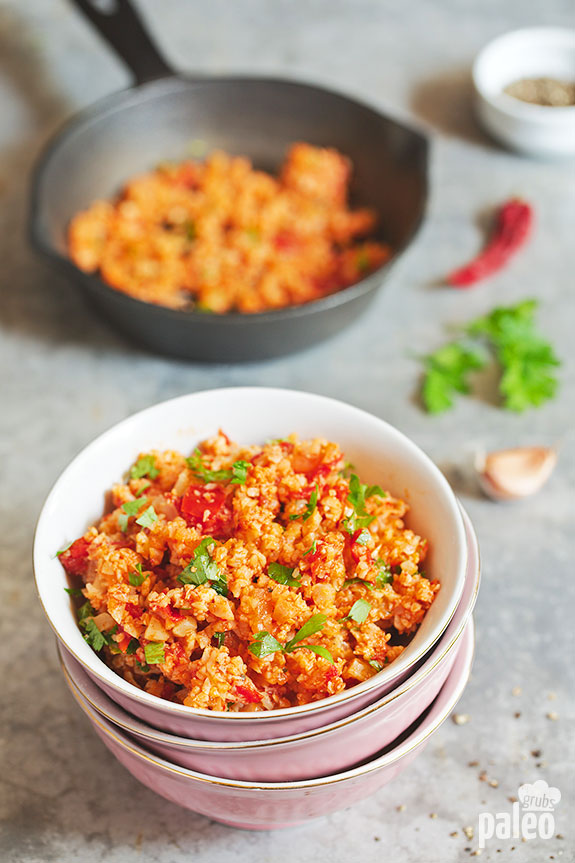 I'm still trying to figure out how to make Paleo style "beans" without any actual beans so you can have an authentic side of beans and rice. Stay tuned.
---
4 cups cauliflower florets
2 tbsp olive oil
1 onion, chopped
3-4 cloves of garlic, minced
4 medium tomatoes, chopped
1 fresh chili pepper, deseeded and chopped
½ tsp chili flakes
½ tsp ground cumin
1 tsp dried oregano
½ tsp garlic powder (optional)
1 cup chicken stock or water
¼ cup fresh cilantro, chopped
1 tsp fresh lime juice
salt and black pepper to taste
Place the cauliflower florets in a food processor and pulse a few times until it is rice-like consistency.
Heat the olive oil in large skillet over medium heat. Add the onion, minced garlic and chili and sauté for 5 minutes until onion is softened. Add the cauliflower rice and sauté for another 5 minutes. Stir in tomatoes, stock, oregano, cumin and chili flakes and bring to a gentle simmer.
Continue to cook for about 20 minutes or until cauliflower is soft. Add the garlic powder and season with salt and black pepper to taste. Sprinkle with fresh cilantro and lime juice before serving.