Featured
38 Authentic Paleo Mexican Meals
Everyone loves Mexican food, and it doesn't have to be all beans and corn. You can have your tacos and eat them, too! Check out these delicious Mexican and Mexican-inspired paleo recipes to love.
---
These ribs are juicy, sticky, and delicious with flavors of paprika, chili, cumin, oregano, and garlic. Truly Mexican-style flavors coat these babies and make them absolutely irresistible to anyone who's lucky enough to walk past the grill while they're cooking.
---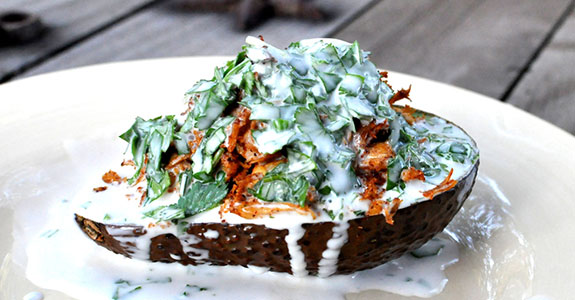 Photo: Fed And Fit
2. Stuffed Avocados With Cilantro Cream Sauce
These stuffed avocados could easily make a full meal, because they're filling, delicious, and have proteins as well as healthy fats. Chicken is seasoned with Mexican flavors and stuffed into avocado halves, baked, and drizzled with a coconut-cilantro cream.
---
You've heard of cauliflower rice, no doubt. It's the process of processing cauliflower until it's in tiny, rice-like pieces and then serving it up in place of the grain. This cauliflower rice has cilantro, avocado, onion, garlic, cumin, and other Mexican flavors for a spicy and flavorful side dish.
---
These carnitas are impossible to mess up. Juicy and flavorful, they cook up with golden brown crispy edges and a tangy, spicy flavor from orange and seasonings. Use them in tacos, burrito-less bowls, or whatever you like. Or just eat them with a fork, because they're that good.
---
5. One Pot Mexican Beef and Vegetables
This awesome one-pot meal (when is a one-pot meal not awesome?) will fill you up with meaty, spicy goodness and leave you going back for seconds. It's flavorful and made with my new favorite rice substitute, plantain rice! You'll need a spiralizer, but I promise it's worth it.
---

Photo: Jessi's Kitchen
6. Ancho Chile Mexican Meatballs
You can pile these babies on top of shredded cabbage, cauliflower rice, fried plantains, or whatever else your heart desires. It doesn't even matter, because they'll take over as the star of the show no matter what. These things are that good, with their tomato-garlic flavors and ancho spice.
---
7. Easy Slow Cooker Tomatillo Pork
You all know how I feel about slow cookers by now, so let's not even get into how fantastic this recipe is for that alone. That would take away from the pure amazing flavor of this pork from the tomatillos, cilantro, lime and garlic. There are a hundred things you could add to this (some of the suggestions aren't paleo).
---
I have a thing for guacamole. We're kind of best buddies. It's the perfect healthy fat dip for just about anything you can stick into it, including paleo chips and crackers, and you can pile it on top of your favorite non-dipping recipes as well, like tacos!
---
9. Mexican Cauliflower Rice Bowl
Um, can I just say this fantastic non-rice bowl has mango in it? That alone should be enough to convince you of how magical these flavors are, with a garlicky rice base, more vegetables, mango, and mushrooms, and a sauce with kale, cilantro, coconut yogurt, avocado, and lime.
---

Photo: Feasting At Home
This simple seafood dish is easy to put together, and has a complex flavor that makes it a totally delicious side dish, snack, or even a light lunch all on its own. The avocado sauce is what makes it, in my opinion, with lime juice, coriander, and all those healthy, beautiful, green fats.
---
11. Oven Baked Chicken Fajitas
These fajitas come together easily in your oven for a one-dish dinner, and the recipe comes with a homemade taco seasoning mix that you can make up and keep around for whenever you feel a taco emergency come on. Don't tell me I'm the only one who has taco emergencies.
---
12. Raw Mexican Cauliflower Rice
For a dish that's even fresher than cooked cauliflower rice, here's another version that's entirely raw and would make a great summer side dish for a picnic, or just an evening spent outside. This rice would probably be great inside a paleo wrap, combined with some tasty meat.
---
I can tell just by the color of this chicken fajita mix how flavorful and juicy and delicious that chicken is. Do yourself a favor and make this for dinner tonight. It'll be tastier and healthier than going out, and a whole lot more fun, too, with sizzling and popping galore.
---

Photo: Little Broken
14. Homemade Fresh Tomato Salsa
This yummy salsa has a super-fresh taste with chopped peppers, cucumber, tomatoes, garlic, jalapenos, and lime juice. You can eat it right away, but it's much better if you leave it for at least half an hour in the fridge so the flavors can meld and become even more delicious.
---
You know churros. Those chewy, sugary, cinnamon-covered sticks of fried dough that you absolutely could never eat while paleo. But. BUT. Yes, this is a recipe for those delicious desserts that is totally paleo-friendly, and not even hard to make right in your own kitchen.
---
This green chile dish is highly nourishing, with pork shoulder, tomatillos, plenty of peppers and vegetables, and a whole quart of bone broth. With all those peppers, it's the ideal delicious dish for sinus health, and it cooks most of the way in your slow cooker for time-saving goodness.
---
Tostadas are one of my favorite dishes to have at Mexican restaurants, but of course, they're not paleo when you eat out. Fortunately, you can make a paleo version at home, such as with this awesome beef tostada recipe made from tapioca starch and almond flour.
---

Photo: Mom Can I Have That
This recipe is for Mexican sausage that you can make up from scratch all on your own. You'll know exactly what went into it, how it's going to taste, and how fresh it is, especially if you get your pork sausage from your local butcher. Give it a try!
---
I gave you chicken fajitas, and now I give you steak! These are hearty and tasty, with extra flavors from the coconut aminos, maple syrup, lime juice, adobo seasoning, and other fantastic ingredients that you'll just have to check out for yourself. Happy sizzling.
---
This three-part recipe is for delicious and juicy shredded pork, salsa fresca with a cashew-based chipotle and lime sauce, and awesome tacos to pull it all together. They're lettuce tacos, by the way. So you can appreciate all these fillings the grain-free way, obviously.
---
21. Slow Cooker Chicken Fajitas
These fajitas are made in my favorite kitchen tool, the slow cooker. You'll need to set everything in that baby in particular order, but beyond that, there's not a whole lot for you to do, friends. Except wait 5 hours or so and then dig in like it's the last fajita you'll ever eat.
---

Photo: Jay's Baking Me Crazy
These are suitable for the Whole30 plan, but if you're not doing that, don't worry. There's no deprivation here, so everyone can enjoy! The orange and lime keep these carnitas bright and flavorful, while coconut aminos add an extra umami flavor and bone broth adds valuable nutrients.
---
23. Slow Cooker Beef Carnitas and Tostones
My favorite Mexican side dish is fried plantains. They're starchy, delicious, golden brown, and perfect with a pinch or two of sea salt. The double-fried plantains appear in this recipe next to slow-cooked beef, avocado, cabbage, and everything you need for a full, amazing Mexican meal.
---
Enchiladas can be a tough break when it comes to paleo, but luckily, enchilada soup is not! In this recipe, you get all the great flavors of enchiladas, without the piles of tortillas and cheese. Just lots of chicken, chili powder, garlic, onion, and tomato goodness.
---
This taco salad leaves nothing to be desired, because it includes all you could want in a fantastic taco salad without the grains, dairy, or legumes: plenty of seasoned ground beef, zucchini chips in place of corn chips, guacamole, and greens. Perfect!
---

Photo: Jay's Baking Me Crazy
No cheese here! Just meaty, sweet potato, mango, avocado perfection. This is a layered bowl that's a full meal with shredded lettuce, mango salsa, and a "yogamole" sauce with avocado and coconut yogurt or coconut cream, lime juice, and Himalayan rock salt.
---
Yes, my friends, you can enjoy nachos while eating in the paleo lifestyle. No cheese, of course, but hey, when we replace it with ground meat and seasonings, you won't even remember what was supposed to be there in the first place. Because these nachos are that good.
---
28. Paleo Mexican Sticky Shrimp
When I was no longer a kid, I couldn't stand sticky, messy foods. I was an adult, I tell you. But as I've grown older, I've learned that sticky nearly always equals perfection, or at least extreme goodness, like in the case of this Mexican sticky shrimp with cumin and other spices.
---
Up until now, I didn't realize that Mexican cuisine had a version of gumbo. I feel a little silly for that, but now I'm so glad I know about it, because this recipe is fantastic. Full of coconut milk, chorizo, tomato sauce, vegetables, and shrimp, it's a hearty and flavorful one-dish meal.
---

Photo: The Healthy Foodie
30. Soft Cauliflower Tortilla Tacos
Sometimes you just really need a real taco, am I right? For those times, these paleo taco shells come through. Made from cauliflower, they're the grain-free soft tortillas of your dreams, and they're filled with a spiced ground beef filling, avocado, tomato, and everything your heart desires.
---
31. Mexican Breakfast Casserole
This casserole is the perfect breakfast when you need something hot, savory, and filling. The eggs across the top are delicious and full of protein, and there are several add-in options you can use to customize this recipe to your own tastes, and to what your family likes best.
---
This rice bake isn't rice at all—it's cauliflower rice. Ground beef and homemade taco seasoning mix to form a meaty sauce with tomato and onion, turning this into a fabulous side dish or light lunch you can enjoy over greens or with roasted vegetables.

---
33. Enchilada Stuffed Peppers With Chile Verde
These spicy, saucy peppers are inspired by enchilada flavors, but have no cheese or grains. Diced sweet potatoes give them a creamy sweetness, while spinach, carrots, and tomatillos are full of flavor and nutrition. You can't go wrong with these peppers and their awesome sauce.
---

Photo: Delicious By Dre
These peppers are intense, so you have to promise me you'll be careful while making this dip. Once made, though, it's a fantastic sweet and spicy guacamole that you can dip anything into or pile on top of just about any dish you'd like, including the stuffed peppers above.
---
35. Green Chile Enchilada Sauce
You don't have to buy enchilada sauce, especially not from a can. You can totally make it yourself at home from fresher, tastier ingredients, and make it paleo without any preservatives or funky stuff. Here's a green version with tomatillos and chiles.
---
If you're more of a red sauce kind of person, give this one a try. This red enchilada sauce is made with lard, onion, garlic, cumin, chili powder, tomato sauce, chicken stock, and a few other tasty ingredients that you can adjust to suit your own flavor preferences.
---
Just for fun, I want to share one final Mexican paleo recipe, and this one's for Mexican mocha hot chocolate, made with cocoa (or raw cacao powder), vanilla, cinnamon, cayenne pepper, coconut sugar, coffee, and hot, steamy almond or coconut milk. Yum.
---

Photo: Gi 365
These zucchini-and-more noodles are full of fajita flavor, and they don't even need any meat. They're delicious on their own! That's thanks to plenty of cumin, chipotle powder, guacamole, and the fresh, natural flavors of peppers, sweet onions, mushrooms, and zucchini.