---
I had a few chicken breasts to use up and went searching my pantry for other ingredients to cook with them. I found an abundance of lemons, black olives, cauliflower, and fresh rosemary. With such simple ingredients, a marinade seemed like the best choice, to infuse more flavor into the chicken. If you have the time, marinate the chicken overnight versus a few hours for the best results.
There is very little preparation required for such a large dish, which I love. There is not really any chopping or stirring necessary. It makes a great dinner for a day when you know you'll be busy. Assembled the night before, all that you have to do on the day-of is bake the dish. In one hour, you can have a full family-style dinner prepared. And while it bakes you can even be doing other things, not spending hands-on time in the kitchen.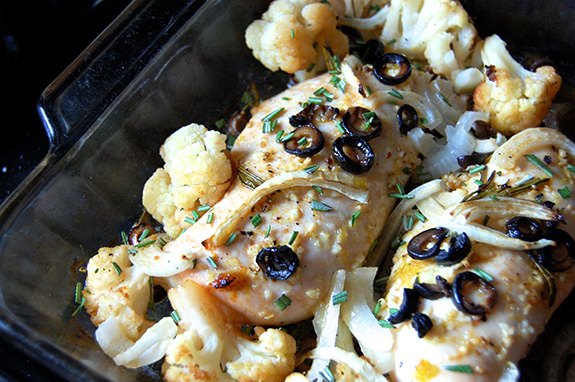 There is a lot of room for variation in this Mediterranean chicken bake. As I stated earlier, I basically just searched my pantry for ingredients. Other flavors that I think would work well with the lemon and olives include artichokes and definitely spinach. They would all add a little more color to the dish and next time I will be adding some. At its heart though this is just a simple baked chicken dish bursting with Mediterranean flavors, easy to put together for your weeknight meals.
---
4 boneless, skinless chicken breasts
4 sprigs fresh rosemary
1 cup sundried tomatoes
1 head of cauliflower, cut into florets
1/2 onion, thinly sliced
1/4 cup extra virgin olive oil
Zest of 2 lemons
Juice of 1 lemon
6 cloves garlic, minced
1 tsp salt
1/2 tsp pepper
1 cup pitted black olives, sliced
Spray a 9x13-inch baking dish with coconut oil spray. Scatter the fresh rosemary and sundried tomatoes evenly on the bottom of the pan. Place the chicken on top.
In a medium bowl, stir together the olive oil, lemon zest, lemon juice, garlic, salt and pepper. Pour the mixture over the chicken and place the dish in the refrigerator to marinate for at least two hours or overnight.
Preheat the oven to 400 degrees F. Scatter the onion, olives, and cauliflower over the chicken. Bake for 50-55 minutes, or until the chicken is cooked through. Serve warm, topped with additional chopped rosemary if desired.