The Many Paleo Uses of Cauliflower
As I mentioned above, cauliflower is without a doubt the most versatile vegetable that one can use when following a paleo diet. Usually, when making a bake, you would use mashed potatoes, but cauliflower ends up being a perfect low carb replacement. Not only that, but it's actually incredibly high in vitamin C as well, with just one serving of cauliflower having 77 percent of the recommended daily intake.
It's also an excellent source of several other vitamins and minerals along with providing you with plenty of free radical fighting antioxidants. (1)
It isn't just the use of cauliflower that makes this recipe paleo-friendly either. You won't find any of the usual non-paleo style ingredients included here, such as skim milk, wheat flour, or cheese. Instead, this cauliflower bake uses almond milk, arrowroot flour, and paleo-approved mayonnaise to make a recipe that is completely gluten and dairy-free.
By adding some garlic in with these ingredients and cooking them all in olive oil, you end up with one incredibly delicious sauce that combines perfectly with the cauliflower florets. After tossing the cauliflower in the sauce, simply transfer it all into a casserole dish and bake for 30 minutes. Don't forget to sprinkle some bacon and parsley on top.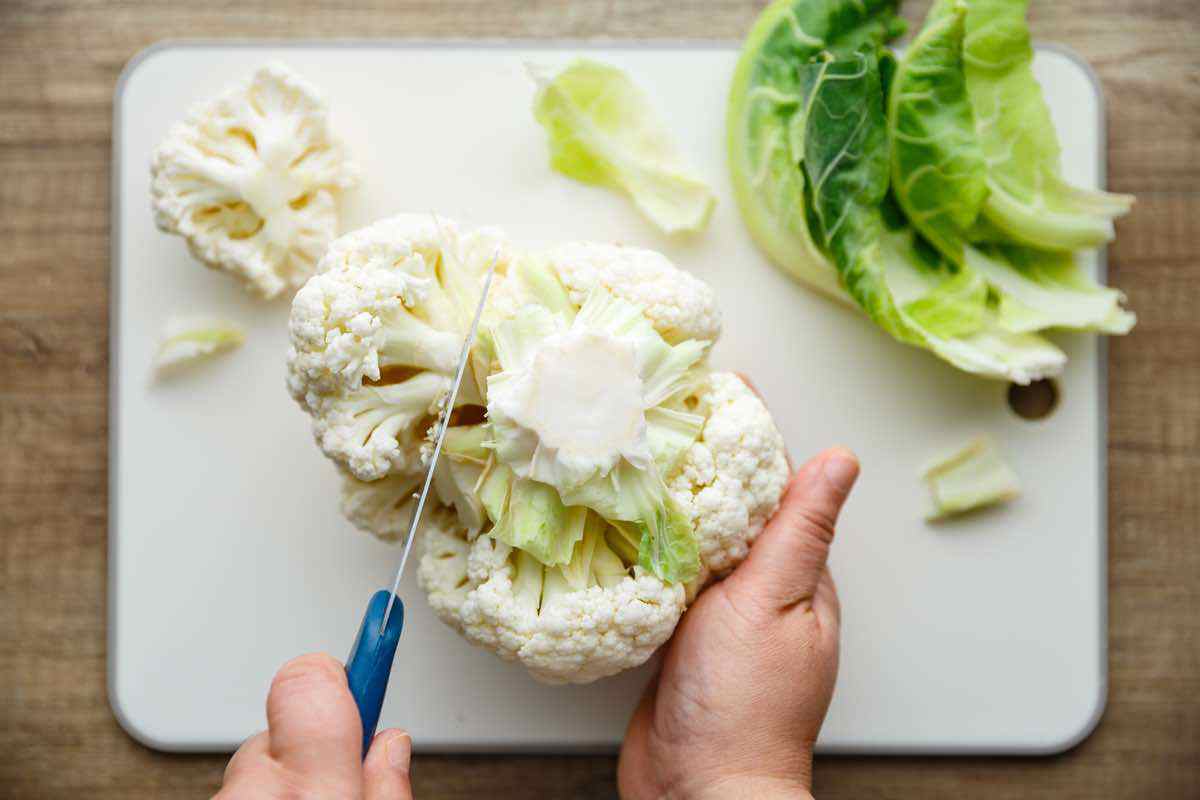 This cauliflower bake has nearly everything you could ask for in a complete paleo-approved meal–healthy low carb vegetables, a delicious homemade sauce full of flavor and healthy fats, and of course, bacon.
And if you want to enjoy this style of meal with a little bit of added protein content, you can absolutely add some lean ground beef to this recipe.
P.S. – Looking for more great casserole style recipes? Not to worry, we've got plenty to share with you guys.
---
1 medium cauliflower, cut into florets
2 cloves garlic minced
1 ½ tbsp olive oil
1 cup almond milk
1 ½ tbsp arrowroot flour
1/3 cup paleo approved store-bought or homemade mayonnaise
4 bacon slices, cooked and crumbled
1 tbsp chopped parsley
salt, black pepper to taste
Preheat oven to 350°F.
Blanch cauliflower in a large pot of boiling water for 2 minutes.
Drain well and set aside.
To make the sauce in a skillet heat the olive oil over medium heat.
Add garlic and cook for 30 seconds.
Add the arrowroot flour and stir until golden.
Add the milk and bring to a low simmer, stirring until combined.
Stir in the mayonnaise and season with salt and pepper.
Add drained cauliflower and toss to combine.
Transfer the mixture into a casserole dish.
Bake for 30 minutes.
Remove from the oven, sprinkle with bacon and parsley and serve.