Lunch
12 Paleo Lettuce Wraps for a Low Carb Meal
When you make up a batch of Paleo lettuce wraps you'll find out just how delicious and satisfying it can be to use lettuce as a wrap. When you fill lettuce leaves up with wholesome, healthy proteins and other veggies you can't help but get it right.
---

Photo: A Calculated Whisk
1. Slow-Cooker Carnitas Lettuce Wraps
Learning how to make perfectly cooked carnitas is a skill that will come in handy while on the Paleo diet. This recipe shows you how to make carnitas using the slow cooker so you don't have to worry about babysitting it while it cooks. A tasty pineapple and avocado salsa join the carnitas in the wraps, providing you with vitamins, minerals, fiber, and healthy fat. There's also red onion added for extra flavor, and to provide contrast to the mild avocado and sweet/sour taste of the pineapple. Overall, a lettuce wrap feast you won't soon forget!
---

Photo: GI 365
2. Fish Taco Lettuce Wraps with Mango Salsa
These lettuce wraps feature fish as the main ingredient, and are actually billed as fish tacos, complete with their own specialty salsa. It's always nice to see a chef take the time to produce a special sauce, topper, or salsa to go with the meal. In this case you're getting the health benefits of mango added to a dish that was already healthy thanks to the fish and lettuce. Anytime you use lettuce in place of a wrap made from flour or corn you'll be doing your body a favor and keeping things Paleo.
---

Photo: The Healthy Beast
3. Turkey Lettuce Wraps
When thinking of what to put in your lettuce wraps, meat makes a good choice, and is what you'll often find. To keep things interesting here they're going with turkey over chicken or beef, and they're using ground turkey so it's relatively easy and quick to cook up and place inside the lettuce slices. Mushrooms, onions, and carrots are used to give it more flavor, and add to your total number of vegetable servings for the day. There's also a nice blend of spices including cumin, ginger, and cayenne, and a bit of hot sauce to spice things up.
---

Photo: My Living Nutrition
4. Egg Salad Lettuce Wraps
This is like having an egg salad sandwich, but without the bread, which is a good thing because conventional bread is off limits on Paleo. You'll be getting protein and minerals from the eggs, and avoiding carbs and calories by swapping the lettuce for bread. They've garnished this with salami that's been chopped up, and some pea shoots to make it look nice. It's always a good idea to take the extra step to make your Paleo food look good, because it will improve the way you perceive the taste.
---

Photo: Preppy Paleo
5. Paleo Curried Thai Beef Lettuce Wraps
The flavor of curried Thai beef comes through in these lettuce wraps because there isn't anything trying to compete for your taste buds' attention. The lettuce has a relatively mild flavor, and basically serves as the utensil that gets the curried beef to your mouth. The mango kiwi salsa is the real winner here, because it dovetails nicely with the beef and provides a sweet and succulent flavor that combines with the savoriness of the curried beef. This is one lettuce wrap you'll want to make again and again.
---

Photo: My Clean Kitchen
6. Chicken and Mushroom Lettuce Wraps
The use of chicken breast keeps these wraps extra healthy, and they're joined by mushrooms so you're getting multiple vegetable servings in each wrap. Always try to eat more vegetables than anything else on Paleo, since they'll help keep your digestive system clean and provide you with vitamins and minerals your body needs to function at its best. Here they've gone with shiitake mushrooms, a shroom you should get familiar with because of its many health benefits. The finished product is a simple wrap that you'll enjoy eating any time.
---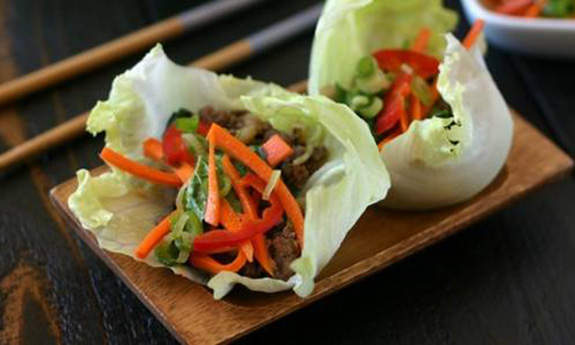 Photo: Everyday Maven
7. Thai Beef Basil Lettuce Wraps
The flavor of Thailand works well in a lettuce wrap, and this is the second of three Thai-inspired recipes that made it onto our list. Here the focus is on the unmistakable taste of basil, which goes really nicely with the beef. They have a separate option if you want to make this spicier than the way it is shown, you simply buy a red Thai chile which will crank things up a notch. It's nice that they provide different heat options so you can adjust this recipe to your preferences.
---

Photo: Just Jessie B
8. Chicken Taco Lettuce Wraps
When you want tacos only tacos will do, the only problem is that on Paleo you may have trouble finding a shell that is suitable. That's where these chicken taco lettuce wraps come into play, with all of the things you love about chicken tacos and none of the resulting guilt. Chicken, veggies, and avocado combine to bring you the taste you'd expect, and the lettuce, rather than being a topping, become the shell so it contributes to the taco experience. What you won't find is any dairy like cheese or sour cream.
---

Photo: Taste of Divine
9. Bacon Avocado Lettuce Wraps
This lettuce wraps recipe keeps things simple, yet delicious by putting together bacon and avocado. There's something about this mix that works, and the classic savory flavor of bacon works well with the smooth and cool taste of the avocado. From a nutritional standpoint you're getting potassium, fiber, and healthy fat from the avocado, and there's only enough bacon used to provide the taste. Leave out the ricotta cheese to make these fully Paleo, or leave it in if you've decided to do the occasional cheese.
---

Photo: Rising Moon Nutrition
10. Thai Shrimp Lettuce Wraps
The third and final Thai-themed lettuce wrap uses shrimp as the meat of choice. Fish sauce and curry paste is basically all you need to make any dish have a Thai taste to it, and that's what is found in this recipe. It goes well with the shrimp, and when you ball it all up onto a lettuce slice you're getting a complete Paleo meal that you can hold in your hand without making a mess. The peanut sauce uses no peanuts, so it's all very Paleo friendly.
---

Photo: Once a Month Meals
11. Paleo Beef Lettuce Wraps
Combining cashews with beef gives these lettuce wraps a lot of staying power, and they'll keep you full for several hours after your meal. With many lettuce wraps you have to try to convince yourself that you got a real meal because they are often regarded as light fare. But here you're getting a meal that will sustain you, and can serve as a satisfying lunch or a dinner that will get you all the way to bedtime with no need for a late night snack.
---

Photo: Paleo Foodie Kitchen
12. Paleo Lettuce Wraps
These lettuce wraps are made in the Paleo fashion and thus you'll be avoiding any dairy, grains, refined sugar, and legumes. Instead you'll find high quality ingredients like grass-fed ground beef, bamboo shoots, fresh garlic, and fresh ginger. This means the flavor may surprise you if you're used to eating packaged or prepared foods. They just can't measure up to cooking fresh meals for yourself using ingredients that are pure and not tainted by conventional farming methods. Spice things up with some pepper flakes or leave it as-is if you like things a bit on the mild side.