Featured
20 Creative Paleo Lemon Recipes
I'm a huge fan of lemon, and since I'm lucky enough to live somewhere I can get local lemons when they're in season at my farmers market, lemons find their way into my daily life everywhere from my morning lemon water to my desserts and chicken dishes. Try some of these paleo lemon-lovers recipes, both savory and sweet, from baked goods to salads and dinners.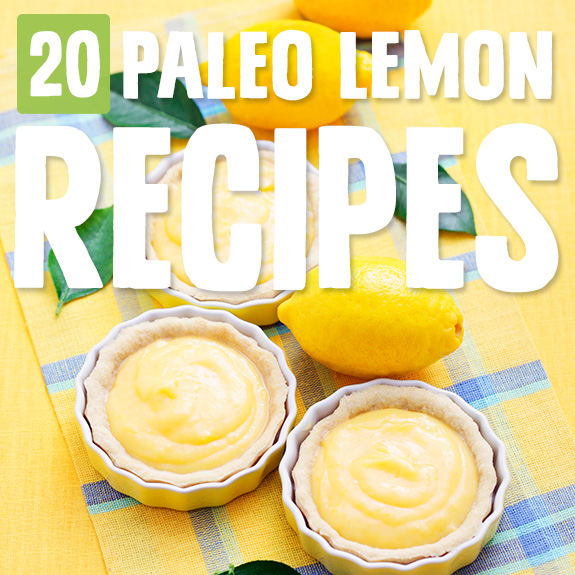 ---
1. Lavender Lemon Truffles
Everyone loves truffles. Paleo truffles are extremely easy to make, and this recipe is going to have you raving all week. You'll need chocolate, coconut cream, grass-fed butter, culinary grade lavender flowers, lemon zest, and cocoa powder for rolling the finished treats.
---

Photo: My Wife can Cook
2. Lemon Walnut Roasted Red Pepper Dip
Because paleo eaters don't eat hummus, sour cream dip, and other common dips for vegetables, (paleo) crackers and chips, and other dippables, fun dip recipes are always good to have on hand. I love this lemon walnut roasted red pepper dip—totally delicious!
---
3. Spice Preserved Lemons
I'm lucky enough to live somewhere I can get lemons locally, and one of my favorite things to do is to preserve them for the off-season and gift them to friends and family when I travel to colder climates. I love this spicy recipe! You'll want to use coconut sugar instead of white sugar.
---
4. Lemon Butter Haricot Vert
In this recipe, lemon, butter, and shallots combine to form a velvety sauce that coats these haricot verts with bright and savory flavors. You could also use ghee instead of butter, or for a unique flavor, try some rendered bacon fat if you've got it on hand.
---
5. Lemon Cashew Coconut Energy Balls
Energy balls are a great way to boost your energy before a workout, recover afterwards, or keep fueled on a long hike. These lemon energy balls are delicious with dates, cashews, coconut, protein powder, chia seeds, lemon, salt, and vanilla extract.
---

Photo: Theres a Cook in my Kitchen
6. Tomato and Herb Salad With Roasted Lemons
What a unique salad! I love the addition of roasted lemons for flavor, color, and texture. You'll need fresh lemon, sage, coconut sugar, olive oil, cherry or grape tomatoes, red onion, fresh mint and cilantro, pomegranate molasses, and allspice (for the fabulous dressing).
---
7. Kale and Potato Hash With a Fried Egg and Lemon Pesto
This sophisticated breakfast hash is full of flavor and protein with nutritious kale, fleshy potatoes, cherry tomatoes, a crispy fried egg, and a luscious lemon basil almond pesto with shaved almonds, olive oil, fresh garlic, and no dairy to speak of. Yay!
---
8. Healthy 1 Minute Lemon Poppyseed Muffin
I love lemon poppyseed, and this super quick muffin is exactly the ticket when you just need a single muffin. Make it with almond and coconut flours, stevia, poppy seeds, lemon zest, egg, lemon extract, and a sweet lemon coconut butter glaze to drizzle over the top.
---
9. Favorite Detox Salad
Packed with veggie goodness and covered with tasty lemon-ginger dressing, this is the perfect salad for your spring detox. You'll need kale, broccoli, red cabbage, carrots, fresh parsley, almonds, and sunflower seeds as well as honey, ginger, lemon, and Dijon mustard.
---

Photo: GI 365
10. Citrus Avocado Green Salad With Lemon Garlic Vinaigrette
Avocado is a great way to make your salads heartier and add some healthy fats to keep you full longer. This avocado salad is super green with walnuts, celery, oranges, and green onions. The lemon dressing is my favorite part, with maple syrup, garlic, and Dijon mustard.
---
11. Lemony Salsa Verde
Salsa verde is great for everything from sauces on meats and veggies to dip for paleo chips to enchiladas and more. Make it with garlic, shallots, preserved and fresh lemons, sea salt, parsley, coriander, and extra virgin olive oil. It comes together in just minutes!
---
12. Meyer Lemon Pudding Cakes
These rich and delicious pudding cakes are the perfect desserts for a picnic with family and friends. You'll need to make a few adjustments to make it paleo—replace the sucacat with coconut sugar, and the goat's cheese with chilled coconut cream from the top of a coconut milk can.
---
13. Baked Lemon Honey Mustard Chicken
This chicken dish couldn't be simpler to make with just bone-in chicken thighs, olive oil, fresh lemon juice, fresh chopped rosemary, salt and pepper, and a delicious glaze with olive oil, honey, whole grain or Dijon mustard, and fresh lemon. This is a dinner the whole family with enjoy.
---

Photo: Hapy Kitchen
14. Mussels With White Wine Sauce
Mussels aren't complete without delicious lemon. This white wine sauce version with olive oil, onion, garlic, cayenne, salt, pepper, minced parsley, lemon, veggie broth, and white wine. You can serve it with crusty paleo bread or whatever accompaniments you like.
---
15. Paleo Caramelized Lemon Chicken Piccatta
While we're talking elegance, let's talk about this amazing chicken piccatta dish with chicken culets, butter, olive oil, sliced lemon, garlic, coconut sugar, chicken or veggie broth, tapioca starch (for thickening), fresh thyme, oregano, capers, and fresh parsley for garnishing.
---
16. Blueberry Lemon Scones
Ready for some lemony baked goods? Try these breakfast scones bursting with fresh blueberries, honey, vanilla, coconut milk, and fresh lemon juice and zest. They make a great breakfast on the go if you, like many of us, have busy weekday mornings.
---
17. Paleo Lemon Cake With Lemon Curd and Meringue Frosting
This delicious lemon cake is perfect for spring or summertime, and it's filled with a homemade yummy lemon curd that's sweet and tart at the same time. My favorite part, though, is the meringue frosting sweetened with honey. This cake is almost too pretty to eat!
---
<a href="https://www.theroastedroot.net/lemon-ginger-detox-toddy/" target="_blank"

Photo: The Roasted Root
18. Lemon-Ginger Detox Toddy
This toddy is perfect for after the holidays when you're feeling heavy and bloated, but you need to get back to yourself quick. You can make it with fresh grated ginger, lemon juice, honey, and ground cayenne pepper—if you can handle a little more cayenne, consider adding it.
---
19. Toasted Lemon Coconut Macaroons
What pretty little cookies! These babies are little pillows of delight with shredded coconut, almond flour, fresh lemon zest, sea salt, coconut oil, honey, fresh lemon juice, and vanilla extract. They're creamy, lemony, sweet, and not too heavy on your belly.
---
20. Raspberry Lavender Cranberry Sauce
This cranberry sauce has a unique combination of flavors you likely haven't taste before. It's made with fresh cranberries, dark cherry juice, fresh raspberries, lemon, lavender flowers (culinary grade), coconut sugar, and pure maple syrup for sweetness. Gently-sweetened!