---
So I brought these lemon curd coconut cupcakes to a birthday party at the office recently. They looked just like any other cupcakes – certainly no way to tell by looking that they were Paleo. It would all come down to the taste, but I was confident in my creation. So when a particularly anti-Paleo workmate took a bite and declared them "amazing," I had to stifle a giggle of success.
Ok, I'll admit it: There was no giggle. I actually stifled a "SEE I TOLD YOU!"
That's one thing I love about eating Paleo – um, not the "see I told you" part – I love being constantly surprised and excited by my own cooking adventures and I love surprising other people with the "this doesn't taste like diet food" recipes I make.
Here's what makes these cupcakes Paleo: the first and biggest exchange is getting rid of the wheat flour you'd typically use in a cupcake and replacing it with coconut flour. You'll have anyone with a sensitivity to wheat kissing your feet if you make these cupcakes, because it's so rare for those who don't eat wheat to get fresh baked tasty treats like this.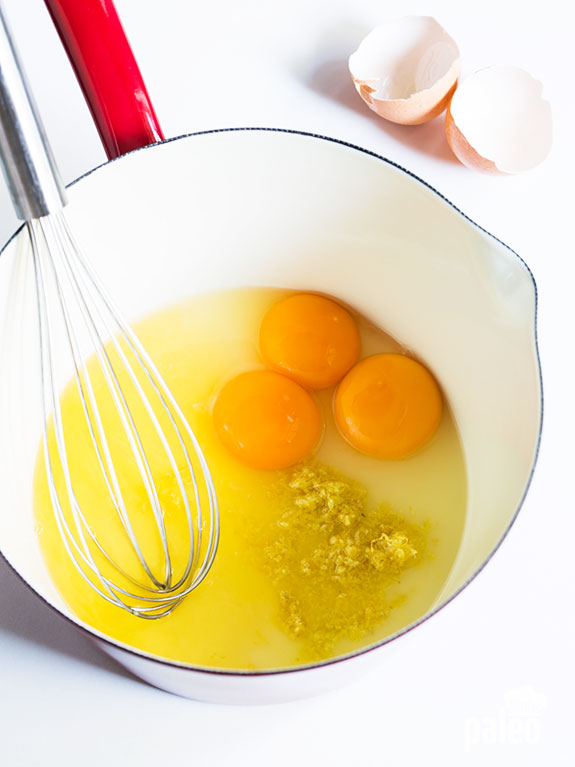 Also, honey replaces white sugar. This is an easy trick that works with really any recipe that will make it a touch more healthy. Yes, raw honey still has calories and breaks down into sugar, but it's far less refined than sugar is, meaning that it will break down more slowly and still has some helpful digestive enzymes and other good things from nature.
But let's face it: no one is going to eat a cupcake because they're healthy. That's not what we're eating cupcakes for! So it's important that these cupcakes – any cupcakes, really – deliver on the flavor and these certainly do. The lemon curd is tangy and just the right amount of sweet. This balances the rich coconut flavor of the cupcake itself. The two blend together to make Big Flavor – yummy, wonderful, sweet, tangy, coconutty flavor.
So after my coworker enjoyed her cupcake she asked, "who made these?!" I slyly smiled as she looked right past me, assuming there was no way these cupcakes were Paleo. When I finally took credit, she shook her head, and said, "they can't possibly be Paleo." I told her they were.
And then she said something that almost made me do a little cheer right there in the conference room:
"Can I get the recipe?"
---
For the cupcakes

½ cup coconut flour
½ tsp baking powder
1/3 cup honey
1/3 cup coconut oil
3 eggs
3 egg whites
1 tbsp pure vanilla extract

For the lemon curd

3 egg yolks
1 tbsp lemon zest
¼ cup lemon juice
5 tbsp honey
6 tbsp coconut oil
To make the lemon curd, place the egg yolks, lemon zest, lemon juice and honey in a small sauce pan and whisk to combine. Cook over medium heat, stirring constantly for 5-7 minutes or until mixture is thick enough to coat back of wooden spoon. Remove from the heat, stir in the coconut oil and mix to combine.
Transfer the lemon curd in a small jar and let it cool completely to room temperature then refrigerate for minimum one hour.
To make the cupcakes, preheat oven to 350 F.
In a medium bowl combine the eggs, egg whites, honey, vanilla extract and coconut oil. Mix the coconut flour with baking powder and stir into batter until combined.
Line 8 muffin cups with paper liners and divide the batter equally among the liners. Bake for 20-25 minutes or until golden. Remove from the oven and let cool for one hour.
Cut a hole into each cupcake using a small teaspoon or a small melon baller. Fill each hole with 1 teaspoon of lemon curd and top each cupcake with 1 teaspoon of lemon curd.
Refrigerate the cupcakes until serving.