Featured
26 Paleo Lamb Shank Recipes
Few things are as comforting as a hot dish full of meat cooked so tender that it falls right off the bone and melts in your mouth. That's why I'm sharing these lamb shank recipes with you, all of which are paleo or can be made paleo by adjusting an ingredient, like using a different type of oil. They're all delicious and all nourishing, and most of them can be whipped up in a snap and are easy-peasy.
---
1. Spiced Apple Braised Lamb Shanks
Braising lamb shanks is one of the simplest and most successful ways to cook them, and this particular recipe is perfect, as the Dutch-oven method is so easy and so delicious with the beautiful golden brown crust on the meat and the chai spices.
---

Photo: Primal Palate
2. Braised Lamb Shanks With Caramelized Carrots
Serving a vegetable with your protein is always a good idea, and carrots go beautifully with lamb because of their sweet and slightly complex flavor. The Vidalia onion in this recipe complements the carrots' sweetness, and balsamic vinegar and coconut aminos add plenty of umami flavor.
---
3. Braised Lamb Shanks With Spiced Butternut Squash
I'm a huge fan of mashed butternut squash, and this dish is comfort food to the max with its mashed and spiced squash, flaky, melt-in-your-mouth braised lamb shanks, red wine, and healthy fats from ghee. You can't go wrong with a good, healthy comfort meal.
---
The slow cooker is one of my favorite inventions, and if you try this recipe you'll get to use it. Lamb shanks are cooked with pearl onions, vegetables, garlic, herbs, and red wine, and you hardly have to do any of the work to make it happen.
---
5. Slow Braised Spring Lamb Shanks
This recipe has interesting ingredients like anchovy paste and orange rind, as well as traditional herbs like rosemary and thyme, and the requisite red wine and broth. These perfectly tender lamb shanks are soft and tender, and come in their very own hearty sauce.
---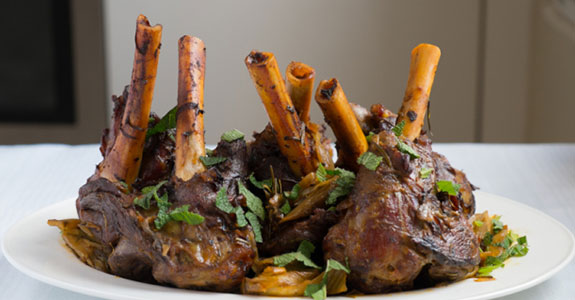 Photo: Spice And Smile
If you take a look through this recipe, you'll notice there's no salt in it. That's on purpose, and these lamb shanks are so intensely flavorful from ingredients like tomato pasta, garlic, onion, chili flakes, fennel, lemon, and mint that they really don't even need it.
---
7. Garlic and Balsamic Lamb Shanks
This super-simple ingredient list includes a favorite of mine: balsamic vinegar. This umami-rich vinegar gives an extra savory and complex flavor to these lamb shanks, while garlic gives them that flavor we all love. You can serve these on top of mashed potatoes or sweet potatoes, or any way you like.
---
This lamb dish involves marinating the meat for 48 hours in a delicious mixture of pistachios, almonds, honey, saffron, and yogurt (coconut yogurt would work fine) and then rubbing it in cardamom, fennel, cloves, turmeric, and other spices. Worth the wait.
---
9. Tangia-Style Slow Cooker Lamb Shanks With Lemon
This unique recipe is for a Moroccan-inspired lamb dish with lemon, coriander, almond meal, butter, and apricot jam. If you can't find apricot jam that is paleo-friendly, feel free to just use plain apricot puree—it'll work just as well, and be totally delicious.
---

Photo: My Golden Pear
Who says it has to be all about garlic and red wine? Not this recipe! For a change of pace, try these curried lamb shanks with chili powder, turmeric, cardamom, tomato, cumin, and ghee. You could use lamb stock as suggested, or any other homemade broth.
---
While this recipe sounds like a lot of work, don't worry—you aren't slaving over a hot stove for 7 hours. You're allowing the lamb shanks to simmer in a flavorful, seasoned broth for several hours until they're falling off the bone and stewing in their own sauce. Yum!
---
12. Simple Braised Lamb Shanks
This recipe can be made in your oven or in your slow cooker—your choice! Either way, it's delicious and quite easy to do, and includes mushrooms with the lamb shanks for an extra bit of protein and flavor. Homemade beef broth would be the best in this!
---
13. Braised Lamb Shanks With Curried Cauliflower and Roasted Grapes
This fantastic recipe is for a full meal, with savory curried cauliflower and sweet, rich roasted grapes. The only adjustment you may need to make is for the Worcestershire sauce, and you can use coconut aminos in place of that for a similar flavor.
---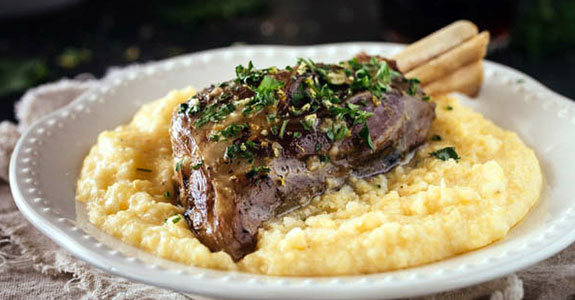 Photo: Foolproof Living
14. Braised Lamb Shanks With Mustard and Gremolata
This recipe can be made paleo by simply switching out the granulated sugar for coconut palm sugar, or leaving it out altogether. The Dijon mustard makes this lamb special and a bit spicy, while the gremolata is fancy without taking more than five seconds to "make."
---
15. Slow Cooker Citrus Lamb Shanks
This recipe uses a few of my favorite kitchen techniques and ingredients: the slow cooker, and citrus in savory dishes. This lucky lamb is going to be coated in lemon, lime, and orange juices and zests, with complementary sweet onions, tomato paste, and garlic.
---
This recipe is unbelievably simple, and is made on the grill. This lamb is marinated in a mix of onions, lemon grass, lemon juice, garlic, paprika, lemon pepper, mustard powder, and fresh rosemary for a bright and delicious flavor combination that's a welcome change from red wine and tomatoes.
---
17. Lamb Shanks With Ras El Hanout
These shanks are fantastic with Middle Eastern spices (if you can't get ras el hanout, there's a recipe-within-the-recipe to show you the spice combination), honey, pistachios, garlic, and other flavors. Feel free to skip the bread/couscous serving suggestion and serve it however you like.
---

Photo: Climbing Grier Mountain
18. Herb Roasted Lamb Shanks With Harissa Wine Sauce
In my kitchen, we're all about sauces, spreads, dips, and similarly flavorful condiments. Which is why I'm excited about these lamb shanks roasted with vegetables, and the savory-spicy-sweet harissa wine sauce drizzled over them. So tasty.
---
19. Baked Provence Herb Lamb Shanks
In what might be the easiest and simplest lamb shanks on this recipe list, you'll use Provence herbs in a pre-mixed blend as your main seasoning. If you don't want to use a pre-made blend, use a combination of basil, rosemary, marjoram, savory, and thyme.
---
20. Easy Slow Cooker Lamb Shanks
As if the slow cooker weren't easy enough already, right? This recipe makes it even simpler—no advance cooking needed, and it makes a full meal with your carrots cooked right in there. Sweet potatoes would also be fantastic added in the last few hours.
---
How can you go wrong with mole sauce? You can't. So give this one a try with tomato sauce, Mexican chocolate, garlic, and peppers. Just switch out the canola oil with olive or avocado oil—it won't make even the slightest difference, but will be paleo-friendly.
---

Photo: Tanya Zouev
22. Turkish Paprika Lamb Shank With Quinces and Saffron Kumera Mash
The rich flavors of this dish are thanks to quinces, garlic, bay leaves, Turkish mild pepper paste, and sour cherry, plum, or apricot jam (your choice, but make sure you pick a paleo-friendly jam that doesn't have any sugar added to it). All would be delicious!
---
This recipe is infused with Moroccan flavors and made with cumin, paprika, ginger, white wine, lemon juice, and other flavors. The baby potatoes help complete the meal, but you could use chopped sweet potatoes if you avoid the starchier varieties.
---
24. Pasilla Braised Lamb Shanks
These lamb shanks are bright and spicy with pasilla chilies, chili powder, garlic, and cinnamon. The flavors are unique; the lamb is succulent and tender, and will practically melt in your mouth. Guaranteed to make you feel like a million dollars. Or like someone eating really good lamb.
---
25. Pimenton Roasted Lamb Shanks With Potatoes
For this recipe, you'll be focusing on the flavors of smoked paprika, with a little help from her friends: crushed red pepper and garlic. Delicious. This recipe is also made with roasting potatoes (or any kind of potato you wish) to turn it into a complete meal.
---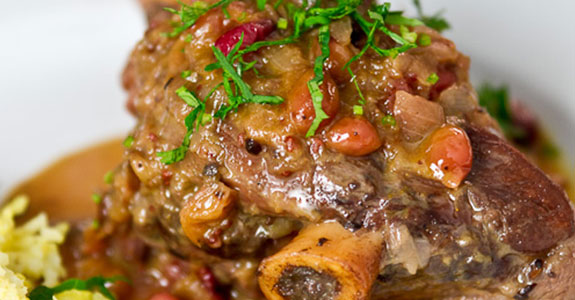 Photo: No Recipes
26. Braised Lamb Shanks in Cranberry
This recipe has a Thanksgiving type of flavor to it, with ginger and fresh cranberries added to the flavors. You can switch out the 3 tablespoons of sugar for coconut sugar instead, and it'll work out the same way. The aroma and flavors of this dish are to die for.