---
Kale is definitely experiencing the spotlight right now, and has earned its superfood reputation. The more I researched its abundance of health benefits, the more impressed I became. There is a huge serving of kale in this smoothie, but it does not affect the taste. Kiwi, although often overlooked, adds a lot to the smoothie too, including a sweet and light flavor.
Kale and kiwi both contain high amounts of vitamin C. You will receive well over the daily recommended intake for the vitamin in this smoothie. All the vitamin C can boost your immune system and help to prevent disease. Vitamin C works as a powerful antioxidant to fight harmful free radicals, and may reduce the risk of cancer.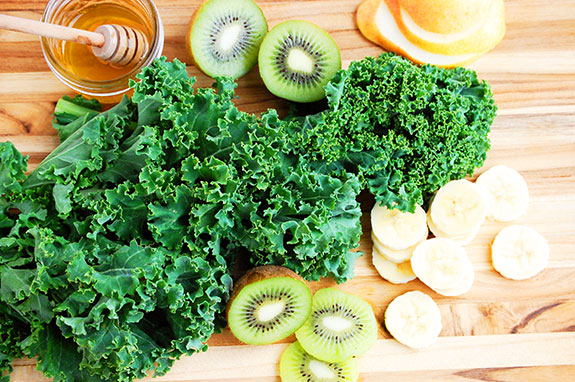 Vitamin K can also be found in both kale and kiwi. One serving of kale actually supplies over 600 percent of the daily requirement of vitamin K. This vitamin aids in proper blood clotting, as well as maintaining strong bones. Furthermore, kale contains more vitamin A than any other leafy green, beneficial for your eyesight.
Besides vitamins, kale and kiwi also provide a well-rounded list of important nutrients. This includes iron, protein, omega-3 fatty acids, and calcium from kale. Since dairy is not allowed on the Paleo diet, kale can be a good alternative source of calcium. Kiwifruits, on the other hand, are rich in folates, copper, and potassium. Combined with coconut water, this smoothie contains a high amount of potassium, ensuring that you will receive the energy you need for the day.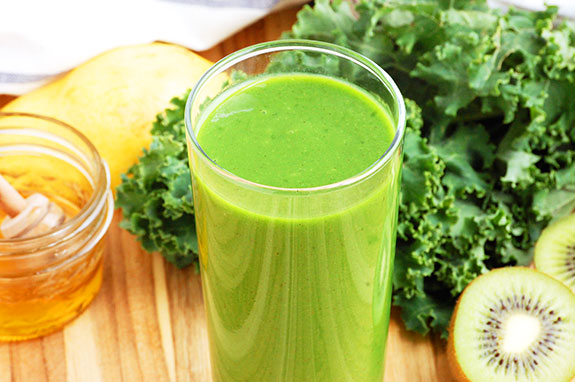 Other than the main two nutritional powerhouses in this smoothie, a few other ingredients are added. Pear and banana provide sweetness and creaminess. I thought the smoothie was sweet enough by itself, but feel free to add a dash of honey. If you would like, you can toss in chia seeds or hemp hearts for a further boost.
If you do not have a high-powered blender, I recommend changing the recipe just slightly. You could either swap the kale out for spinach, which is a softer green that blends more easily. Or if you still want to use kale, perhaps strain the juice through a fine mesh sieve before drinking. Then you are ready to enjoy this quick and delicious smoothie, packed to the brim with health benefits.
---
-
1 cup coconut water
1/3 cup ice cubes
1 kiwi, peeled
1/2 pear
1 frozen banana
2 cups fresh kale leaves, stems removed
In a powerful blender, combine all of the ingredients and blend for several minutes to fully combine. Add more coconut water if necessary to reach desired consistency. Serve immediately.