---
Jicama, it turns out, has white flesh on the inside and can be enjoyed raw. It is juicy, crispy and sweet. And packed with fiber. Did I mention that? A huge source of fiber, and Vitamin C. A great low-calorie alternative to many potato dishes, jicama can even be cut into sticks and baked as a substitute for French fries. (Tried and true, this turns out very good.) But back to potato salad, a staple food for upcoming summer barbecues and picnics.
Though the mild jicama doesn't need to be cooked and can be enjoyed on its own, I believe it tastes better when combined with other ingredients and spices. It makes a wonderful base for this salad. I had a large bunch of dill growing in my little kitchen window garden, which went straight into this salad. I personally like a lot of dill flavor, so be sure to taste and adjust the seasonings to your own preference as you mix together the dressing. And I highly recommend fresh dill over dried dill weed; it makes a big difference in taste.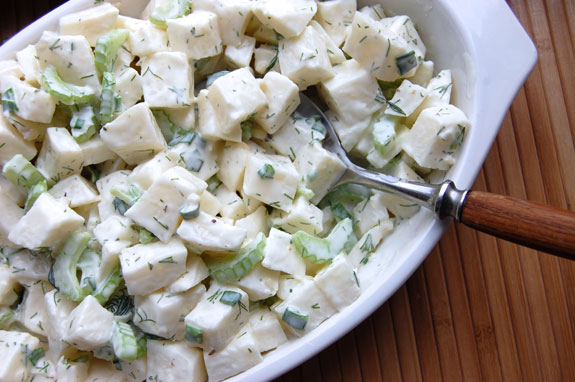 The salad is quite simple to mix together, and then just let it chill in the fridge for about half an hour so that it can be enjoyed cold. Serve this potato salad alongside some freshly grilled burgers, sandwiches, or wraps. Take it along on your next picnic or outing and enjoy the experience of new ingredients and flavors.
---
1 large jicama, peeled and cubed
2 scallions, sliced
2 stalks celery, chopped

For the dressing

1/2 cup Paleo mayonnaise
3 tbsp apple cider vinegar
1 tbsp fresh dill, chopped
2 tsp lemon juice
2 tsp dried mustard
1/2 tsp paprika
1/2 tsp salt
Freshly ground pepper, to taste
In a medium bowl, whisk together the ingredients for the dressing.
In a separate large bowl, toss together the jicama, scallions, and celery. Mix in the dressing, adding more or less to taste. Top with additional dill if desired. Place in the refrigerator to chill for 30 minutes before serving.