Featured
18 Homemade Italian Sausage Paleo Recipes
Italian sausage is a hugely versatile ingredient. You can use it in breakfasts, lunches, and dinners—and with the right recipe, you can even make your own! Check out some of these paleo Italian sausage recipes and make your family smile.
---
1. Homemade Hot Italian Sausage
Want to be able to actually make that sausage yourself? Here's how you can! You can do links or patties, and all you're need is ground pork, sea salt, garlic powder, anise seed, fennel seed, paprika, finely ground black pepper, and crushed red pepper.
---

Photo: Kalyn's Kitchen
2. Italian Sausage Soup With Tomatoes and Zucchini Noodles
I don't know when or where you're reading this, but it's getting be about soup season for me. I'm craving those warm and nourishing dinners that practically make themselves—recipes like this one, with hot Italian sausage, lots of veggies, and seasonings.
---
These sweet potatoes are so delicious with spicy Italian sausage, white onion, coconut oil, kale, minced parsley, and an absolutely luscious blackberry-ginger sauce made from blackberries, honey, cinnamon, fresh ginger, and fresh nutmeg. Perfect for Thanksgiving!
---
4. Broccoli Rabe and Italian Sausage
This Italian Sausage and greens dish is the perfect side to go with jut about anything. And it only takes a few minutes to throw together! The recipe calls for parmesan cheese, but you can leave it off or replace it with nutritional yeast if you want that cheesy flavor.
---
5. Roasted Poblano, Sausage, and Sweet Potato Hash
I've been really into hashes lately. My weeknights are busy, and hashes are great because you can prepare and freeze all of the ingredients together so all you need to do before dinner is heat a skillet, throw them in, and cook them. How's that for a quick and easy dinner? Try this one!
---

Photo: The Healthy Foodie
6. Italian Sausage, Egg, and Spinach Breakfast Bowl
This breakfast bowl is guaranteed to keep you going until lunch. In fact, you could even eat it for lunch if you wanted to. Or dinner. And it's easy! You just need ghee, Italian sausage, eggs, baby spinach, avocado, salt and pepper, and a squeeze of lime juice.
---
This Tuscan soup can be made in your slow cooker, which automatically elevates it to the "ultimate dinner recipes" category in my book. It also has bacon, which pretty much speaks for itself. And potatoes! And coconut milk! Seriously: you want this soup in your mouth.
---
8. Italian Sausage Ragu With Grain Free Fettuccine
We all love veggie noodles, but sometimes you just need a date night dinner that tastes and feels "like the real thing." For those days, you make this awesome Italian sausage and you use Cappello'spaleo-friendly pasta, which is made with almond flour and tastes awesome.
---
9. Italian Chicken Sausage and Vegetable Soup
Here's another soup for your Italian sausage repertoire. This one is made with olive oil, onion, garlic, celery, carrots, chopped kale, chicken broth, tomatoes, and (optional) parmesan cheese. The Italian sausage is the perfect soup topping with so much flavor.
---

Photo: jan's Sushi Bar
Yes, you guessed it: this is a spaghetti squash recipe. This pumpkin pasta is made with spaghetti squash, sweet Italian sausage, onion, garlic, olive oil, pumpkin puree, chicken stock, coconut milk, freshly ground black pepper, thyme leaves, and optional parmesan cheese.
---
11. Crockpot Chicken and Mushroom Ragu
This recipe is for the best ragu sauce made in your crockpot, so you don't have to do any of the work. Just load that puppy up with Italian chicken sausage, chopped tomatoes, bacon, yellow onion, dry white wine, button mushrooms, fire-roasted red pepper, garlic, oregano, peppercorns, basil, and more.
---
I've shared this recipe before because it's just so brilliant. You don't even need salt to make this work. Not even salt! All you need for this hot Italian sausage and broccoli dinner is…sausage and broccoli. The fats from the sausage help to cook and flavor the broccoli like you wouldn't believe.
---
If you like your soups saucy and meaty, this is the one for you. You'll need plenty of hot Italian sausage, diced onion, bell peppers, tomatoes sauce, chicken stock, white sweet potatoes, Italian seasoning, garlic powder, crushed red pepper, and salt. Cooks up in your Dutch oven!
---

Photo: Fed and Fit
14. Paleo Sweet Potato Cranberry Stuffing
Who says stuffing has to be made with bread? It definitely doesn't. This one is made with sweet potatoes, grass-fed butter, salt, mild Italian sausage, garlic, onion, celery, Italian seasoning, fresh cranberries, and parsley. Just look at how juicy those beautiful cranberries are!
---
15. Italian Sausage and Cabbage Soup
Here's a different soup, and this one uses mild Italian sausage, onion, olive oil, garlic, carrots, diced tomatoes, ground black pepper, and green cabbage. It's a veggie-rich soup that's ready in just under an hour, so it would be lovely for an easy weekend dinner to save time for fun.
---
16. Paleo Kale-Sausage Minestrone Soup
It's all about the soup! This one can be made with Italian sausage (or any sausage you like, really), shallots, garlic cloves, chicken stock, tomatoes, fresh chopped kale, tomatoes, Italian seasoning, crushed red pepper, and fresh chopped basil. I'd pile on that basil.
---
17. Sausage and Kale Over Butternut
Butternut squash makes excellent noodles when spiralized or sliced thin, and this dinner is awesome with butternut noodles and a delicious sausage and kale "sauce." You can use sweet Italian sausage for this one, as well as fennel, sage, sweet onion, and other seasonings.
---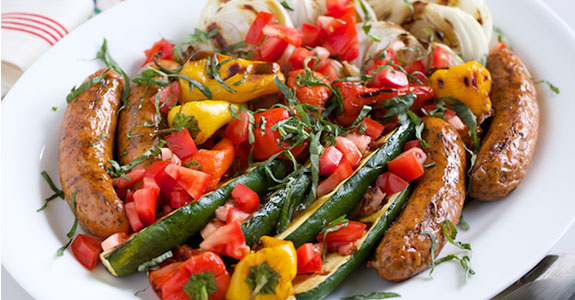 Photo: GI 365
18. Grilled Italian Platter With Basil Baslamic Vinaigrette
Grilling is just one of the best cooking methods there is. No question about this. This grilled platter is made up of zucchini, Italian sausage links, sweet peppers, Vidalia onion, basil, and a delicious dressing from olive oil, garlic, balsamic vinegar, and sea salt.