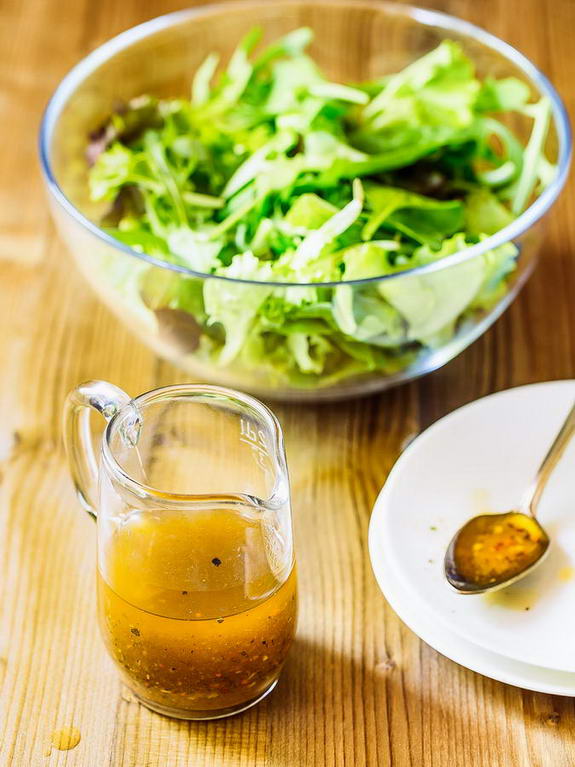 I once asked my grandmother why she made her own salad dressing when it was so much easier to simply grab a bottle off the shelf at the store. Her response probably should have been obvious to me: "my way is cheaper and it tastes better," she informed me. At the time, that was good enough for me.
But as a pre-Paleo adult, I usually took the easy way out and grabbed a bottle of dressing at the store now and then. Like a lot of us, I generally ended up having an assortment of store bought salad dressings to cater to my ever salad whim: blue cheese, Italian, ranch, strawberry vinaigrette, green goddess… and so on.
When I very first started Paleo, I ate a lot of salads because they were the most obvious and easy Paleo-friendly thing I could make. And I would lightly dress my salads with the dregs from one or another bottle left in the fridge until one day I read a Paleo article about store bought foods that often contained more sugar than you would think. Salad dressing is a major culprit of this. And I confirmed this when I read the contents and nutritional info on the back of my bottles. Not only did they have way too much sugar, they were full of preservatives and other processed ingredients that were definitely not Paleo-friendly.
So I went back to the recipe box my grandmother had given me years ago. Sure enough, her recipe for Italian dressing was there, full of all-natural ingredients, almost all of which I generally have on hand. I had to do a few small tweaks to grandma's recipe. She did put sugar in her Italian dressing and even though it was less than the store bought dressings had, I wanted to make the dressing as Paleo-friendly as possible, so I substituted honey for the white sugar.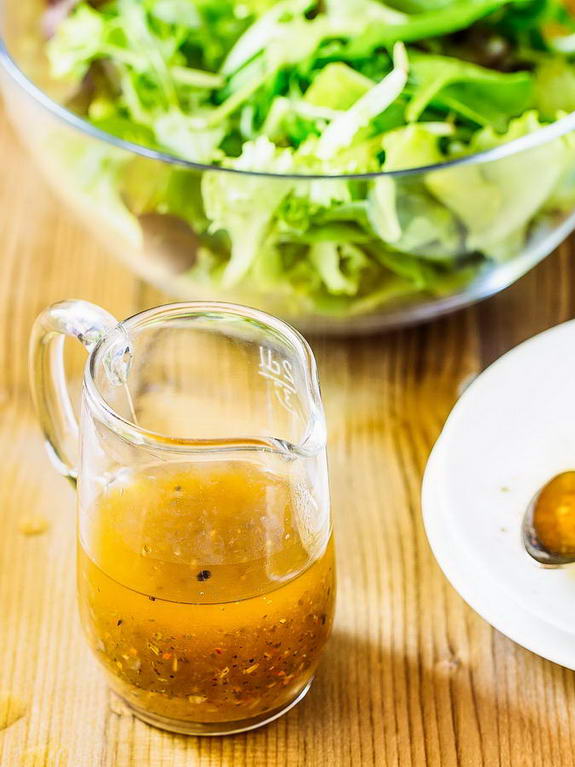 My grandmother also used a bit of mustard, which I'll admit that I hardly ever use because I think the vinegar and lemon juice give it enough tanginess. If you like the flavor of mustard, go ahead and add it – just make sure you're not using a mustard with sugar added. And if you know me, you know I like things a little spicy, so I added some red pepper flakes, which you can omit if you are really sensitive to spicy foods. The amount used here is so little that you really won't get much of a kick – but I leave that up to you.
I like to keep mine in a screw-top mason jar in the fridge because it will separate after it sits for a bit and the screw-top lid allows me to give it a few good shakes before serving. When it's dinner time, if I'm alone, I pour it right from the jar onto my salad. If I have guests, I'll put it in a little gravy boat or something similar and I'll have a little spoon handy so if it settles a little on the table, guests can stir it up before serving themselves.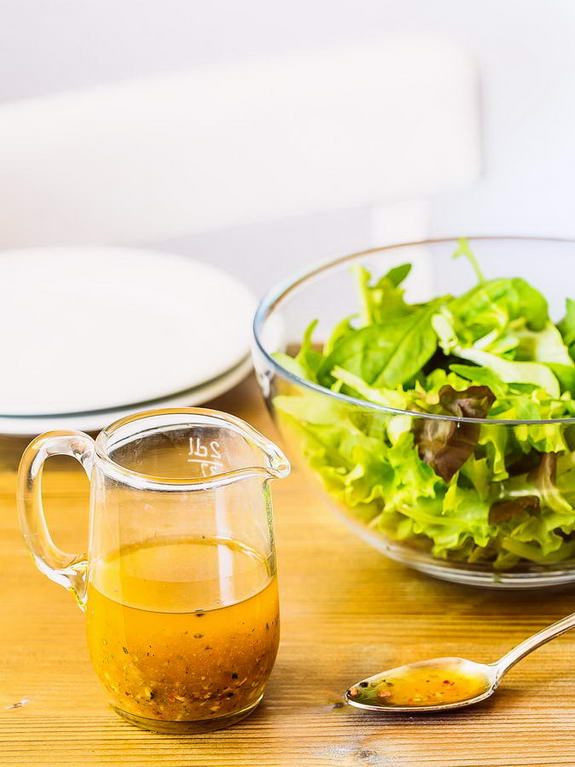 And, by the way, not only is this Paleo-friendly, Grandma was right: it is cheaper and far more tasty than that junk in the bottles!
(Make this next: Cucumber Salad)
---
6 tablespoons olive oil
1 ½ tablespoons white wine vinegar
2 tsp dried parsley
2 tsp fresh lemon juice
½ tsp honey
½ tsp mustard (optional)
1 garlic cloves, minced
1 teaspoon dried basil, crumbled
¼ teaspoon dried crushed red pepper
Pinch of dried oregano
salt, black pepper to taste
Mix all the ingredient and store in a jar.
Refrigerate until ready to use.
Stir well before use.